Arabic
Bengali
Chinese (Simplified)
Dutch
English
French
German
Hindi
Indonesian
Italian
Japanese
Korean
Malay
Persian
Portuguese
Russian
Sindhi
Spanish
Thai
Turkish
Urdu
Vietnamese
What is Binance Convert?
Binance Convert is a useful tool that allows investors to convert the cryptocurrencies they hold (from coin A to coin B) in the COIN-M Futures wallet with zero fees.
This function not only optimizes operations on the exchange but also saves time. Investors do not need to move coins out of Futures wallets to convert into other coins on the Spot market.
For example, the investor owns BTC but wants to open a position in the ETH margin contract. At that time, the investor can manipulate the conversion of BTC to ETH in the COIN-M Futures wallet.
Access to Binance Convert
Binance supports Binance Convert on both web and app versions (Android 1.29 and IOS 2.18 and later). This is one of the most important options for investors who want to trading on the Binance app in Lite mode. Accessing this function on platforms is also extremely simple.
Web version
Option 1: Press

 [Asset]

in the bottom right corner on

the [COIN-M Futures] trading interface, and then click [Convert].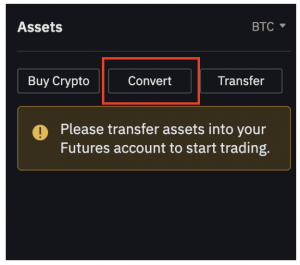 Option 2: Select [

Switch]

in the top right corner of COIN-M Futures

 wallet

page

.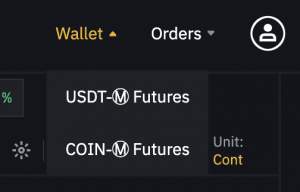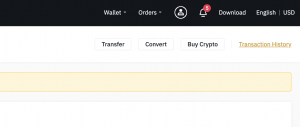 App version
Android: Tap the [Wallet] tab

in the bottom menu, select [

Futures] → [COIN-M Futures].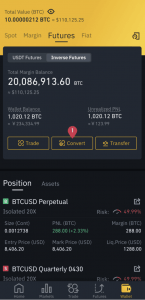 IOS: Tap the conversion icon in

the COIN-M Futures wallet

 or on the trading interface.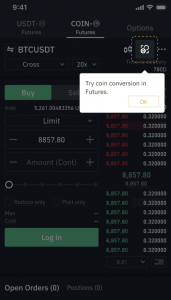 How to use Binance Convert
Step 1: Access to Binance Convert in the above ways.

Step 2: Select the token you own and the token you want to convert. Enter the amount of token. (the maximum number of conversions equals the available balance). Click [Convert] to confirm conversion within the limited time.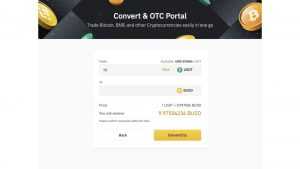 Step 3: Tap [

Preview Conversion]

to see the  price quote of the transaction you have considered. The time to approve the quote and close the transaction is 10 seconds. Out of this time, press [Refresh]

 

to get a new quote.

Step 4: Press [

Convert

]

.

The transaction will be conducted immediately and the converted cryptocurrency amount will show up in the Spot wallet.
During the transaction process, if the latest trading rate and the pending exchange rate are confirmed to have too large a spread, the transaction will likely not be processed.
Conclusion
Binance Convert is a useful tool that helps optimize trading operations in the spot cryptocurrency market. Investors can minimize side operations when trading, limit confusion and avoid unnecessary incidents.