Arabic
Bengali
Chinese (Simplified)
Dutch
English
French
German
Hindi
Indonesian
Italian
Japanese
Korean
Malay
Persian
Portuguese
Russian
Sindhi
Spanish
Thai
Turkish
Urdu
Vietnamese
Hello, welcome to WikiBinance.com. This WikiBinance article will help you understand the most basic concepts: What is NFT? How to create, buy and sell Binance NFT.
With the belief that Cryptocurrencies will become an inevitable part of global finance, WikiBinance was born with the mission of providing transparent, understandable information about the crypto market in general and about Binance in particular. It could be a bit challenging if you're new to the world of crypto. Don't worry, WikiBinance is always willing to help you on your investment journey.
What is NFT?
Non-fungible token – NFT is a unit of tokenized data on blockchain-powered digital platform. To put it simply, each is a unique asset that represents digital or real-world objects like art, music, in-game items and videos.
NFTs differ from blockchain cryptocurrencies, such as BTC, ETH. While one Bitcoin you own is always equal to another Bitcoin, each NFT has unique identifying code that makes it impossible to be interchangeable with each other.
NFTs are typically held on the Ethereum blockchain, although other blockchains such as BSC and Solana support them as well. Binance is marketplace to preserve, store, and sell NFTs. NFTs are perfect combination of art collection and digital technology (Blockchain).

Characteristics of Binance NFT
Be a part of blockchain technology, Binance NFT has characteristics such as:
Eternal – The network is run by miners forever

Unique – Each NFT has a digital signature so it cannot be copied or forged. Only the owner can get the original item.

Clear ownership, transparent transactions – Built-in authentication serves as proof of exclusive ownership rights.

Security – NFTs are stored on blockchain platform so hacker can not attack easily.

More flexibility than physical assets because of decentralization.

It is easy and safe to sell on the system.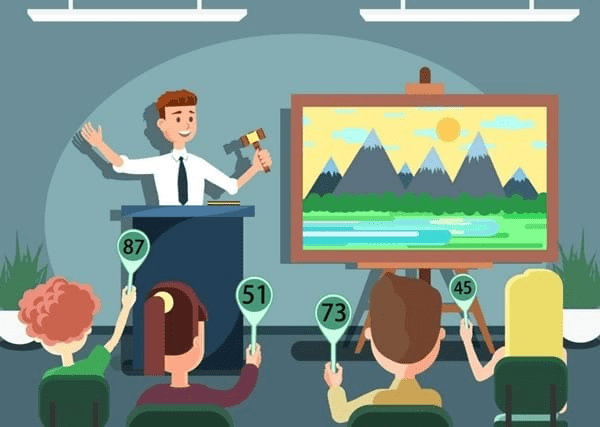 NFTs are uniquely identifiable which cause scarcity to the digital world. Owner will have intellectual property rights, increase data integrity and privacy when ownership and identification data is stored on the blockchain.
Beside that, NFTs attract the attention of investment community and the ultra-rich who is interest in digital art. A large number of NFT communities have emerged such as CryptoPunks, ArtBlock, Veefriends and so on,… Marvel, Barcedona,…. have launched own NFT.
Specifically, NFTs saw exponential growth with tens of thousands of investors flocking to collect digital arts.
The most expensive NFT painting was

Everydays: The First 5000 Days by Beeple was sold for $69.3 million.

The world's richest NFT artist has a total value of $171,959,984.15.
Therefore, it's no doubt that NFTs are growing in popularity and generating record-breaking sales. The demand for NFTs increases continuously and one of the prestigious intermediary trading platform is Binance NFT.
Binance NFT Marketplace
Launched in June 2021, Binance NFT is a marketplace that features all forms of digital artworks and collectibles. The platform is powered by Binance Blockchain infrastructure and ecosystem.
As a centralized exchange, Binance NFT has a lot of advantages, including:
Fast processing and execution speed

High liquidity

Secured by a third party (parent Binance – one of the most famous and reputable cryptocurrency exchanges in the world)

User-friendly interface and good experience with many features which are continuously improved

Diverse NFTs of artists and innovators around the world.
There are 3 main types of Binance NFT:
NFTs of all innovators in the world are listed, traded, sold by minting, selling or even auctioning.

Premium and exclusive NFTs are created by leading global artists and the most influential names and brands. They consist of artwork, design, photography, etc.

Mystery Box: A Mystery Box provides the chance to receive a random NFT from a collection. It gives users the opportunity to own NFT with different rarity levels: normal (N), rare (R), super rare (SR), and super super rare (SSR). These NFTs are items or characters in game, which will offer distinct perks or features depending on their rarity. 
How to get started with the Binance NFT?
Step 1: Register an account on Binance
Step 2: Complete KYC identity verification
Step 3: Connect to e-wallets (Metamask,…) to top up cryptocurrencies (now the exchange only supports BNB, BUSD, ETH). Otherwise, you can buy cryptocurrencies and start trading.
How to create, buy and sell Binance NFT
1. Buy Binance NFT
Step 1: Go to the link https://www.binance.com/vi/nft/home
Step 2: Find and select the right NFT. You can search for NFTs according to different categories/collections, sale types, NFT types and more.
Step 3: Buy the NFT you've chosen. There are 3 sale formats depending on each product on Binance:
Auction: You can place bids on how much they are willing to pay for the NFT as long as they are above the minimum price. Then the highest bidder will own the NFT.

Fixed price: The price is listed on the exchange and you will confirm amount to pay for.

Mystery Box: A mystery box contains a special random NFT. You are willing to pay a fixed price without knowing the content until they open the box.
2. Create and sell Binance NFT
Step 1: Go to Featured By Binance homepage, click "Create"
Step 2: Upload the digital product you want to convert to NFT (photos, music, videos…)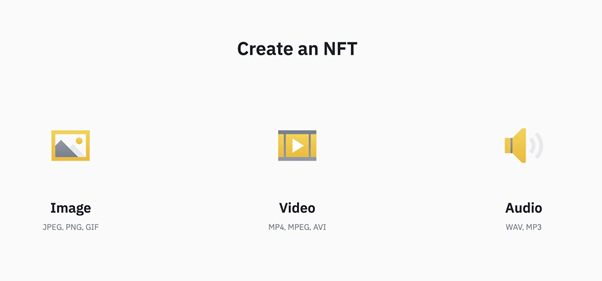 Step 3: Enter the details for your collection, and choose your privacy settings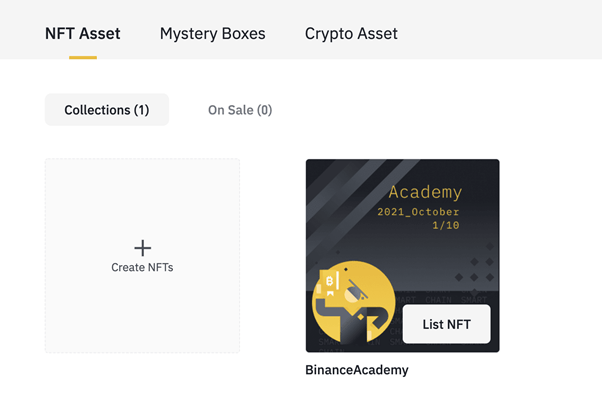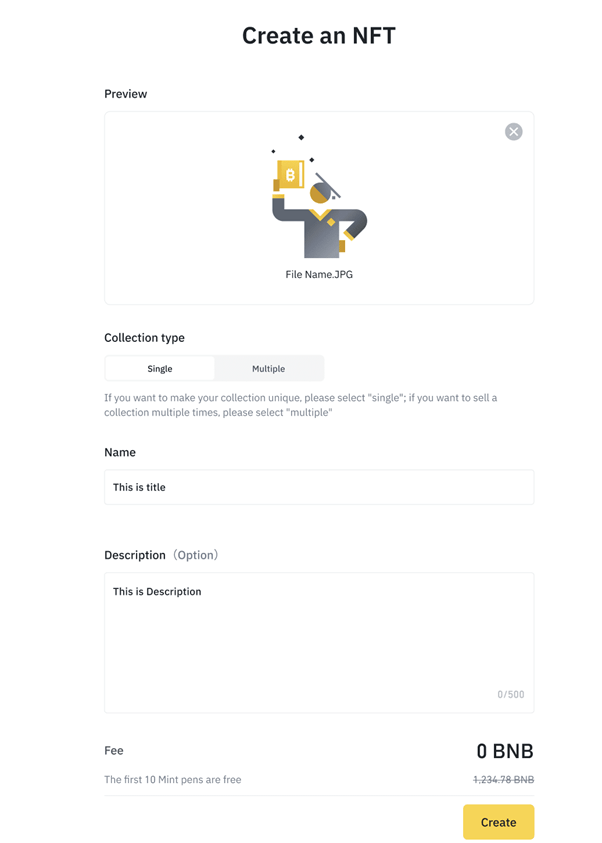 Once the minting process is complete, you will see a "Minting Completed" pop-up with the contract address and Token ID of your NFT. Click List NFT to list it for sale.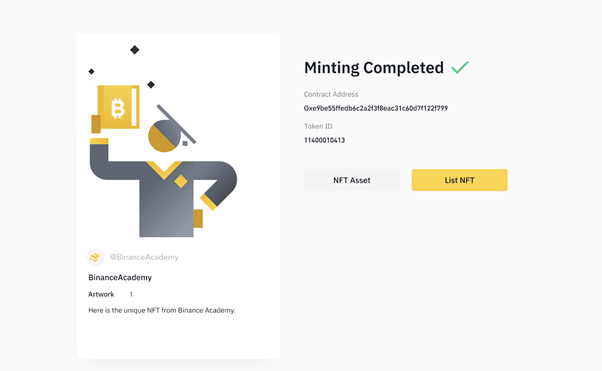 Step 4: List an NFT/Mystery Box in your collection: Click Collections, then NFT Assets. Choose NFT you want to sell, click List NFT.
Step 5: Set up your NFT listing: Select your sell method: a fixed price or auction

Auction: You need to set the minimum bid to start the auction, and the cryptocurrency unit to pay for.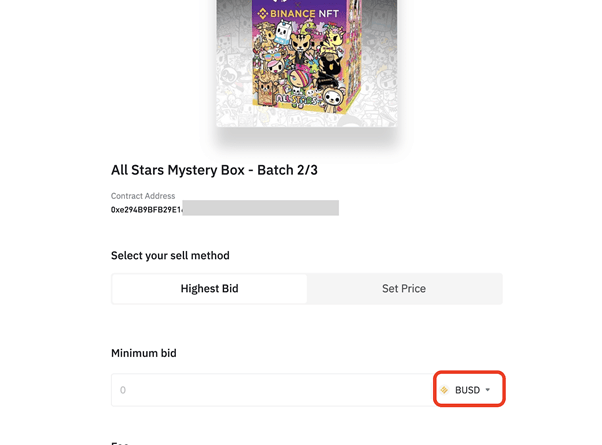 Fixed price: You set total price and cryptocurrency unit. Then, the buyer will pay immediately.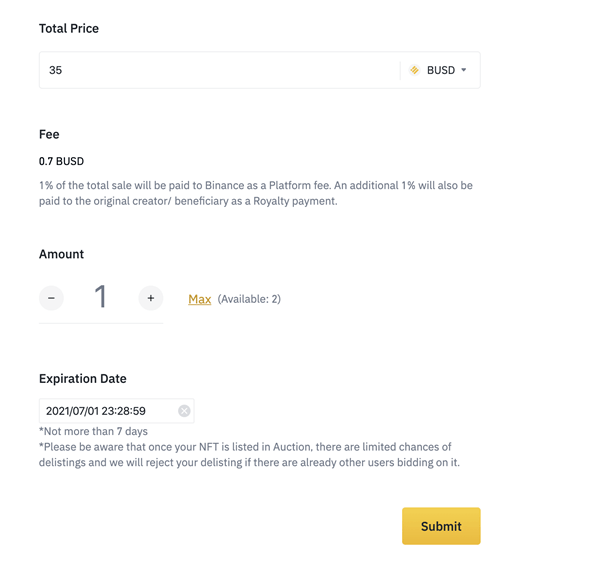 Step 6: Select a specific time and date to end a listing. Write appropriate descriptions and categorize to reach potential customers.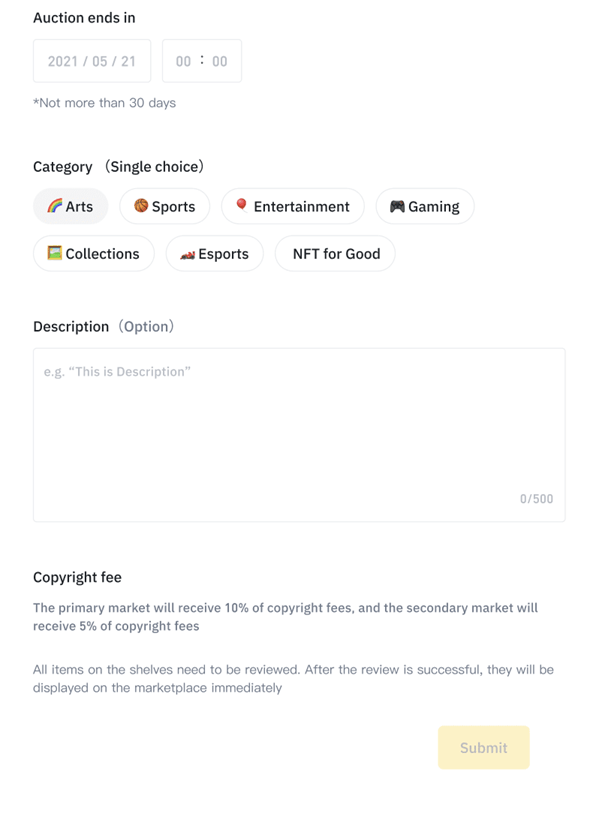 We'll be with you. Leave a comment below, as long as you have questions, we are always ready to respond. WikiBinance will support you on the great road ahead!