Arabic
Bengali
Chinese (Simplified)
Dutch
English
French
German
Hindi
Indonesian
Italian
Japanese
Korean
Malay
Persian
Portuguese
Russian
Sindhi
Spanish
Thai
Turkish
Urdu
Vietnamese
If you hold fiat currency (USD, VND, CNY, JPY,…), you can deposit in the bank and receive interest periodically. In crypto market, you can also have a cryptocurrency savings account on Binance Earn, which helps you to earn interest from your holdings.
"If you don't find a way to make money while you sleep, you will work until you die." Warren Buffett.
What is Binance Earn?
Binance Earn is a comprehensive financial platform that offers a suite of products to earn your passive income from your crypto holdings.
If you plan to hold coins for a long time, why not take profit from it?
You can find some types of investment such as: Savings, Launchpool, BNB Vault and many other opportunities on this platform. Each product will have different operating mechanism, risk as well as interest rate, you can consider the right product before investing on Binance Earn.
To join Binance Earn, you can see the Binance account registration guide here
Because Binance Earn is a set of products, firstly you should learn about each product to make the right investment decision.
Binance Earn's suite of products
Similar to depositing money at a bank, you can deposit cryptocurrencies and receive daily interest from your crypto funds. There are two forms of savings: Flexible Savings and Locked Savings .

Flexible Savings allows you to redeem assets whenever you want. On the other hand, Locked Savings requires you to deposit assets for a fixed period of time, in return, you receive higher interest rate than Flexible Savings.
Note: If you break a deposit in Locked Savings, you will lose the interest earned.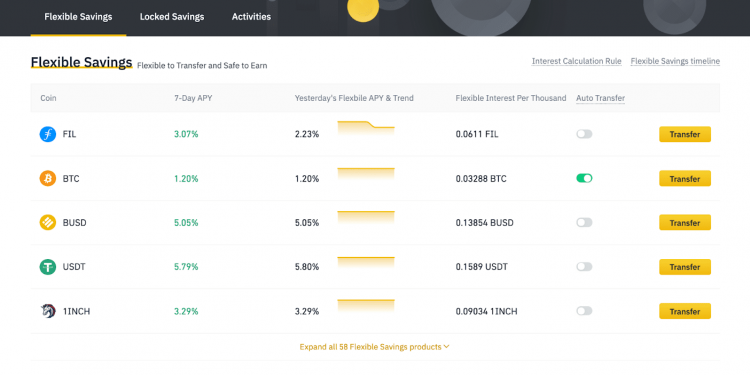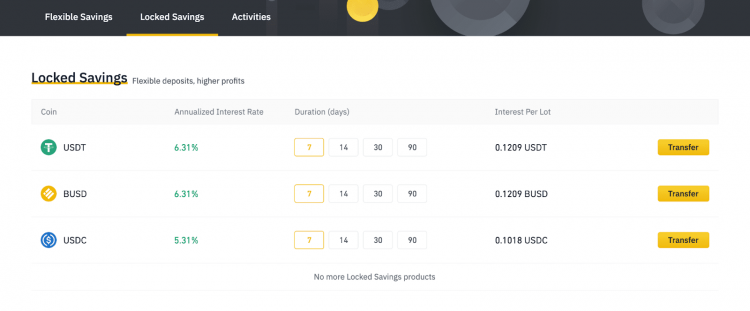 Activities are high-yield staking opportunities that Binance and various projects offer. You can lock the corresponding assets into the platform to receive higher interest rates. Registration will close after reaching the maximum limit.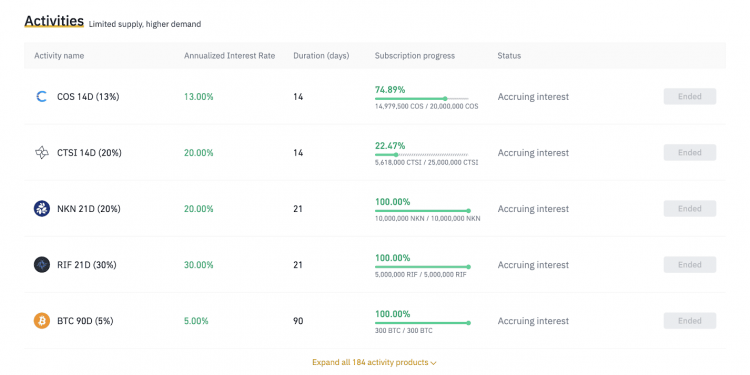 Binance Liquid Swap is a trading solution based on a liquidity pool. There are two tokens in each pool, the number ratio between these tokens will determine the transaction price and there is always a back-and-forth transaction between the two parties. This helps to trade instantly, provide more stable prices and lower fees for large transactions.
You can also trade cryptocurrencies in the Liquidity Pool and benefit from slippage and low transaction fees, but you'll need to pay transaction fees.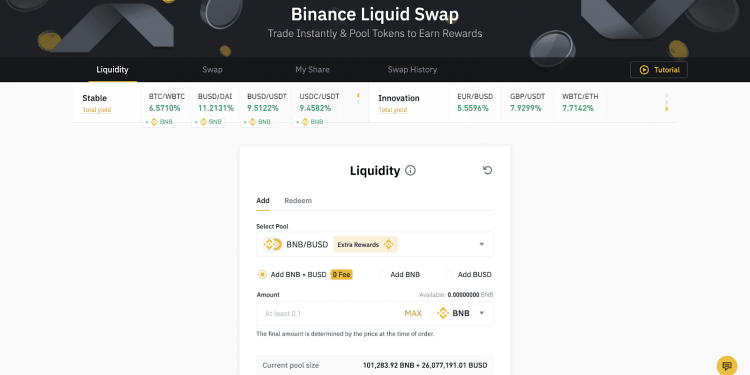 Liquidity Farming on Binance is the deposit of your cryptocurrency into a liquidity pool. You deposit a certain amount of coins into the pool so that traders can swap assets easily. In return, you get interest from the trading fees of other traders.
Binance Launchpad is an exclusive token launch platform that makes it possible for potential projects to raise funds through IEO. Previously, blockchain projects have difficulty in making their own ICOs to raise funds. The creation of Binance Launchpad has secured the process of raising capital from the cryptocurrency community, as well as eliminated the vulnerabilities and risks that many previous ICOs dealt with.
Before a crypto project qualifies for a token offering on launchpad, Binance had a research team to evaluate and ensure that the project has reached the right level of maturity, provided scalable infrastructure and benefits for the blockchain and cryptocurrency community.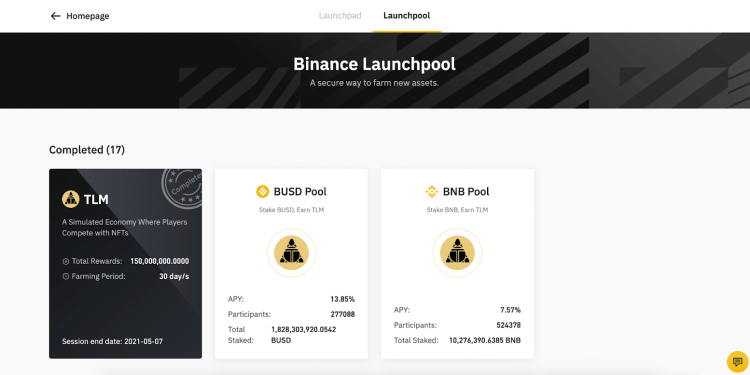 On Binance Launchpool, you have the opportunity to get new tokens launched  staking BNB, BUSD or other cryptocurrency assets that Binance supports. Besides, you can withdraw assets at any time and Launchpool's rewards will be calculated on an hourly basis. Launchpool is a combination of Yield Farming and Binance Launchpad. Launchpool not only helps projects to issue their coins but also creates liquidity for the trading market between that new coin and a popular coin. Launchpool is quite similar to IFO (Initial Farming Offering). However, Launchpool is simpler so that users save a lot of efforts when it allows to operate on the platform.
You can get rewards through Locked Staking. The amount of your locked cryptocurrencies will be involved in the process of authenticating data on the network, called Proof of Stake (PoS). You can withdraw these assets after you have successfully registered. However, be aware that the withdrawal of the asset requires a certain unlock period. This time period varies depending on the selected token.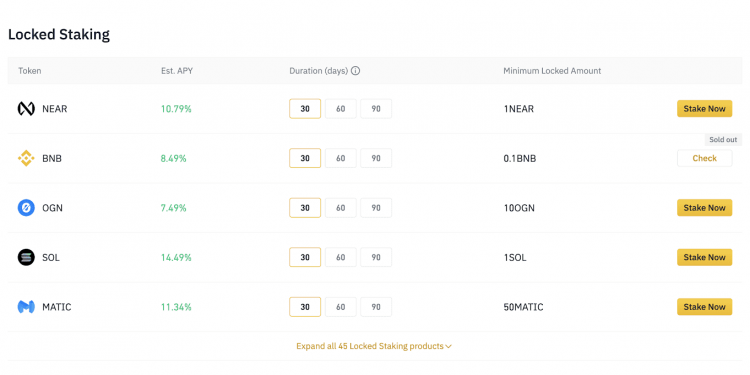 Dual Investment allows you to deposit a cryptocurrency and make profits on two assets. You can commit to sending a certain cryptocurrency and choose a desired price. Dual Investment's profitability will depend on market volatility. At the end of the term, you can choose to settle with one of two assets (such as BTC or BUSD). This product offers an unsecured floating income, but the interest rate will be quite high.
On the settlement date, the settlement currency is determined on the basis of comparison between the market price and the target price. If the market price of your crypto holding increases and the amount earned is higher than the savings interest rate, you will earn a higher return. If the market price of the crypto asset you hold decreases or the amount earned is lower than the savings interest rate, you still get the profit from the savings. The profits will always be allocated to you. Please note, however, that you are not allowed to break a deposit.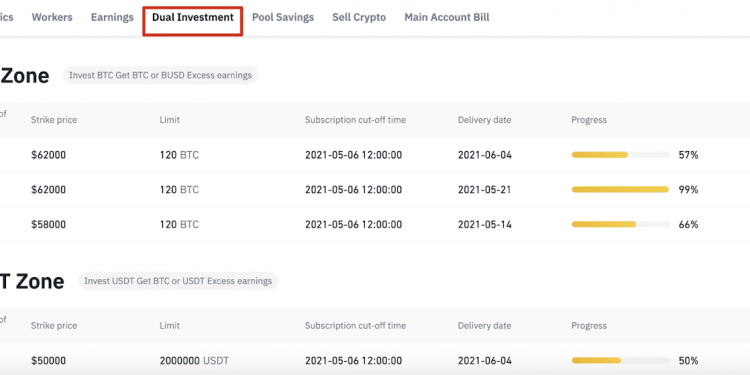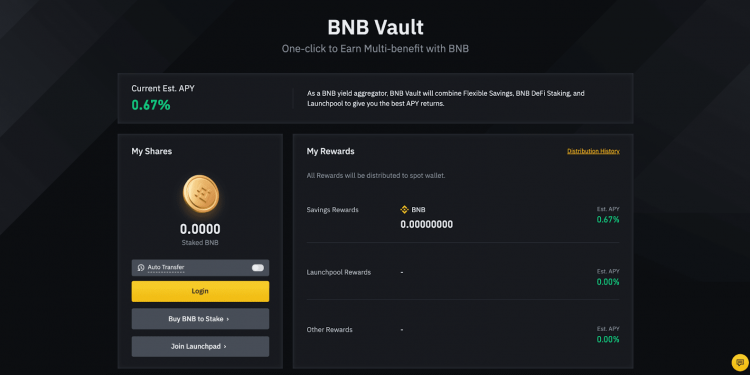 BNB Vault is an investment product that helps you to maximize the potential profit from BNB. By investing in Vault, BNB holders not only have the capability to easily invest in both centralized and decentralized financial products with just a few easy but also maximize the profits and benefits from opportunities available in the Binance ecosystem.
Binance Pool is a cryptocurrency mining platform dedicated to empowering miners and the global crypto mining industry. Italso connects miners to other familiar financial platforms to increase their power and maximize profits.
This is one of Binance Earn's newest products. Through Auto-Invest Binance, you can create an automatic plan to buy coins periodically.
It is easy to manipulate with a simple interface. You just have to choose the plan to buy coins in order to start hoarding crypto periodically. It is DCA investment strategy which allows investors to automate cryptocurrency investments and increase passive income. It will execute the transaction according to the previously set time period and automatically transfer funds to Flexible Savings accounts to earn an annual percentage profit of up to 3%.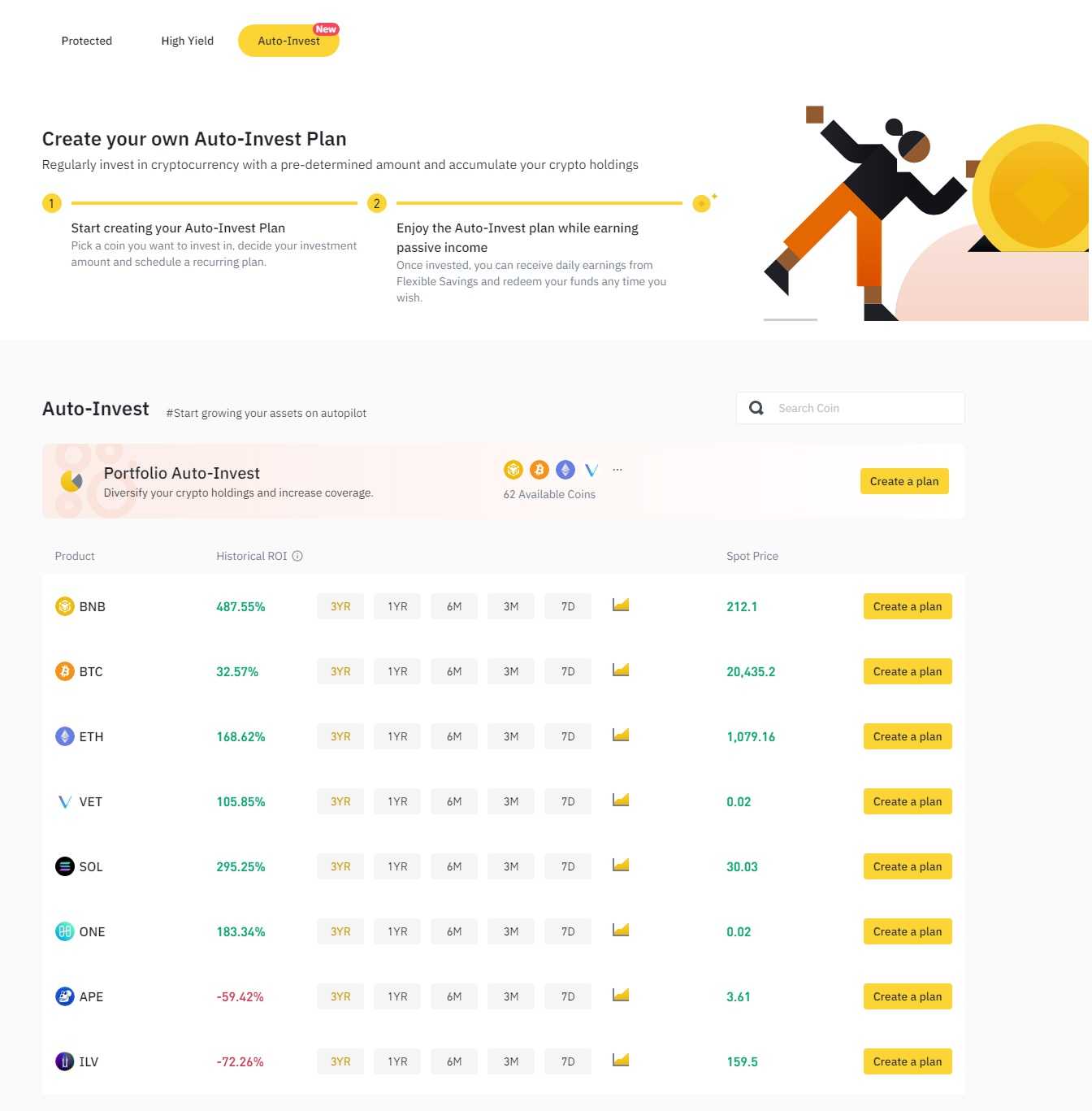 Detailed instructions on how to earn profits on Binance Earn
After you have fully understood the solutions to earn profits from this suite of products, you can quickly manipulate right on Binance Earn's aggregated interface.

After registering for a Binance account, on the homepage, click [Earn] >> [Binance Earn]
Please note the "Products" includes the products you are investing in. Est. APY (Estimate Annual Percentage Yield) means an annual interest rate estimate. The duration is the investment term.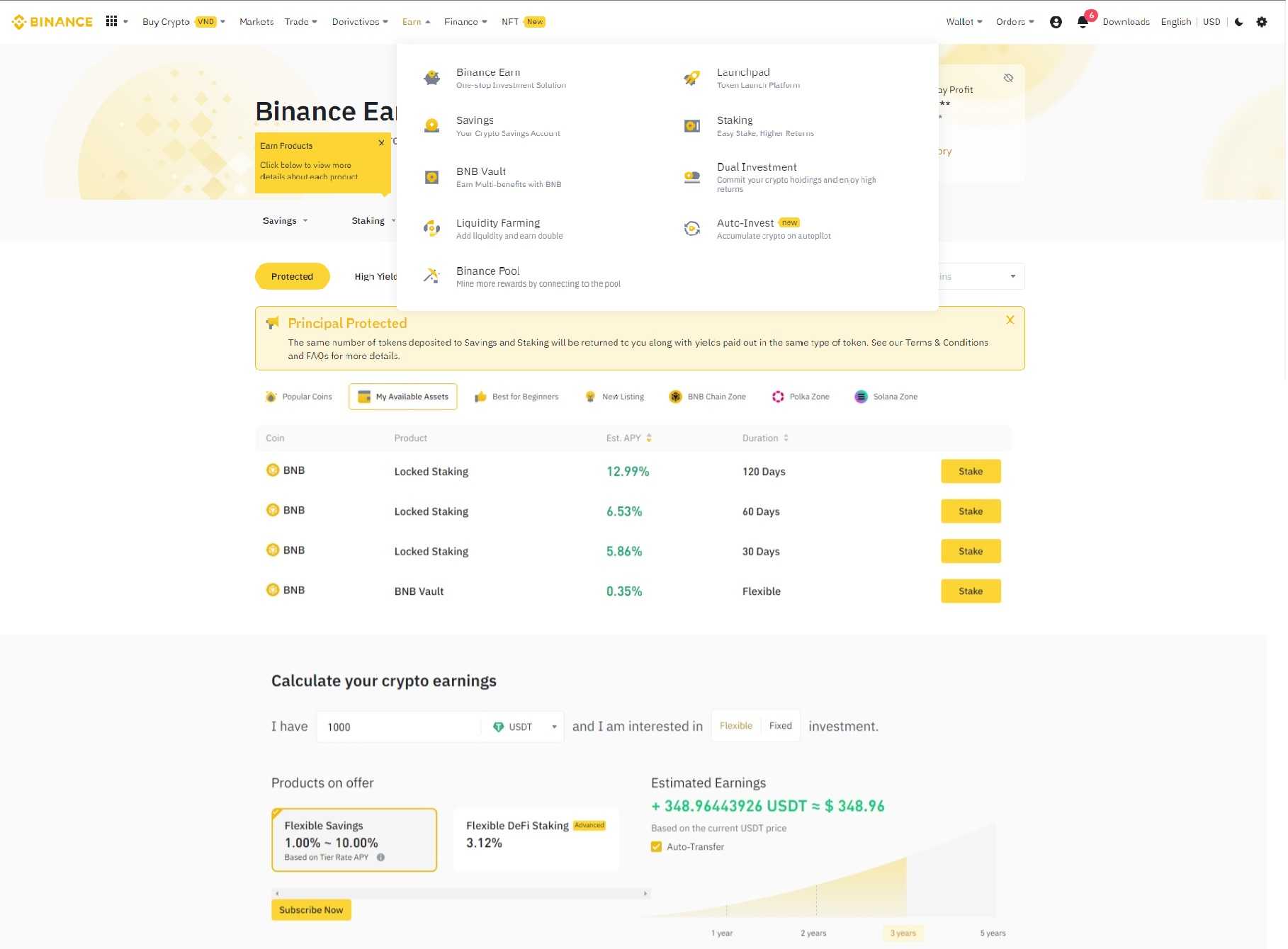 The above example is the latest updated screenshot from June 2022. As can be seen, if you have deposited BNB for 120 days, the annual interest rate will be 12.99%/year. Note that if the annual interest rate is 13% and you deposit for 120 days, corresponding to 1/3 of the year, ending 120 days, you will receive 13%/3 = 4.3% interest from the BNB.
Then you can reinvest the BNB to continue receiving interest after the locking period.
Currently, Binance Earn offers two forms of income: Protected and High Yield. Users can choose to invest cryptocurrencies in stablecoins for predictable returns, or high-yield staking coins offer higher returns than average with corresponding risks to the principal amount you invest. Keep in mind to invest within your means, regardless of how high the potential profit margin is.
Protected
If you're new to the cryptocurrency market, you can start with the products listed in the [Protected] section. These products have a relatively stable yield and can receive their principal back after the locking period.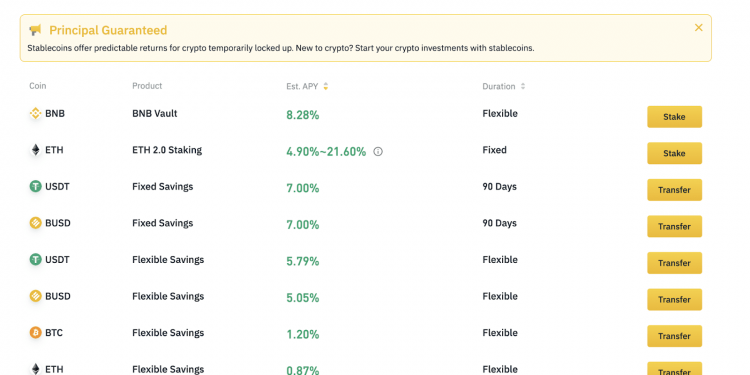 To find investment cryptocurrencies, tap [Search Coins] to search.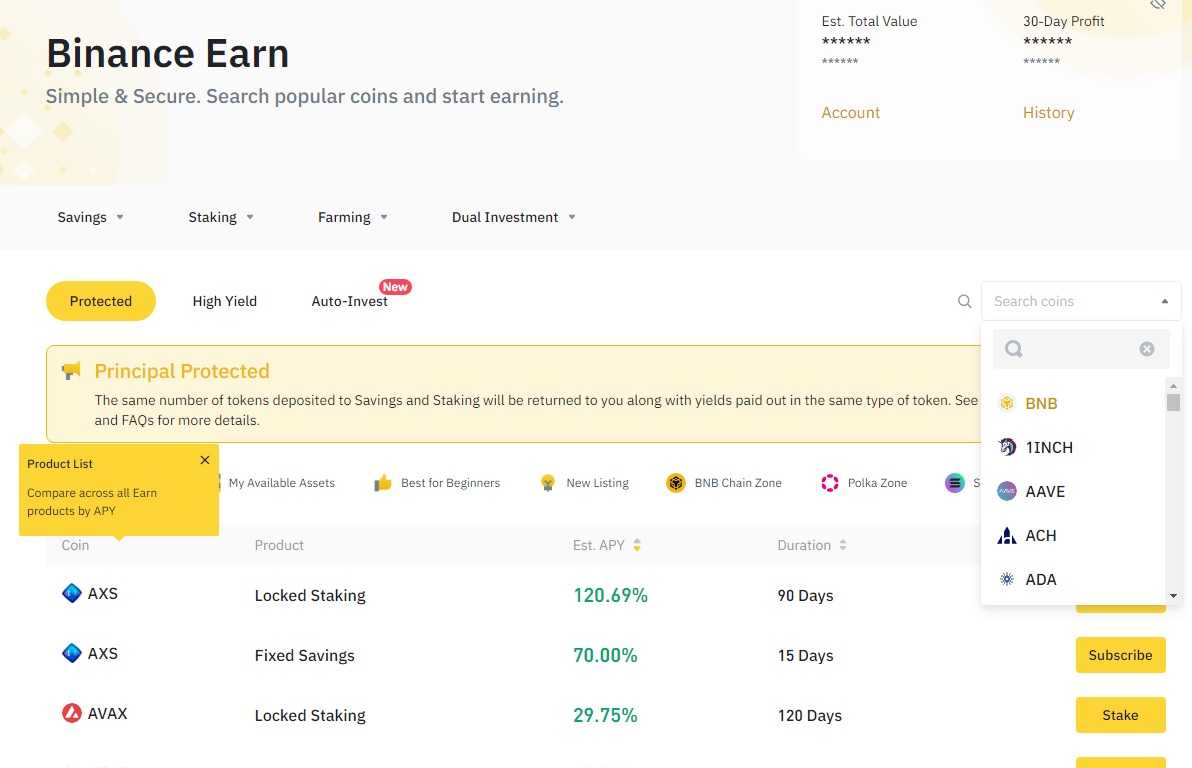 High Yield
In addition to the Guaranteed product, Binance offers users a wide range of High Yield products with relatively high risk.  High-interest products include Dual investment, Liquid Swap and Defi Staking. These are all highly complex products, and as above we have introduced these products, if you are new, please research the products carefully before investing.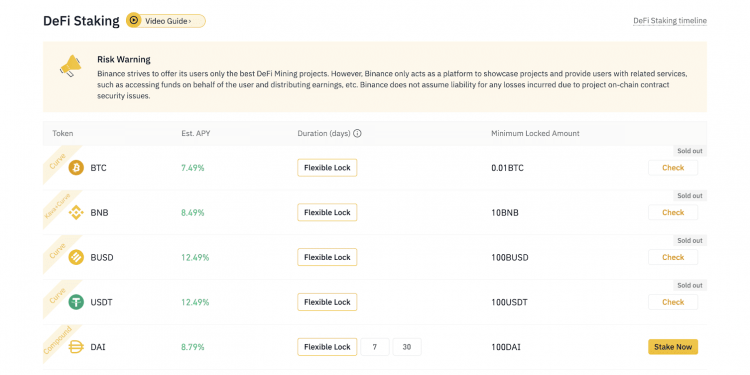 Closing thought
Binance Earn is an indispensable solution for investors, if you plan to hold your coins for a certain period of time, why not let them generate profits?
The above is full knowledge about Binance Earn, hopefully you can choose the right product to invest in, and always keep in mind: Do Your Own Research – Learn carefully before investing, please.
Good luck on the great road ahead, and don't forget, WikiBinance will be here to help you.
>>> Related: What is a cryptocurrency wallet?