Arabic
Bengali
Chinese (Simplified)
Dutch
English
French
German
Hindi
Indonesian
Italian
Japanese
Korean
Malay
Persian
Portuguese
Russian
Sindhi
Spanish
Thai
Turkish
Urdu
Vietnamese
Binance registration will likely create a lot of difficulties for new entrants to cryptocurrency market. The article below will provide step-by-step guide to Binance sign up with  20% discount on transaction fees for life the highest lifetime transaction fee when signing up Binance for Wikibinance's referral linked and verify identity, making it easy to create a Binance account.
What is Binance?
Binance is the world's leading cryptocurrency exchange by trading volume, providing a platform for trading more than 500 different coins & tokens. The Binance team examinates a coin or token very carefully before allowing trading on the exchange, and regularly delists dead coins, in order to minimize risks to investors. Therefore, the digital currencies on Binance have a high reputation and good growth potential. It is no exaggeration to say that Binance is the world's leading cryptocurrency exchange, but the following numbers will speak instead:
Binance exchange has reported profits of around $800M-$1B in 2020
Binance had 28.6 million users as of October 2021
Binance's 2021 trading volume reached $7700 billion, seven times that of 2020
$76 billion is Binance's highest trading volume in 24 hours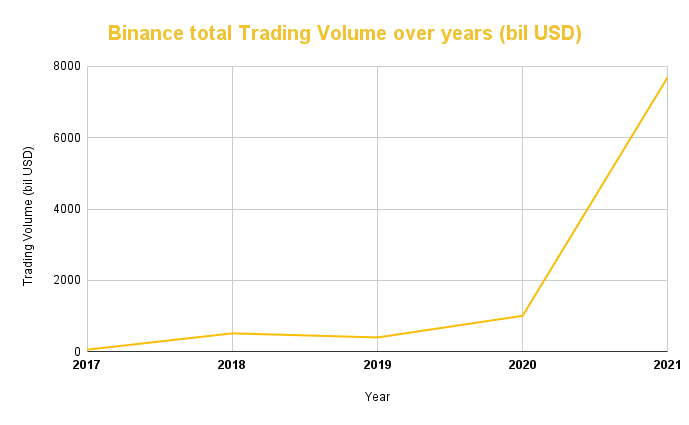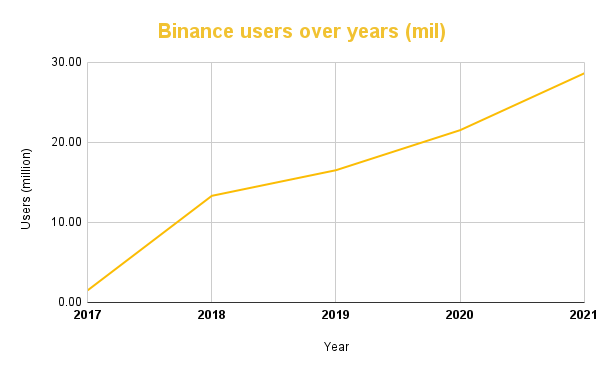 Who is the founder of Binance?
Binance was founded by Changpeng Zhao (also known as CZ Binance), born in 1977 in China. However, his parents were labeled "pro-bourgeois intellectuals" by the authorities and had to move to Canada.
Changpeng Zhao is Bloomberg's head of tradebook futures development after just two years working there at the age of 27.
He founded Fusion Systems in 2005.
In 2013, CZ was the head of development of the Blockchain.info and CTO of the OKCoin exchange.
In 2017, CZ founded Binance. Binance has grown so rapidly in both the number of users and the volume of transactions that CZ was surprised by the success of the exchange. As of 2018, and since 2018, Binance has been the world's No. 1 crypto exchange in terms of trading volume. This means Binance exchange has high liquidity and consistent trading performance.
Products of Binance ecosystem
Newcomers often ask the question what is Binance? Perhaps, the most complete answer is to understand the products that Binance offers, or in other words, are actions that you can make on Binance.
Spot trading (buy and sell coins on Binance): Regular trading (often referred to as spot trading), with more than hundreds of digital currencies and high liquidity in the world.
Binance Margin – Margin Trading: Help you use a loan based on the amount of capital you have, the financial leverage is x10 times your account.
Binance Futures: Trade futures contracts with leverage up to x125 times. The highest level no other exchange can reach.
Binance P2P – Peer-to-peer trading – buying and selling cryptocurrencies such as BTC, BNB, USDT directly with others through bank transfers using USD, EUR.
Binance Earn: The financial product set includes Savings, Staking, Launchpad,… help you generate passive income from cryptocurrencies or participate in potential investment opportunities exclusively moderated and selected by Binance.
Binance NFT Marketplace: The NFT trading platform is for artists and FANS or art collectors.
BNB exchange and BNB Chain network: July 2017 Binance issued BNB (commonly known as Binance coin). BNB has two main features: transaction payment fees on the BNB chain network, and receiving a 50% discount on trading fees on Binance when use BNB.
You may be overwhelmed by many features if you're just starting. Don't worry, you can always see Binance guides for newcomers at WikiBinance.com – provides all news and knowledge about Binance
Steps to sign up for Binance account
To Binance sign up in the fastest & most convenient way, we divide the sign up process into 3 steps: Preparing device and identity document, Create a Binance account, and identity verification (KYC) Binance.
Step 1: Prepare to Binance sign up
Binance registration used to be quicker in the pass. However, in 2022, the exchange is increasingly tightening its user verification policies for the purpose of complying with the law in many countries, everyone must verify their identity when signing up for Binance account.
Mandatory requirements when registering for Binance 2022

Binance previously
Binance currently
KYC – Identity verification is not required when registering Binance
Must verify identity (KYC) as soon as you register Binance account

You need to prepare: Id card, or passport, or driver's license to verify identity on binance

It is possible to upload photos that are available in the device
You must use a computer with a camera or phone to take real-time photos when registering for Binance
You can choose phone number or email to Binance sign up
It is mandatory to use both phone number and email to open a Binance account
You can register Binance on your computer, or you can use your phone to Binance sign up.
Download the Binance app if you sign up for Binance account by a smartphone.
If you don't have a computer, you can use your phone to create and register a Binance account, however, before that, you need to download the Binance app to your phone.
If you sign up for Binance with an Android phone (Samsung, LG, HT, Xaomi, Vivo…), click on this Binance App Google Play link, or go to the Google Play – CH Play app to find the keyword "Binance" and click "Install" Binance app on your Android.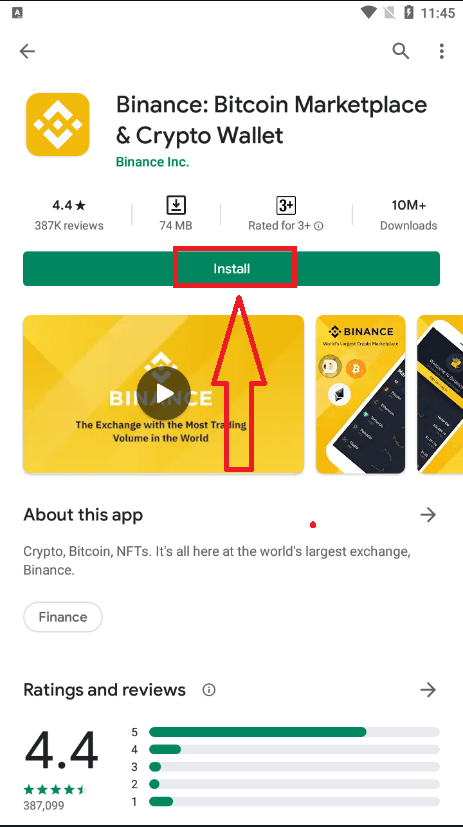 In case you use your iPhone (IOS) to Binance sign up: access to the Binance app link on Apple Store to download and install the Binance app.
You should allow Binance to send notifications to receive the latest news about the market and the new coin coming to Binance.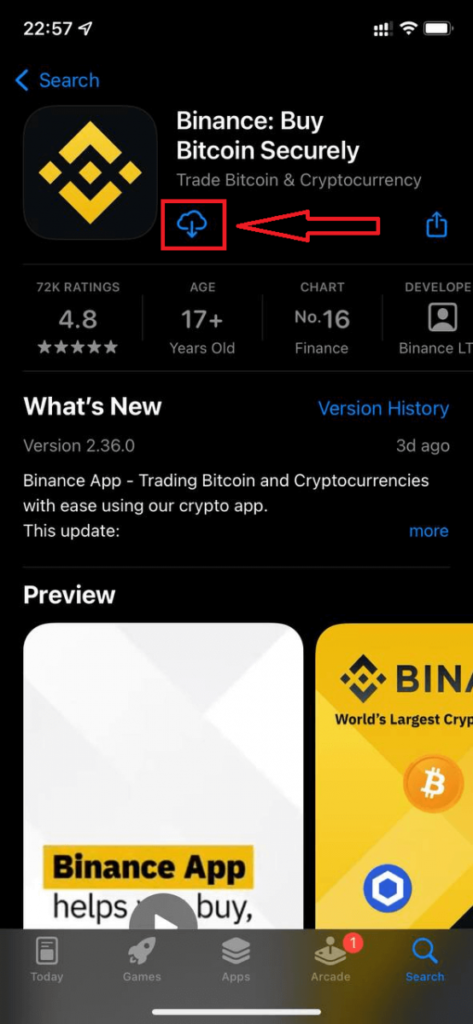 Step 2: Binance sign up
First, you open the Binance app on your phone, if you're using a computer, click Binance register on the web or click the link below.
Then, click the Create account button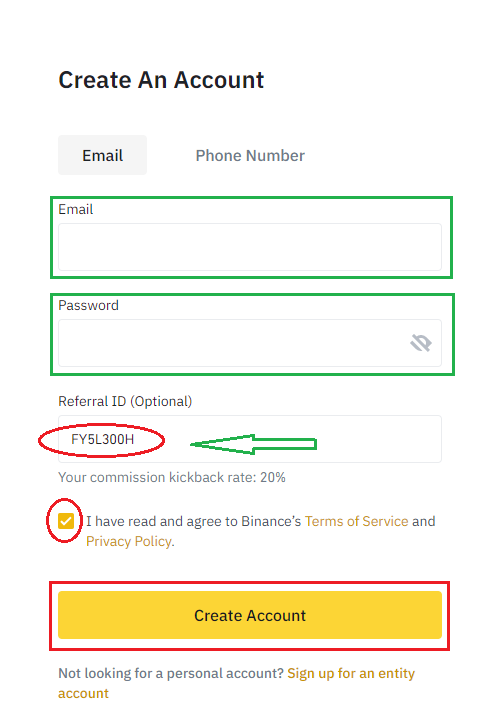 Next, you enter Email, Binance account creation password (the password must be at least 8 characters, with at least 1 digit and 1 capital letter). The ID section introduces you to enter FY5L300H. When entering this referral code, Binance will offer you a 20% discount on transaction fees for life. If your referral ID section is empty, Binance will charge a full transaction fee by default. After entering the information you click the "Next" button, at this time, the Binance system will send you an email containing the Binance email verification code to activate the account. Everyone will have a different Binance verification code.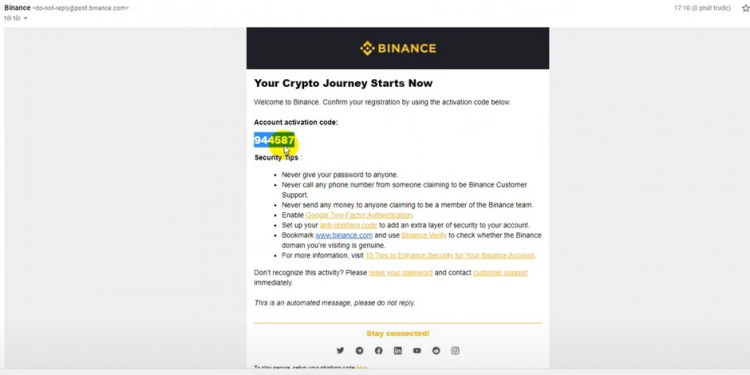 You open Gmail and get the activation code to create a Binance account, filling in the email verification code. If you can not find the activation email in your inbox, try checking gmail's spam bin, or if you haven't received a Binance email with a verification code after 3-5 minutes, click the Resend code button to request Binance send email activation code again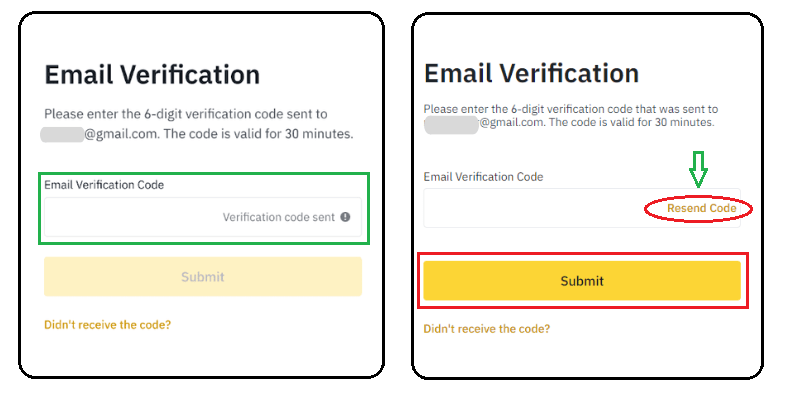 After filling in the Binance email verification code, click the "Submit" button
Next, enter your phone number and click the "Next" button. Click the Get code button to receive the Binance verification code to your phone. Then, Binance system will send a message to your phone number containing the verification code.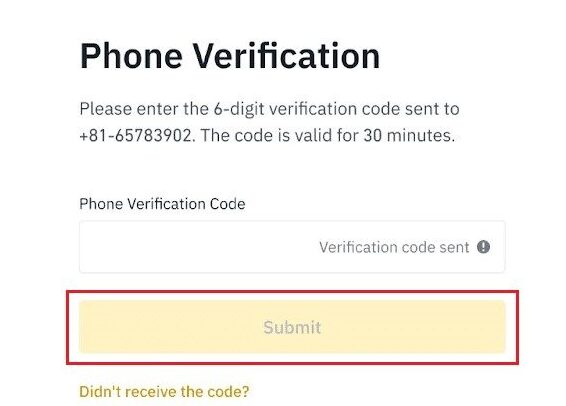 After that, fill in the verification code received from the message in the phone and click the "Submit" button.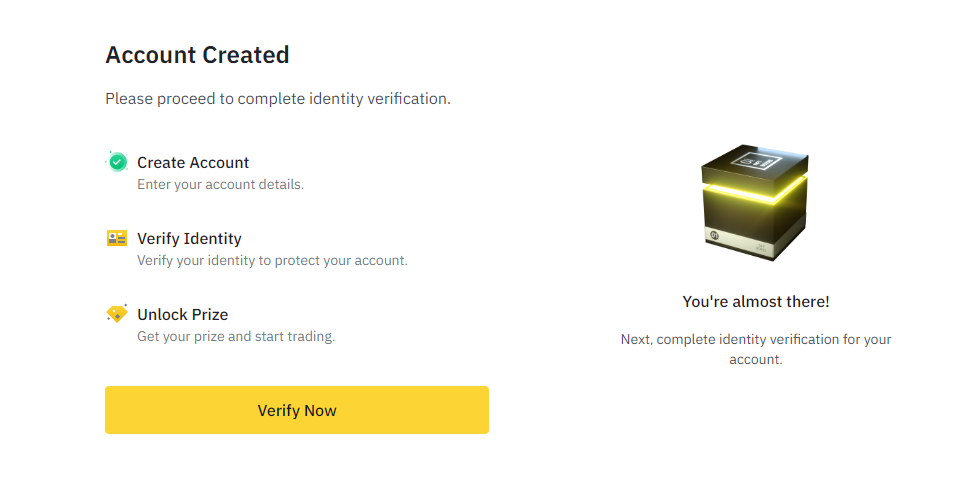 And you have created a Binance account and verified your email and phone number. Even though you already have an account, you can't start trading yet, because as I mentioned at the beginning, identity verification (or KYC Binance) has become a mandatory step when registering for Binance by 2022.
Step 3: Verify Binance identity (KYC)
Click the "Verify Now" button to verify binance identity (KYC).
You fill in the information on your ID card and click the Continue button.
This is when you will select one of the three prepared documents in the section. head to take photos of KYC Binance. You have the option based on the documents you have including: ID, or Passport, or Driver's License.
To start taking a photo, click the "Continue" button.
Note: in this section you need a camera to verify binance account. If you're signing up for Binance on a computer without a camera, you can use your phone, open the Binance app, sign in to an account you created earlier, and the app automatically moves you to binance identity verification step.
First, you click the "camera" icon button, then, take a photo of the ID card on the front, click the "camera" button below, take a ID card photo on the back, and finally click the "Continue" button.

Next, you will have to take a picture of your portrait. You click the "camera" icon button, then, take a picture of your portrait, and click the "Continue" button.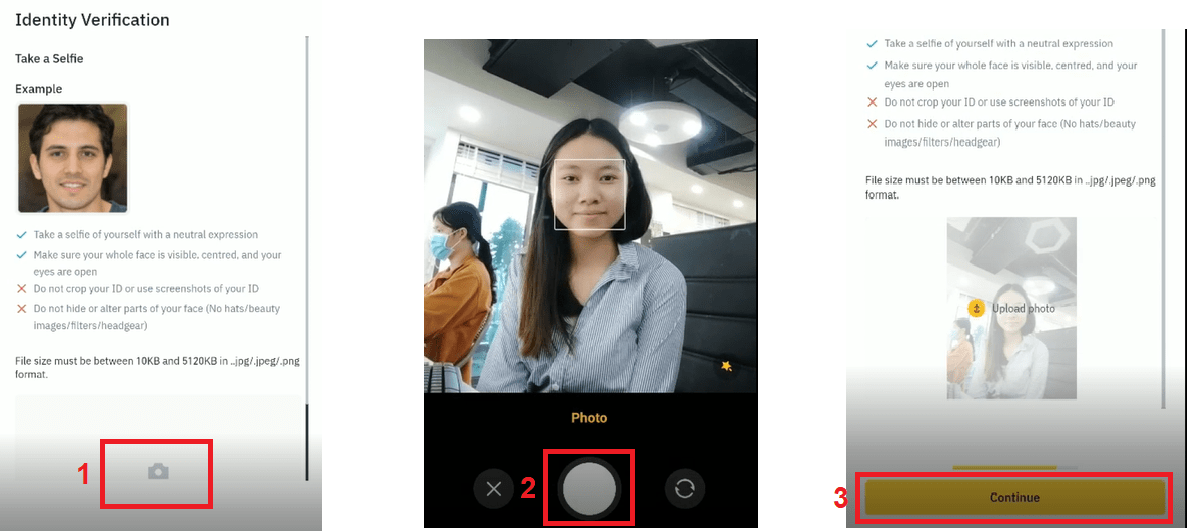 The final step: Facial recognition. You should not wear a hat, do not wear glasses, avoid filters that automatically beautify photos, and where there is good lighting. If all is check, click the "Begin Verification" button to start recognizing facial on Binance.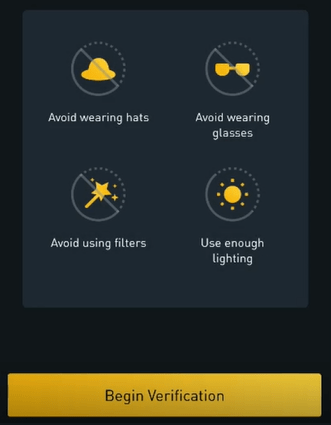 Keep your head within the pre-oriented frame border limit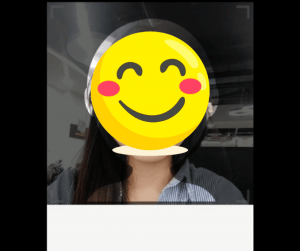 The normal review period is less than 5 days. When the review is successful, Binance will send a message to your Email Address with the message "Successful Binance Registration" accompanied by a random NFT gift.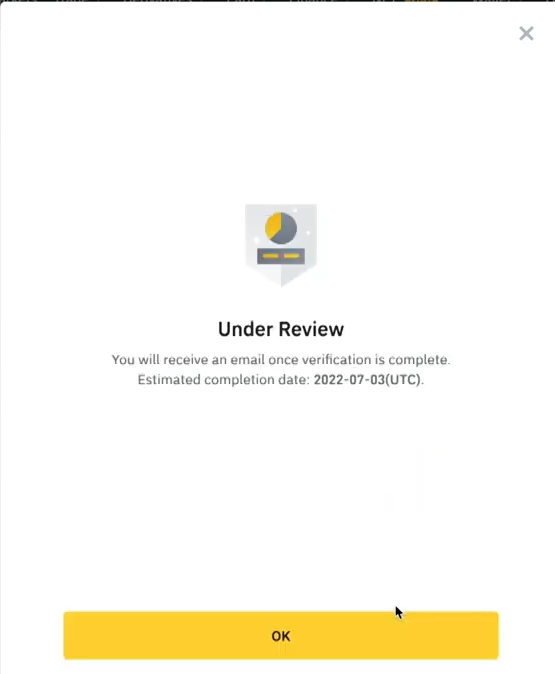 Advanced step: How to secure 2FA Binance 2-layer account
After successfully signing up for Binance account, you are able to start trading. However, keep in mind that you are trading with your assets, and it is very important to protect your assets from hackers. To make Binance account more secure, you need to activate 2FA Binance security. The most common method is to use Google Authenticator.
2FA Binance security with Google Authenticator
First, download the Google Authenticator app on the Appstore or CHplay to your phone.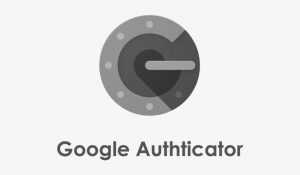 Click [Profile] and [Security]. Tap the [Enable] button next to the Binance/Google Authenticator.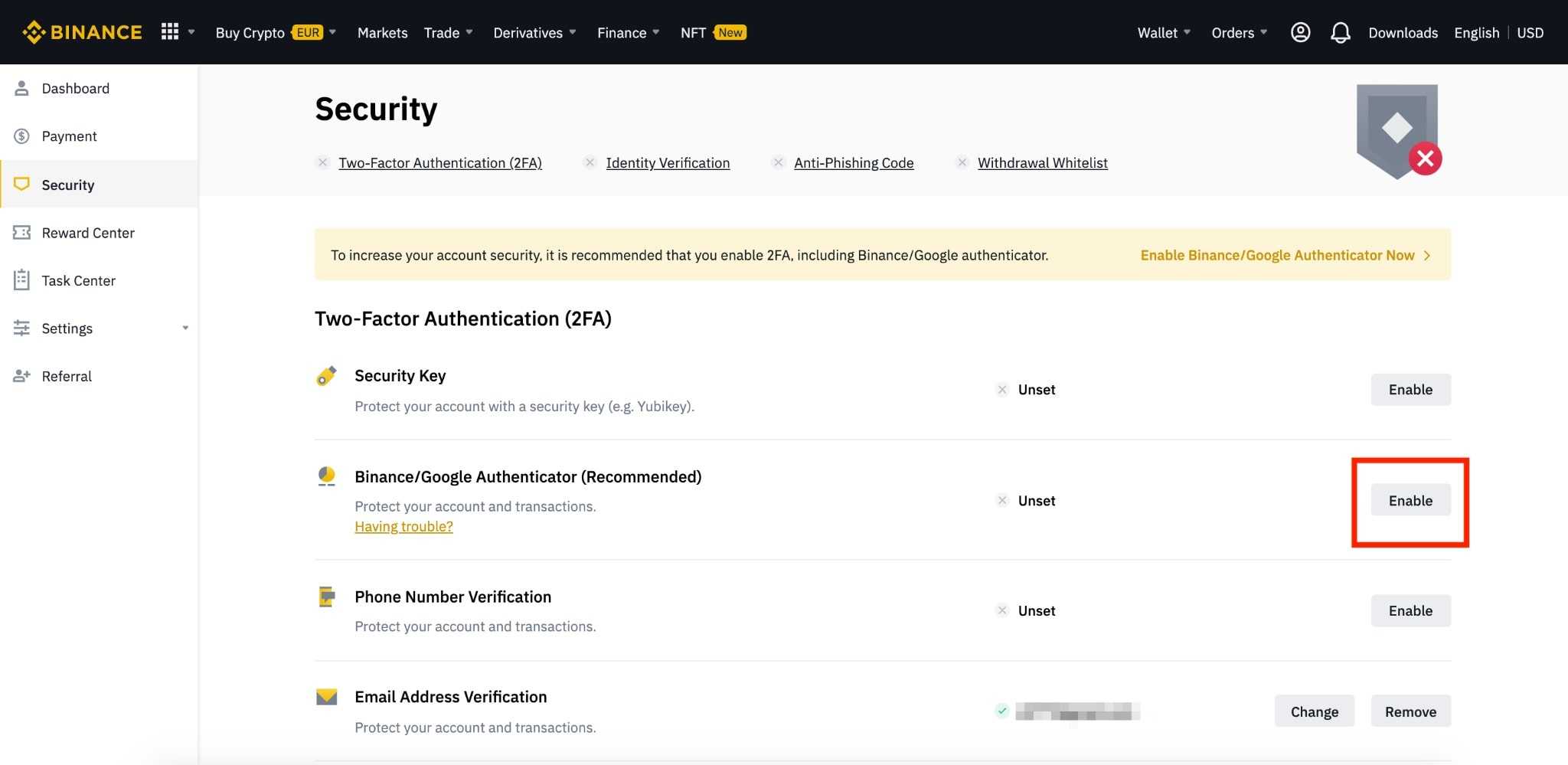 You'll then see a 16-digit backup key on the screen. Keep this key on paper and store it in a safe place. In case you lose your device, this key will allow you to restore your Google Authenticator account. Tap [Copy] – [➡] and paste the 16-digit key you just saved. Then tap [➡] to continue.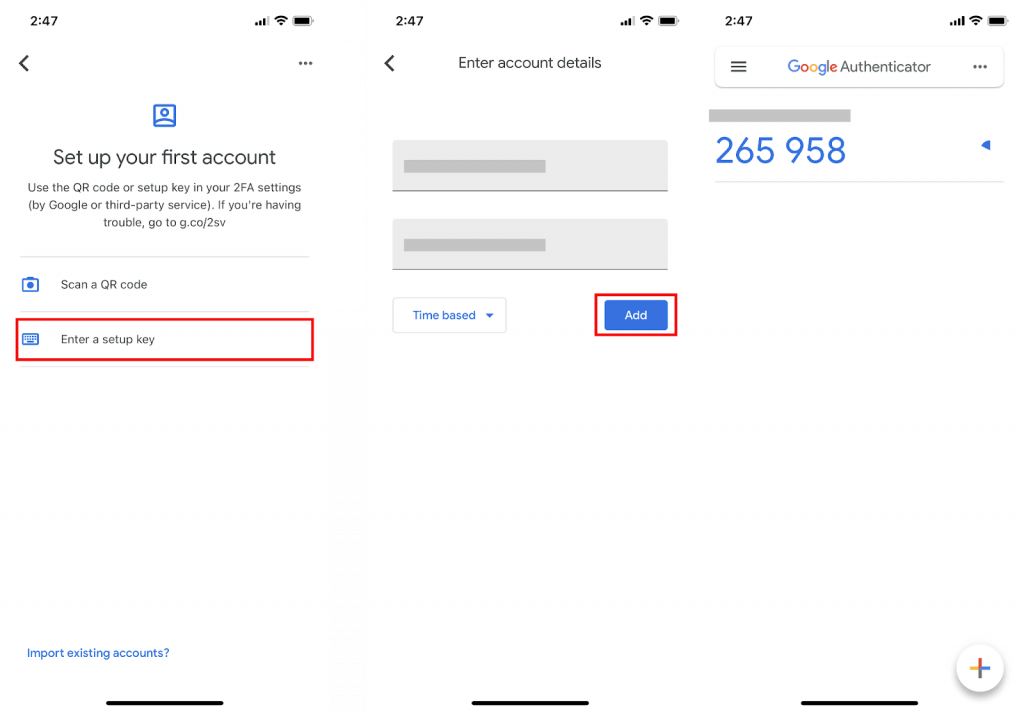 Open the Google Authenticator App and tap [Enter setup key]. Enter your Binance account details and the 16-digit setup key. Tap [Add] and you'll see a 6-digit code. So you've enabled 2FA Binance 2-layer security using the Google Authenticator app successfully. Defaulting on subsequent logins or withdrawals, Binance will ask you to enter this 6-digit code, which enhances the security of your account.
Frequently asked questions when using and signing up for Binance for the first time
How do you deposit money to Binance? How to buy coin with USD using Binance P2P
P2P (Peer-to-peer) transactions are peer-to-peer transactions – directly between two users. When trading Binance P2P, the coin seller will have to lock their coin into the exchange, and you transfer the money directly to the coin seller account number with the required transfer content available. When the bank transfer is completed, you send the receipt back to the exchange to receive the coin. See Binance P2P details here
Why didn't I receive an email containing a verification code from Binance?
Check gmail's spam inbox. In some cases, your email provider may automatically block emails from Binance because they think it's ad news. If you've thoroughly checked your Spam inbox, try double-checking the email address you sent to Binance. Sometimes it may be due to a mistyped skin rash or a lack of a certain character? You can also create a new Gmail account to Binance sign up.
Why verify Binance's identity?
In cases of account hacking, or forgetting your password or key code, you can contact Binance's support and submit identification documents proving to be you, making it possible for you to recover your Binance account. Binance operates legally and complies with the policies of countries. Moreover, in order to avoid the situation of one user creating multiple trading accounts that manipulate prices or launder money, Binance requires identity verification (KYC).
To contact Binance's support
You go to the link https://support.binance.com/hc/vi/requests/new to create a new support request. In it, you write down your case specifically. Since Binance supports Vietnamese, you can rest assured not to worry about your English vocabulary when creating Binance tk.
What is binance transaction fee? How to reduce Binance transaction fees by 20% permanently.
With regular trading, Binance only charges 0.1% of the total transaction value. That is, if you use 100 USDT to buy BTC, the fee is only 0.1 USDT. If you use BNB to pay transaction fees, you will get a 50% discount on transaction fees in the first year, 25% for the next 3 years. Binance is free to top up and free to trade P2P Binance. The fee for withdrawing coins from the exchange is quite low, depending on the different types of coins/tokens. You can look up Binance transaction fees and summarize ways to reduce transaction fees here. Moreover, you will get a 20% discount on the transaction fee forever when registering with the link below.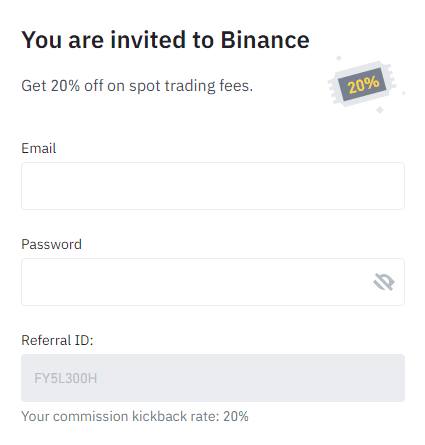 When you click to sign in to Binance using the link above, Binance's interface homepage defaults to show you a 20% discount. This is a special offer WikiBinance.com give to you that no other party has.
Is Binance a scam?
Binance is the world's leading cryptocurrency exchange. There have never been any complaints related to crypto scams recorded by Binance. However, many cases related to forgery have occurred. That is, the fraudster pretends to be a floor worker to ask the user to perform a certain action. Please keep in mind, no Binance employee or WikiBinance.com will actively contact you, or ask you to transfer money to a wallet address. Don't give your account/login password and personal/security key to anyone, including your employees.
Sum up
Here's a guide to Binance sign up. If you have questions, leave a comment below! WikiBinance is always ready to answer your questions as soon as possible! I hope the article provides enough information for beginners. See you in the next post.