Arabic
Bengali
Chinese (Simplified)
Dutch
English
French
German
Hindi
Indonesian
Italian
Japanese
Korean
Malay
Persian
Portuguese
Russian
Sindhi
Spanish
Thai
Turkish
Urdu
Vietnamese
Binance NFT Marketplace is a new platform for creators and collectors to mint and trade NFT. Everyone can create irreplaceable tokens and experience the benefits of digital ownership. This article will help you better understand Binance NFT.
What is Binance NFT Marketplace?
The Binance NFT Marketplace is a platform that allows you to trade and create irreplaceable tokens. You can not only create your own NFT on Binance Smart Chain or Ethereum but also transfer between the two blockchains.
Binance NFT marketplace is not just for creators. Collectors can also buy NFT that is available in the marketplace for a fixed price or through auctions.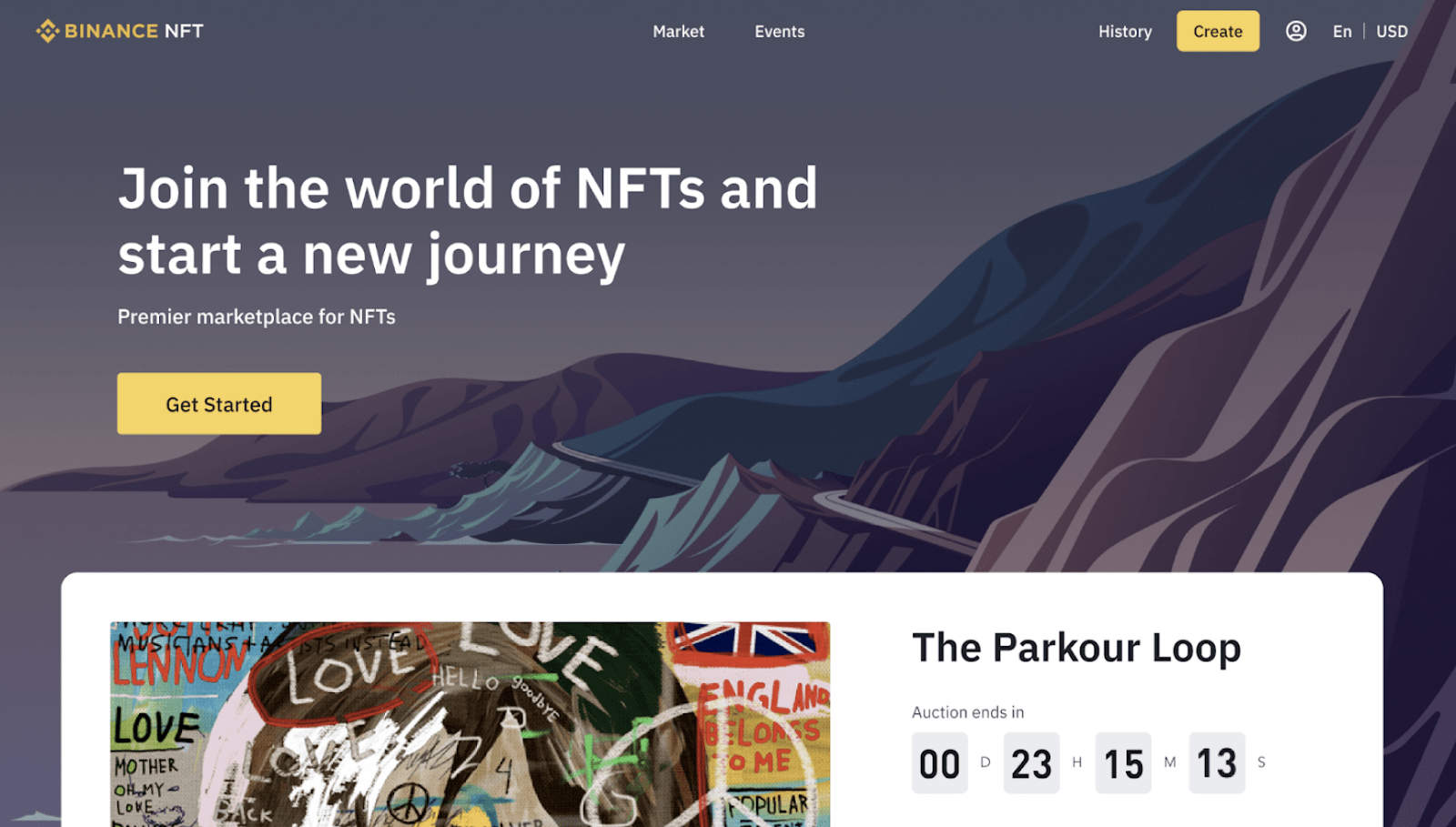 Creators can get 1% royalty payment when you sell the collection on the marketplace. Once the creators have created their NFT on other platforms, Binance will process these royalties.
What's different about Binance NFT marketplace
The Binance NFT marketplace is part of the Binance ecosystem. Users of this platform are creators as well as many famous artists.
When selling or aucting NFT, with a large amount of users, Binance will make it easy for you to get the best price and value for your artwork. This is also an advantage for the high liquidity and visibility of your NFT.
Why create NFT?
With an NFT, you are capaple of selling your work in digital and limited format. Unlike conventional simple formats like MP3 or JPEG, NFT cannot be copied and it is unique.
Although each NFT will be associate with a file which is still copyable, NFT is more about demonstrating ownership. The NFT only allows you to copy the concept in a digital format.
The NFT Marketplace is expanding and growing, so creating NFT is a way to help you sell your products. With a variety of features such as distributing royalties, transfer rights, and creating collections, this will help you diversify your options based on the options available.
Why should people collect NFT's?
Like stamps, trading cards or vinyl discs, because tokens are irreplaceably limited in nature, they are more attractive to collectors. A lot of artists, sports stars or big brands are using and exploiting NFT. These tokens have added technical elements to attract fans.
Many people spend millions of dollar to own rare NFTs. That price make NFT attract more interest from investors around the world because it brings a lot of benefits to their holders.
For example, an NFT from BakerySwap can help you make a profit by staking. PancakeSwap has NFTs that can be traded in exchange for CAKE tokens and they are even used as lottery tickets.
How has NFT gradually changed the world?
When it comes to the digital world, rights and ownership are difficult issues to solve. It's hard to prove something is original if it's too easy to copy the content? Currently, there are not many means to help innovators solve this problem.
However, the NFT has offered a way of proving verifiable digital ownership with exact information about who owns the NFT and its past history.
Artists have capability to sell their work in a fully digital form and users can collect it. You are able to sell your artwork in the same space as well-know artists like Aphex Twin or Grimes.
To get started to involve and trading on Binance NFT Marketplace, you can see the details in the Binance NFT Buying and Selling Guide.
What is a Mystery Box?
The Mystery Box gives you the opportunity to receive random NFT from a collection. Each NFT has a different level of rarity: normal (N), rare (R), super rare (SR) and super rare (SSR).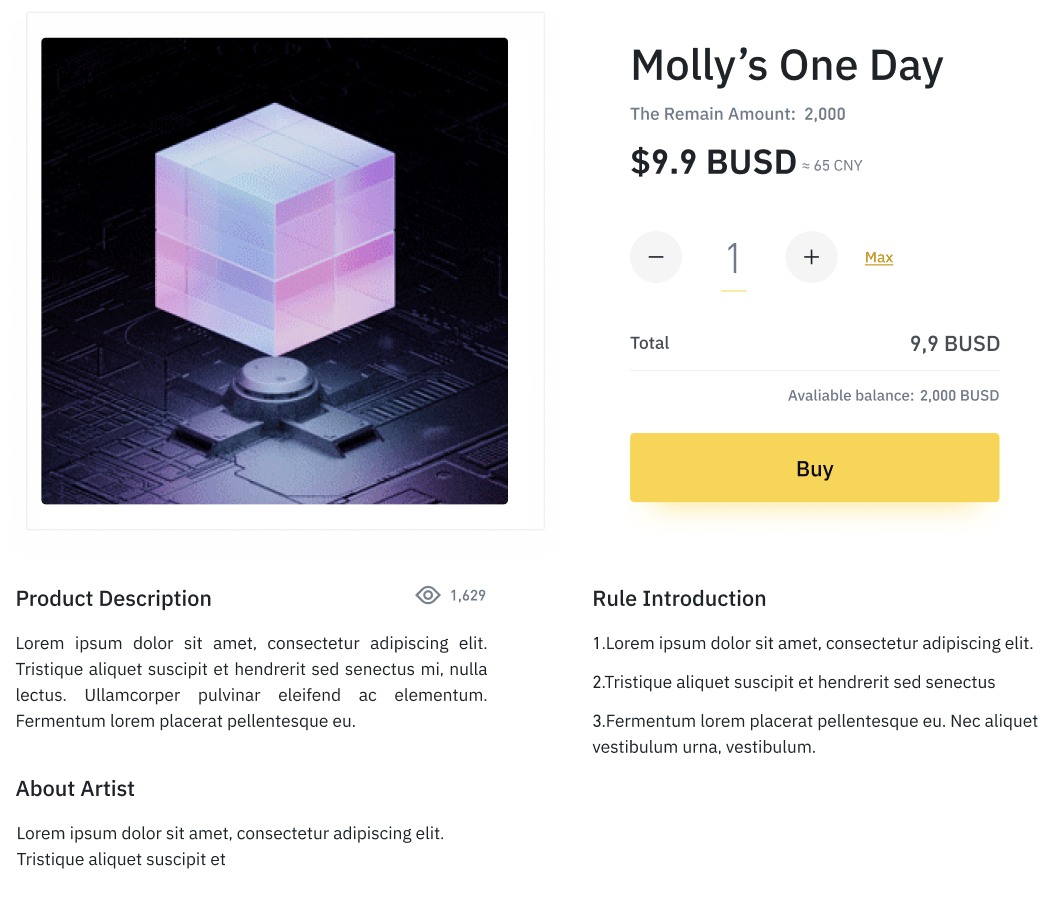 When buying the Mystery Box, you don't need to open it immediately. You can open it whenever you want or even trade it without opening it first.
The Mystery box is sold at a fixed price, you are able to choose the quantity to buy. Below the description of the item, you will also find the probability of the different NFTs that you can get.
If you have purchased the Mystery Box then you will not be able to return it. However you can list on the NFT marketplace to sell it.
Conclusion
Binance has provided a place to create and trade NFT. This is a simple, reliable option for creators and collectors. Artists have a chance to distribute their work as digital and collectible products.
>> Related: Binance registration guide update 2022