Arabic
Bengali
Chinese (Simplified)
Dutch
English
French
German
Hindi
Indonesian
Italian
Japanese
Korean
Malay
Persian
Portuguese
Russian
Sindhi
Spanish
Thai
Turkish
Urdu
Vietnamese
Binance is a multifunctional platform in the field of cryptocurrency trading. In particular, the Binance Savings trial fund is a very simple savings function to make a profit for users. This article will help you get a better grasp of Binance Savings Trial Fund and how to redeem it on Binance.
What is Binance Savings Trial Fund?
The Binance Saving Trial Fund is a cryptocurrency-saving feature offered by Binance. Binance allows you to use the Binance Saving Trial Fund to subscribe to Binance Earn Flexible Savings and earn the annualized interest from your holdings. 
For example, you get a voucher worth 1000 BUSD. When send 1000 BUSD to Binance Savings platform, you won't get 1000 BUSD but only get the annualized interest generated from 1000 BUSD.
As mentioned before, with the Binance Savings Trial Fund, you can earn the annualized interest from your funds which will be paid into your Spot wallet. And, you can take advantage of this interest rate to earn compound interest. Compound interest, regarded as "interest on interest", is a tiered financial concept that has helped traders and investors achieve their financial goals.
For those who don't know what compound interest is, don't worry. It's an understandable concept. When you roll a snowball at the top of the hill down, the snowball will really gather more snow around it, getting bigger and bigger. By the time falling to the bottom, it can double, triple or even quadruple in size. The bigger it gets, the greater the benefits – compound interest will be similar.
The difference between Binance Savings and Binance Savings Trial Fund
Binance Savings allows users to deposit cryptocurrency savings into their Binance Savings wallet. Binance will lock that cryptocurrency and pay interest to savers. 
There are two types of Binance Savings: Flexible Savings and Locked Savings. 
The characteristic of flexible savings is to receive daily interest and the interest will be calculated from the day after you subscribe. You can redeem the deposit flexibly if necessary.
With locked savings, you will have to lock your holdings for a certain period of time, maybe from 7-90 days. You will receive a fixed interest after the end of the savings period. In addition, the interest earned will be forfeited if they withdraw it before the maturity date.
On the contrary, for the Binance Savings Trial Fund, you do not have to deposit your crypto here but simply, Binance gives you a savings account and you will earn the annual interest from your holdings. However, because this is a trial fund, you cannot redeem or convert cryptocurrency that Binance originally give you.
How to redeem Binance Savings Trial Fund
Step 1: Log in to your Binance account and tap [Account], select [Reward Center], select [Reward Center].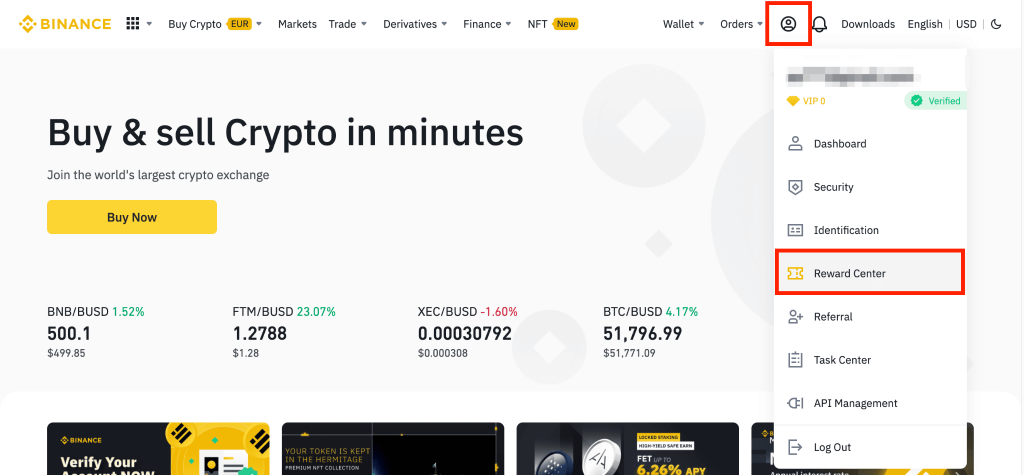 Alternatively, you can click [Account] or the [More] menu on the Binance app to access the [Reward center].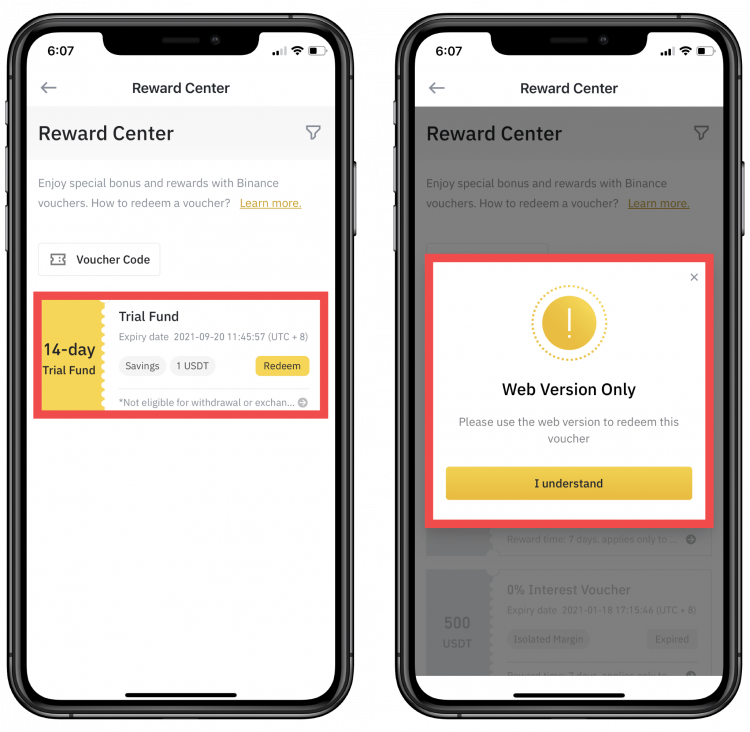 Step 2: After you receive Binance Savings Trial Fund, a new window will appear with the face value, expiry date, and activation time in the Reward Center.
Note: You can only redeem your Binance Saving Trial Fund on the Binance website and can only apply vouchers to Flexible Savings products.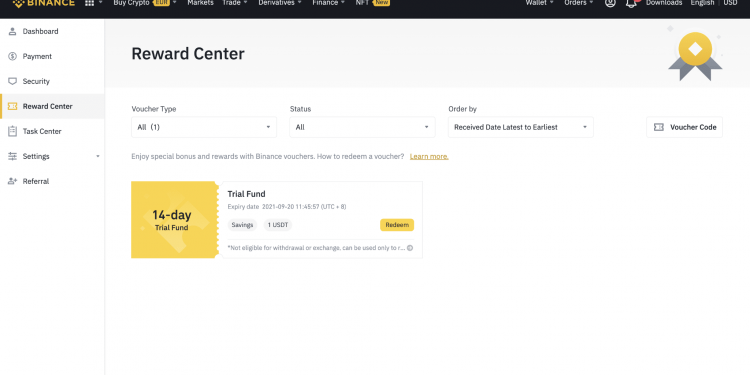 Step 3: Tap the voucher and follow the instructions. Press [Go to the Savings page].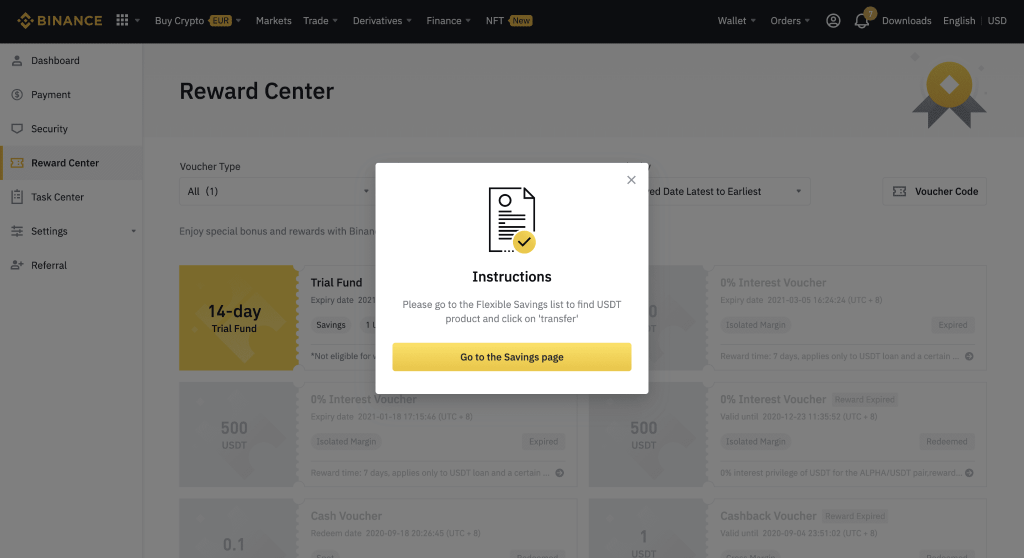 Step 4: You'll be redirected to Savings and a pop-up window will appear. Tap [Use Savings Trial Fund] and select the coupon you want to use.
Click on [I have read and I agree to Binance Savings Service Agreement] and then tap [Confirm] to confirm.
Note that you are not able to withdraw or exchange trial funds that can only be used to withdraw annual yields from the Savings product you have signed up for.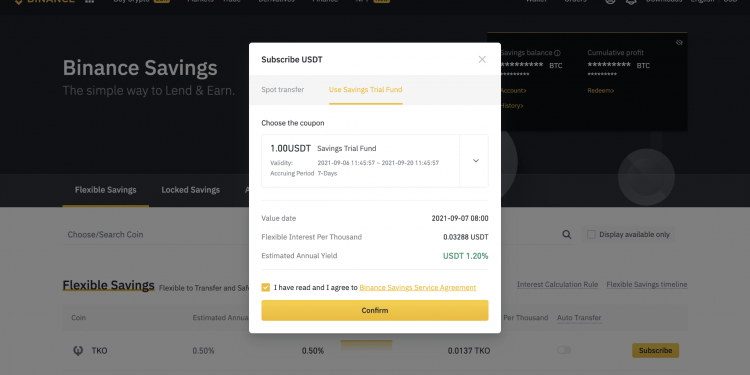 Step 5: To track the registration history, click on [Orders] – [Earn History] – [Savings] – [Savings Trial Fund] or press [Wallet] – [Earn] – [Savings Trial Fund].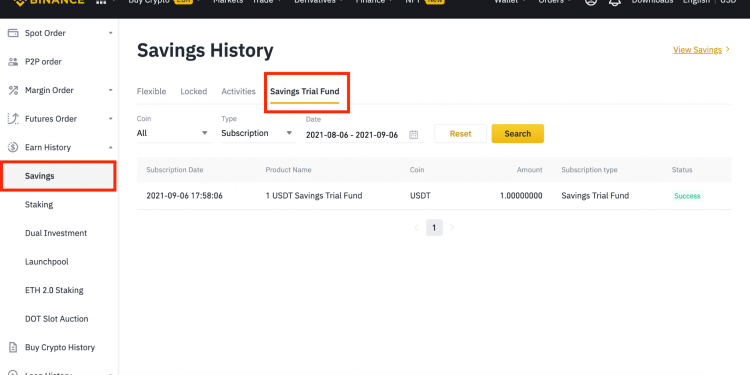 Congratulation! You've successfully completed to redeem the Binance Savings Trials Fund. 
>>> Related: How to register and verify Binance account update 2022