Arabic
Bengali
Chinese (Simplified)
Dutch
English
French
German
Hindi
Indonesian
Italian
Japanese
Korean
Malay
Persian
Portuguese
Russian
Sindhi
Spanish
Thai
Turkish
Urdu
Vietnamese
What is Binance's task center?
The Binance Task Center includes challenges that users need to fulfill and meet the requirements to achieve some rewards on Binance Reward Center. The tasks consist of making total transactions in a certain cryptocurrency, referring friends, or joining some other activities.
How to perform tasks and receive rewards
Step 1: Log in to your Binance account and click on the profile icon in the left corner, and then select [Task Center].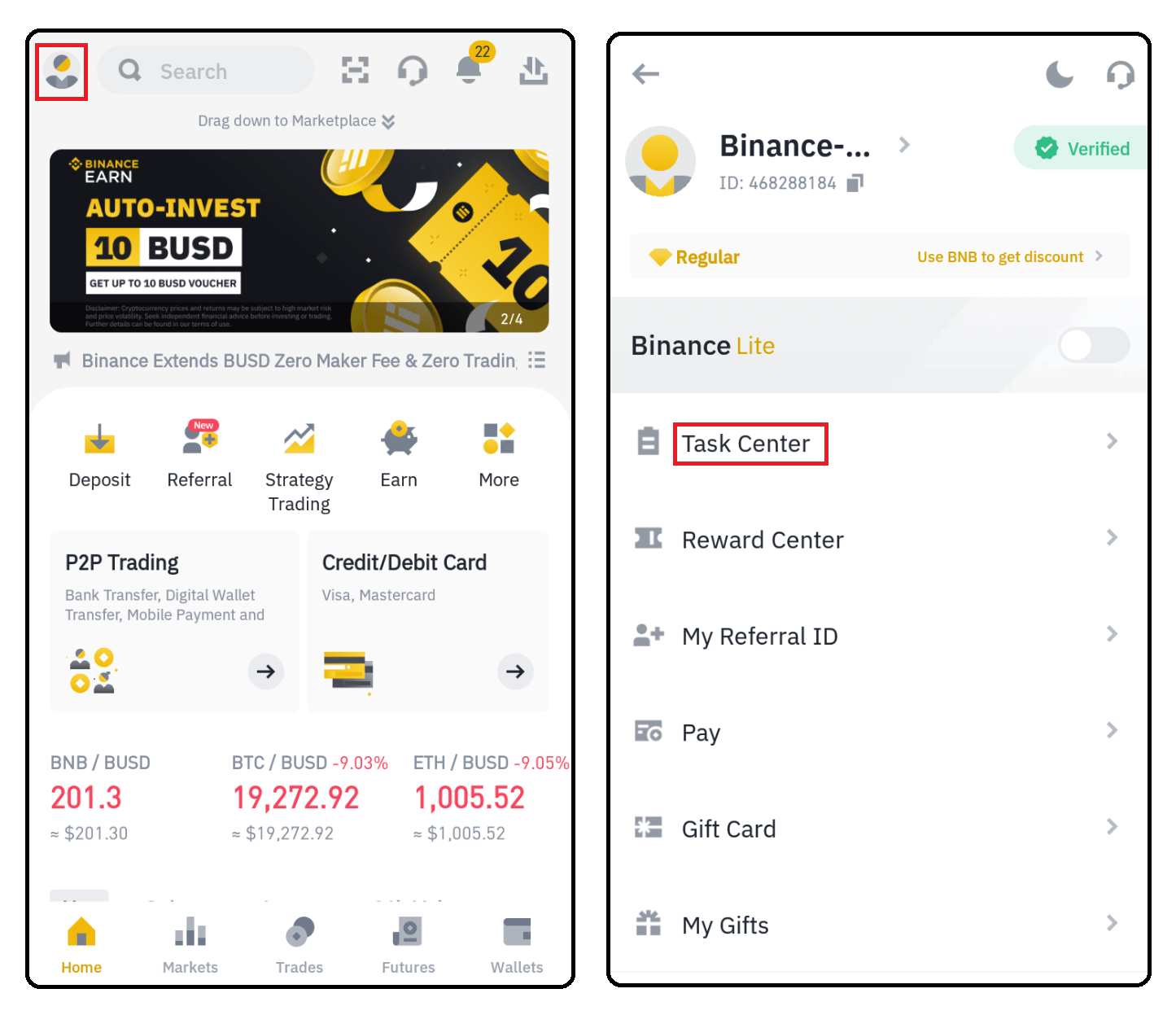 Step 2: Select the corresponding tasks. Binance will allocate daily or weekly tasks based on the requirements of the ongoing activity. When you take on a task, you'll also automatically receive reminders like "You've received a new task."
Before receiving the task, click [View rules] to see the specific conditions that the task requires.
The remaining time is the time you have to complete the task. The countdown clock will start after you take on the task. You won't be able to complete your task beyond the rest of the time.
Then, press the [OK] button to start performing the task.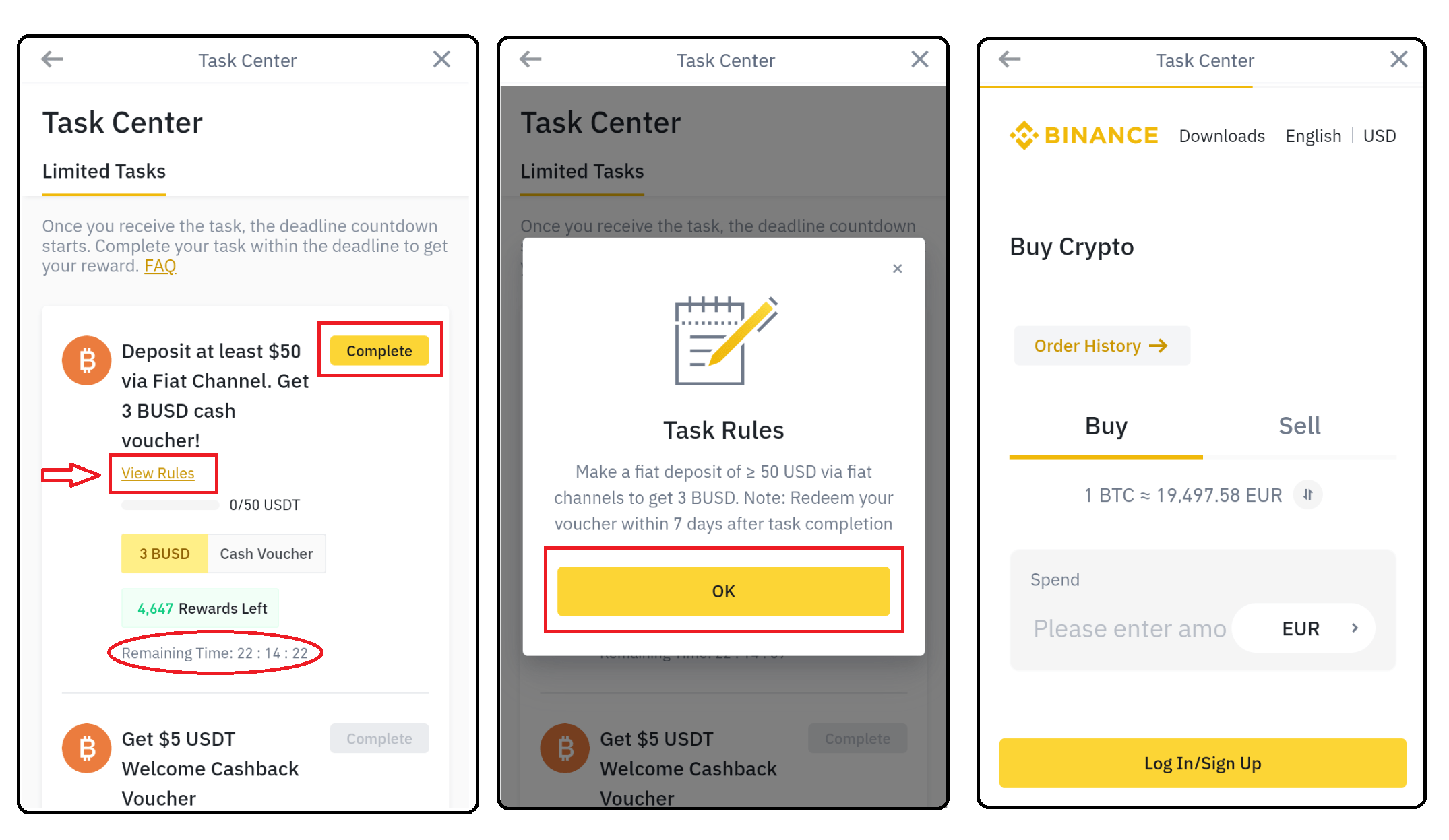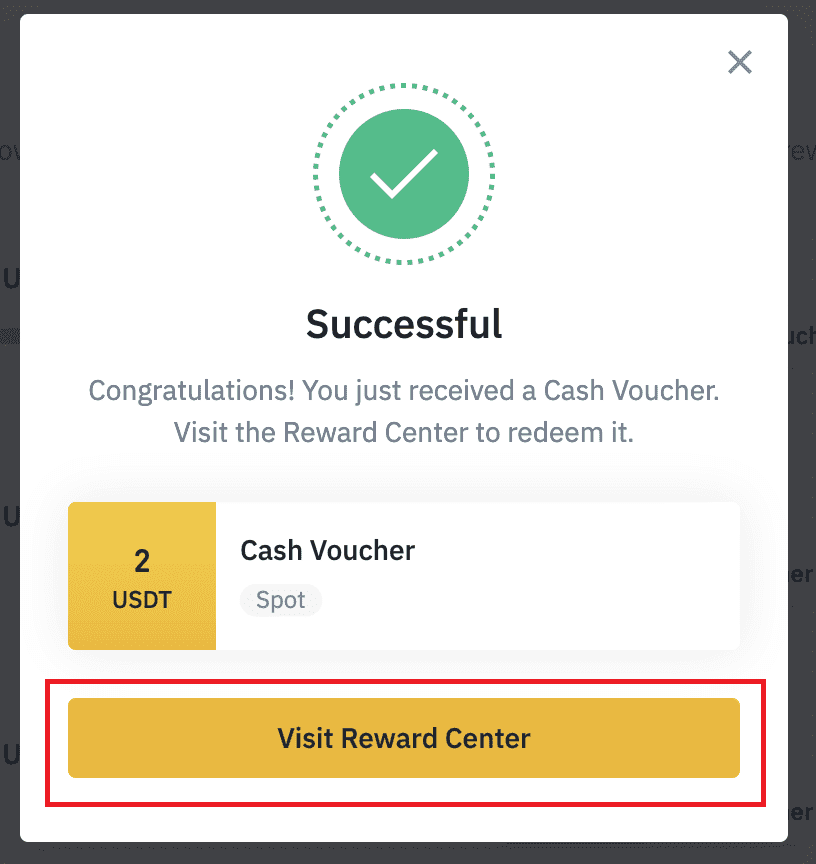 Step 3: After completing the task, return to the Task Center to check the status of your task completion. The success window will appear if you meet the criteria of the task. Tap [Visit Reward Center] to redeem the rewards. Step 4: At the Reward Center, you'll get an overview of all the vouchers you can redeem. Just select [Redeem Now] before the expiry date to receive your reward.
Terms and conditions of Task Center
The task is only valid when it appears in the [Task Center]. Even after the activity notification, if no task has appeared yet, please wait.
After receiving the task, check the "title" and "rules" of the task before completing the task
The task status and cumulative value will be updated within 4 hours. If the cumulative number is not updated, wait patiently and refresh the page.
Once the task is not yet complete, make sure that your activity is in line with the rules of the task.
After completing the task, you go back to the task center and click "get the rewards", and then go to the voucher center to use the voucher.
The cumulative amount will be converted to USDT, so it will be affected by market volatility and may have a small deviation from the actual order value.
It is strictly forbidden to use all third-party plugins, illegal accounts, mass registration, self-trading, or market manipulation,… If you are found to have engaged in illegal activities, you will be removed from the task.
Binance reserves the right to decide the final result.
>> Related: Binance registration guide update 2022