Arabic
Bengali
Chinese (Simplified)
Dutch
English
French
German
Hindi
Indonesian
Italian
Japanese
Korean
Malay
Persian
Portuguese
Russian
Sindhi
Spanish
Thai
Turkish
Urdu
Vietnamese
What is BscScan?
BscScan
 is a
blockchain explorer
which provides an analytics platform with a great deal of useful information about addresses,
smart contract
,
transactions
,… for BNB Chain. It was developed by the same team as Etherscan, therefore both platforms have similar interfaces.
Features of BscScan
BscScan makes it easy for traders to access on-chain data and keep an eye on the progress of DeFi projects. Some features of BscScan are:
Monitoring transaction details including transaction amount, block number, date, status, value and transaction fee.
Viewing the latest blocks added to the blockchain.
Keeping track of the balance of the wallets and transactions.
Searching, reading, and interacting with smart contracts deployed to the blockchain.
Exploring the supply of tokens and other cryptocurrencies.

For instance:
You can not only look up whether smart contracts have been verified or not on BscScan but also interact directly with them if the DApp's API fails.
BscScan has added "DEX Tracker" and "Yield Farm" features to show you the recently launched yield farming lists on Binance Smart Chain. In addition, you are able to set up a Whales alert and keep track of the wallets of DeFi protocol founders. Therefore, BscScan is an usefull tool to monitor transactions with great value and predict market volatility.
How to find Yield Farms using BscScan
To track yield farming list, click [Resources] and tap [Yield Farms List].

Here, you can see the latest Yield Farms list. You can use PancakeSwap to generate yield from your holdings on the BNB Chain. Since fees on the BNB Chain are lower than on other parties such as Ethereum and BNB Chain, it has become an ideal platform for small players who want to participate in Yield Farming to receive rewards divided equally among participants.

How to find the average gas charge with BscScan
To find the average gas charge, click [Resources], select [Chart & Stats], and then tap [Average Gas Price Chart].

A chart of the average gas price will appear that shows the gas fee paid for transactions on the BNB Chain.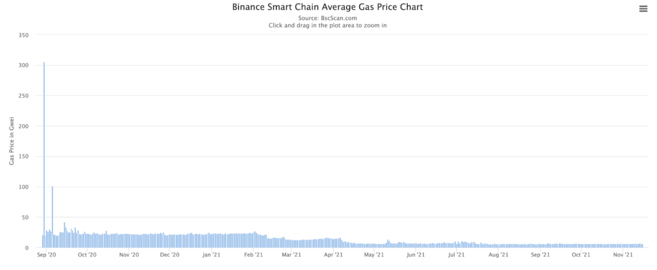 BNB Chain has relatively low fees. On the BNB Chain, 1 gwei is equivalent to 10-9 or 0.0000000001 BNB. With an average gas price of about 6.5 gwei, sending 10 BNB would cost less than ten cents. In fact, sending ten or even a hundred times that amount still won't cost you more than 20 cents.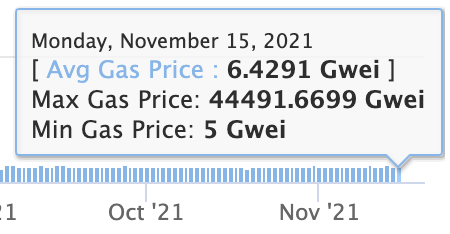 From the history of trading, we can see that people have paid higher transaction fees than usual. Some users may still keep their old habits when using Ethereum or other blockchains. However, this is really not necessary. BNB Chain is very difficult to block, so if network conditions remain stable, only 6.5 gwei is enough for a simple transaction.
How to find unique address count using BscScan
You are able to estimate the number of users in the network depending on unique address count. Click on [Resources] section and tap [Charts and Stats] then select [Unique Addresses Chart].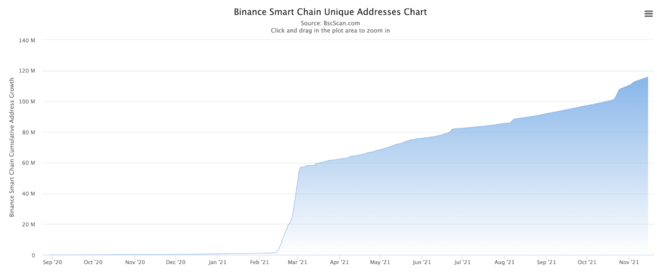 A blockchain has 100 unique addresses doesn't mean it has 100 independent users because everyone have ability to generate multiple addresses. With the magic of cryptography, it will be quite difficult to find out whether those addresses belong to the same person or not.
The number of users is not as much as this indicator shows. As the result, unique address count is a rough metric that overestimate the amount of users and the development of the network.
How to find the number of daily transactions using BscScan
You can click on [Charts & Stats] section to find daily transaction amount on the BNB Chain on a certain day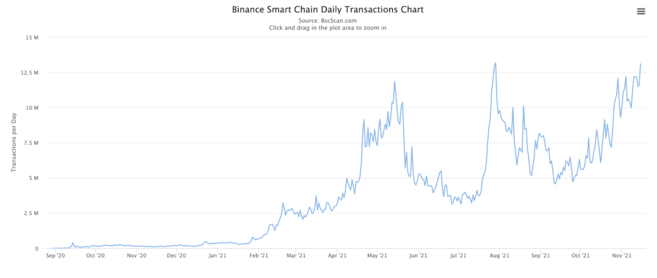 According to the chart, you can have overview of network operations and and whether or not it is congested. It provides BNB investors with a positive sign of a growing, stable network.
How to look up an validator using BscScan
Validators stake BNB to process transactions and confirm new blocks. They will ensure that BNB Chain is eligible to operate and earn transaction fees from activities on the network. Because of  the entire security of the network, you have to meet the high requirements to become a validator.
BNB Chain bases on
Proof of Staked authority (PoSA)
which supports short block times and lowers fees. You can click on [Validators] tab to access the Validators Leaderboard and check out the top validators on the BNB Chain.

How to verify smart contracts using BscScan
BscScan users can enter any contract address to verify and see if the compiled code matches the code running on this blockchain. The green tick will appear next to the contract on the toolbar as well as the [Contract Source Code Verified] notice.

Independent test and code verification enhance the overall transparency and security of the BNB Chain ecosystem. You also have capability to interact directly with smart contracts by connecting to a wallet on a browser like MetaMask or Binance Chain Wallet.
Summary
Getting a better grasp of BscScan will help you to access on-chain data and keep an eye on the progress of DeFi projects. Therefore, traders and investors can take advantages of useful information to generate yields from their holdings.
>> Related: How to register and verify Binance acount update 2022