Arabic
Bengali
Chinese (Simplified)
Dutch
English
French
German
Hindi
Indonesian
Italian
Japanese
Korean
Malay
Persian
Portuguese
Russian
Sindhi
Spanish
Thai
Turkish
Urdu
Vietnamese
Spot trading or spot is quite popular in financial markets such as cryptocurrencies, forex, stocks or bonds. This article will guide you what spot trading is and how to buy and sell coins on Binance.
What is a spot trading?
Spot trading can be considered as a regular transaction. In other word, traders buy and sell coins with each other immediately by placing an order. There are two main methods to start spot trading: through the exchange or buying directly between traders.
Spot traders try to gain profits from market fluctuations in the market by buying assets with the hope that their value will increase. They can then sell their assets at higher price on the spot market to make a huge profit.
The spot market is often created by a variety of asset classes, including cryptocurrencies, stocks, commodities, foreign exchange and bonds. Basically, the most popular market number, like NASDAQ or NYSE (New York Stock Exchange), is the spot market.
The current market price of the asset is called the spot price. Traders have the capability to negotiate the prices simultaneously by placing an order. However, the market price might change while your order is executed. In some cases, there is not enough volume to meet your order at the price you want.
Instructions for spot trading – How to buy and sell coins on Binance
Spot trading on Binance is simple if you have registered a Binance account. If you don't already have an account, you can take a look at the detailed instructions on how to register binance full update 2022.
You can start spot trading by clicking the [Exchange] button on Binance.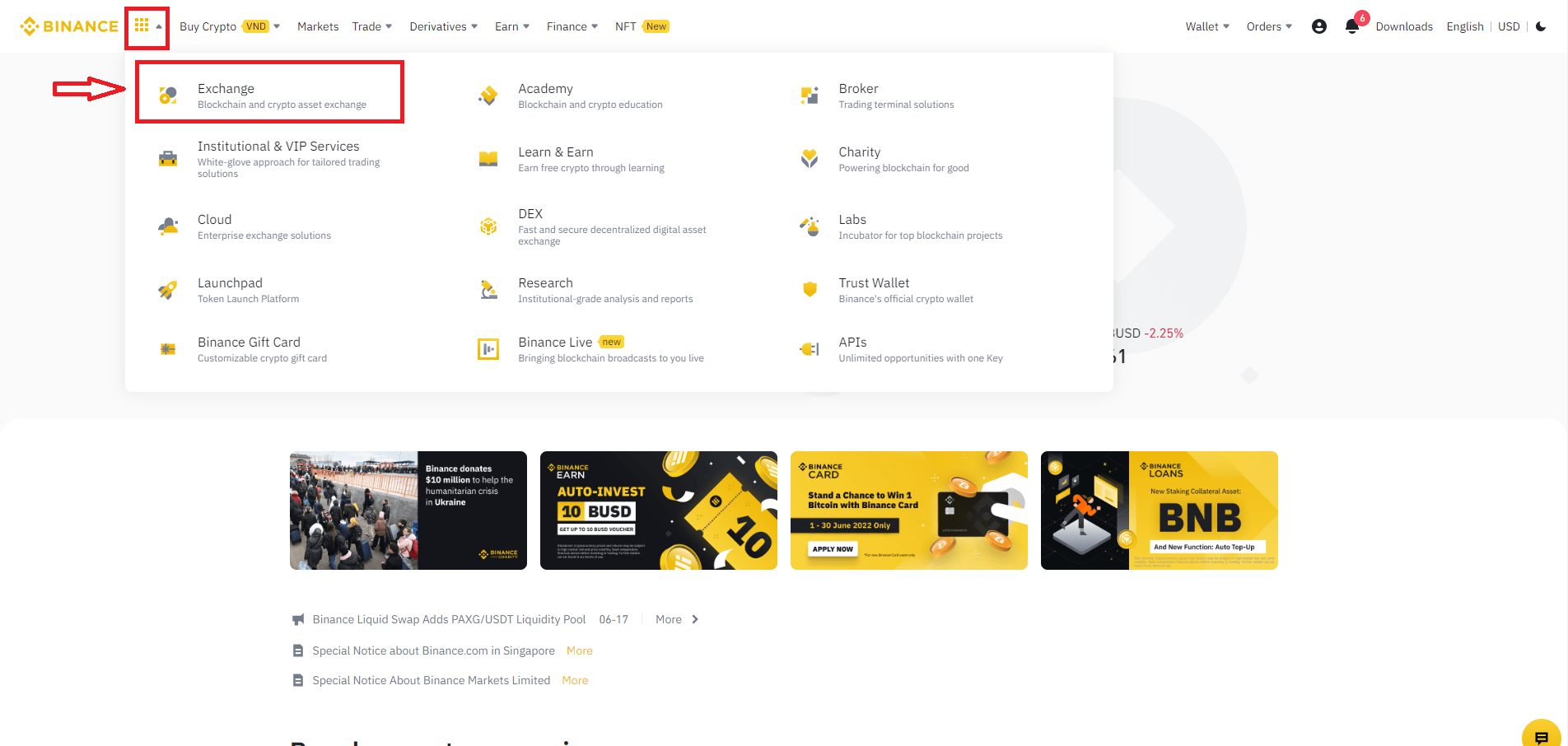 Then, you choose the coin you want to buy and sell. This option allows you to choose the cryptocurrency pairs on the spot market.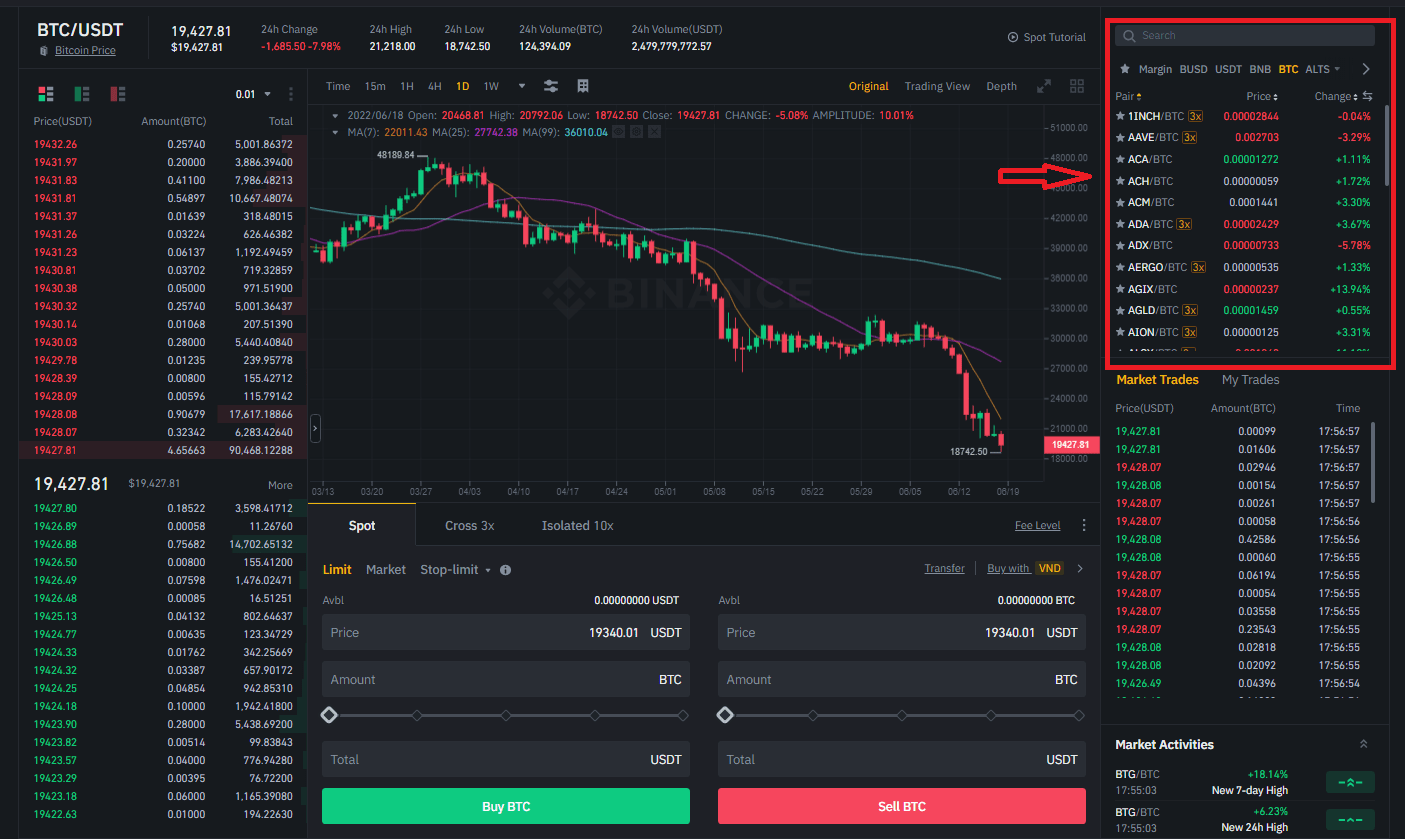 The trading page interface will show charts of each coin with customizable historical price data. The order book lists all open buy and sell orders of the asset. Buy orders are green, and sell orders is red. When you execute a market order to buy an asset, you get the lowest price given. If your order still needs more volume to fill, it will move to the next lowest ask price.
To placing an order, in the [Spot] section, you can select between the [Limit], [Market] and [Stop-limit] order. You can also use Spot Grid trading tools to help you take advantage of market fluctuations.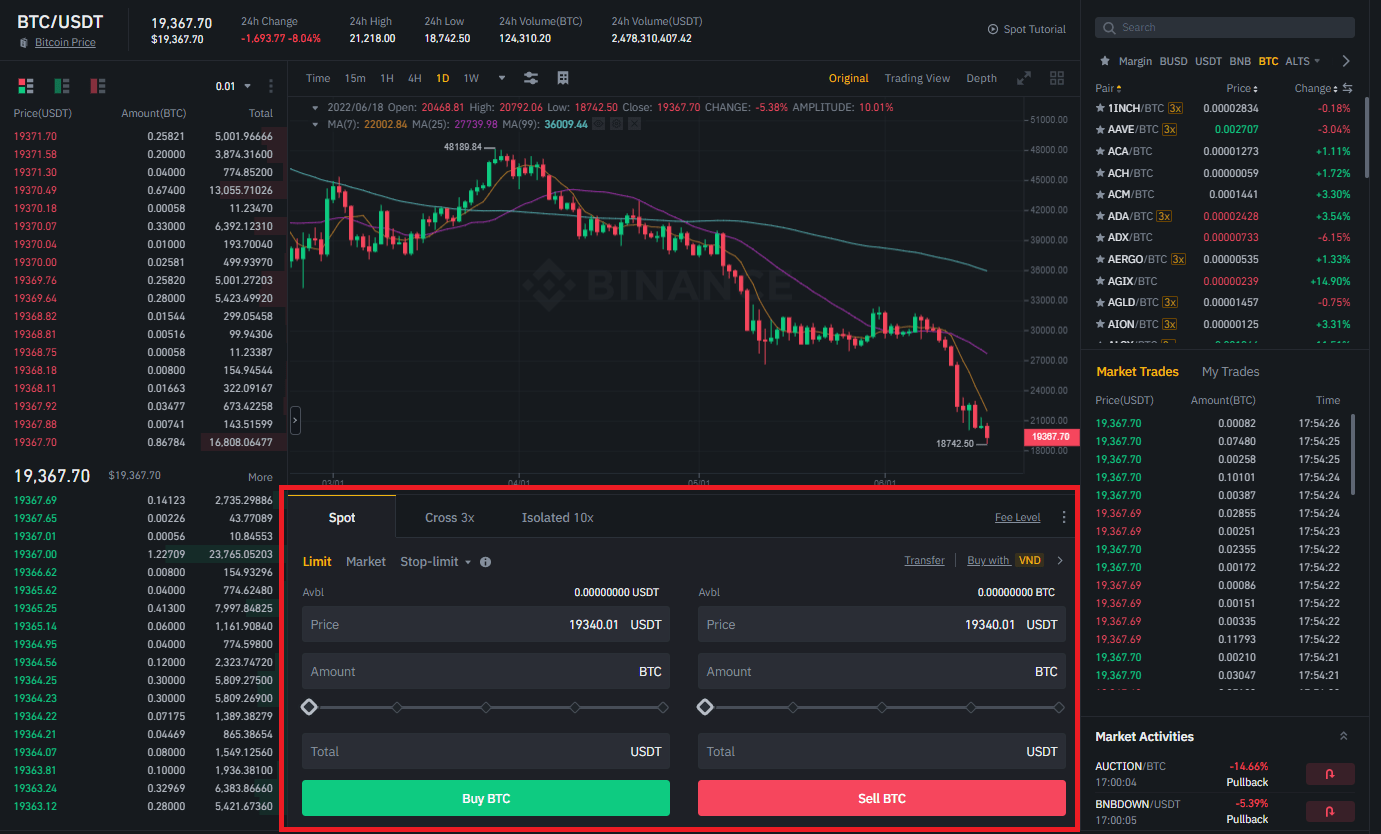 You can click [Buy BTC] to buy or [Sell BTC] to sell coins.
There are 3 types of order: Limit order, Market order, Stop-limit order.
Limit order and market order
Limit order spot trading Binance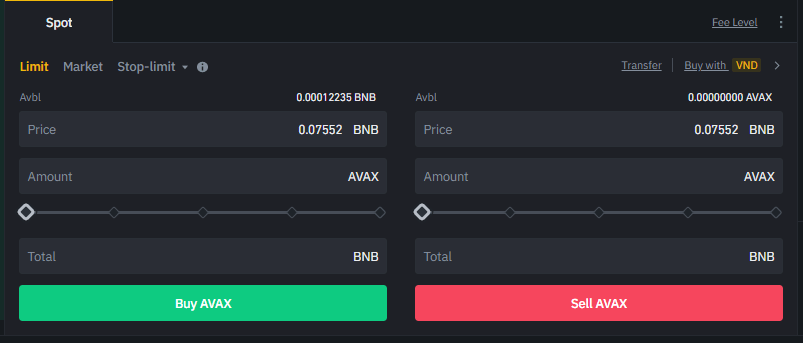 Limit order is default. You select the price and the amount to buy, and click [Buy AVAX]. Similarly, click [Sell AVAX] to sell coins.
Market order spot trading Binance
Let's take a look at the simplest spot trading order you can make: market orders. You just enter the quantity of coins you want to buy at the current price, Binance will automatically match your order with the corresponding prices and other orders.

View Spot trading order history
After purchasing the coin, the order history will automatically show up on that page, or you can see the guide to view the trading order history here.
Stop-limit order
A stop-limit is a advanced order which will automatically trigger a buy/sell order at a certain price.
Stop trading is one of the most common ways for users to trading. Although it is quite simple, gaining a better understanding of its advantages, disadvantages, and potential strategies will help you to invest effectively. In addition to the basic knowledge, you should combine technical analysis with market psychology analysis to gain profits.
Spot transaction fees
For more details, you can see Binance exchange transaction fees here.
What is futures trading?
For more financial leverage, you use futures, however this is not financial investment advice.