Arabic
Bengali
Chinese (Simplified)
Dutch
English
French
German
Hindi
Indonesian
Italian
Japanese
Korean
Malay
Persian
Portuguese
Russian
Sindhi
Spanish
Thai
Turkish
Urdu
Vietnamese
How to buy Bitcoin or Cryptocurrencies with Fiat in your country (USD, EUR, CNY, JPY)? First of all, it is important to start understanding what Binance P2P is and how this platform works.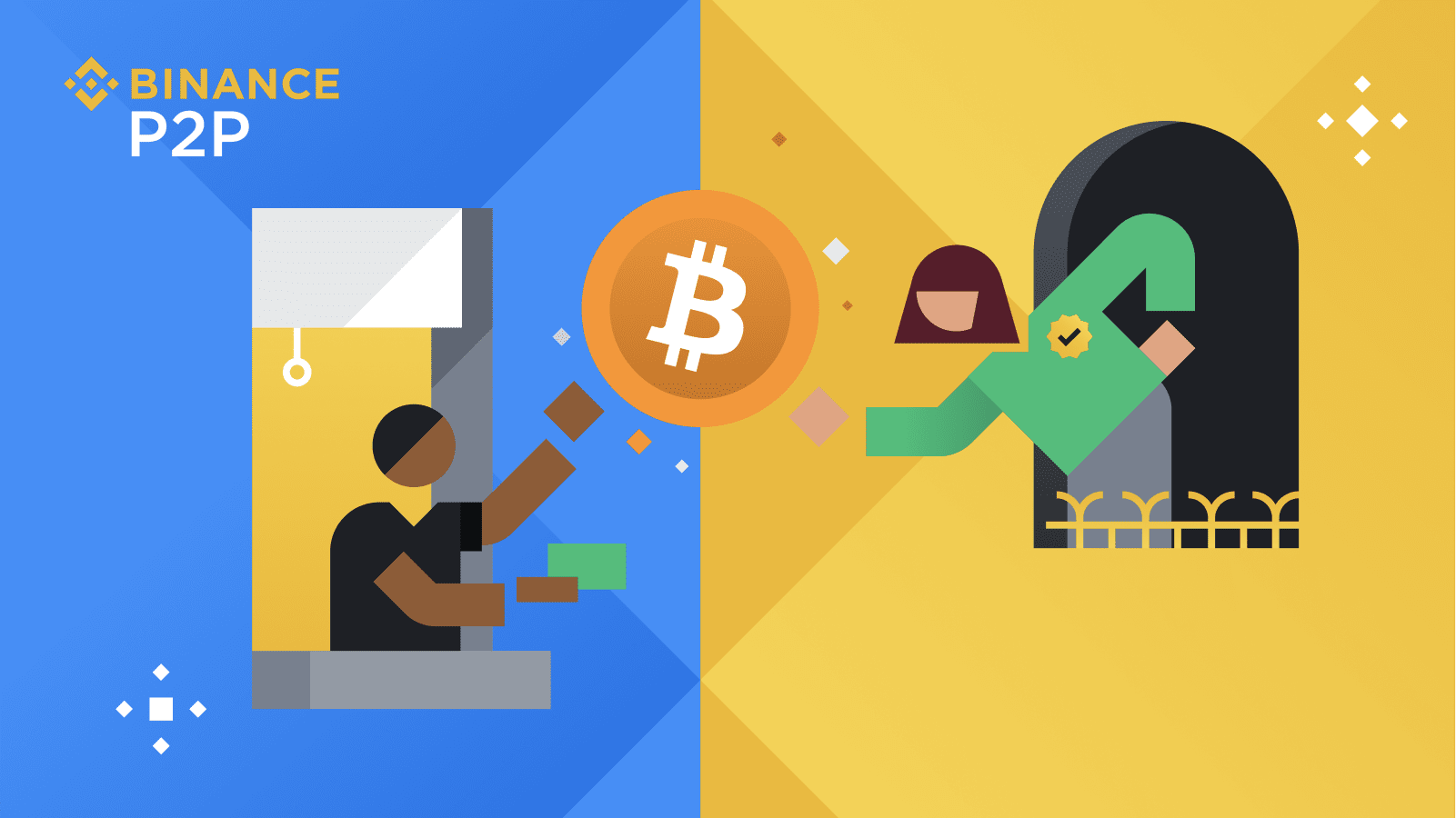 What is Binance P2P?
In general, Binance P2P is a system that allow traders and investors to buy and sell cryptocurrencies by transferring fiat in your country (USD, VND, JPY, CNY,…). More specifically, Binance P2P is a peer-to-peer cryptocurrency trading platform that you are able to buy, sell, and trade cryptocurrencies directly with other users.
Users can personalize their offers and create their own suitable trading terms in the ad. Setting up ads on Binance P2P is fast, simple, and flexible, giving you more control over who you trade with and how you buy and sell crypto. Ads set up incorrectly will lead to unexpected results or even no transactions. If you want to get the best results, you need to know how to create strong ad postings and different promotional strategies on Binance P2P.
Basically, a P2P Transaction is the act of buying and selling cryptocurrencies directly between users without a third party or intermediary. For example, if you want to buy BTC for $50, you need to find the right seller. When you click to buy, the seller's corresponding BTC will be locked. After you transfer to the seller, this BTC will be unlocked and belong to you. Keep the transfer receipt as proof in case the seller intentionally commits fraud.
How to buy and sell coins on Binance P2P 
To get started with Binance P2P, you need register Binance account and verify identity.
However, when trading P2P on Binance, it should be noted:
If you are a seller, it is necessary to double-check the buyer's receipt. If there is a shortage of cryptocurrency, you can completely make a complaint, ask the buyer to transfer more cryptocurrency, or be instructed to cancel the transaction. Only agree to release after confirming that you have not received

the buyer's payment.

Do not transfer cryptocurrency to the account even if the buyer has successfully sent a photo of the transfer transaction, avoiding fake messages.
If you are the buyer, you transfer the correct amount to the recipient's bank account. Then take a photo and send it to the seller, waiting for them to release it. If you have to wait for a long time and the seller still hasn't released, you can contact them by using the chat window on the top right of the page to speed up the process. In case you have transferred cryptocurrency but the seller does not confirm the delivery and you cannot contact them, you can calmly wait and then complain to Binance about this issue. It will take time to resolve, usually within 1-2 business days.
How to buy cryptocurrencies on Binance P2P
Step 1: Log in to your Binance account. On the homepage, click [P2P Trading], if it isn't available on the screen, click [More] and select [P2P] in the [Trade] section.
Click on the little arrow at the top left. [Express] allows you to trade immediately with another merchant but you have to set available currency and payment method first. Click [P2P] in the drop down menu.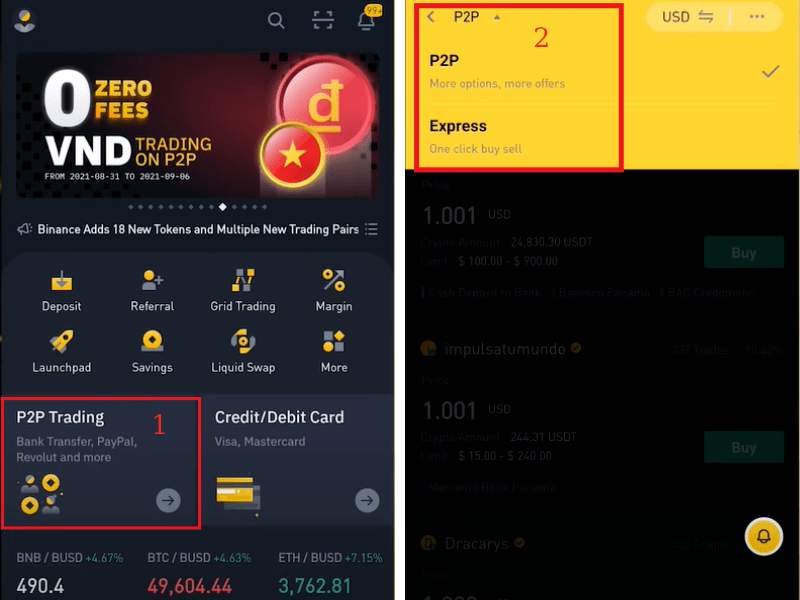 Step 2: Click [Buy] section, select the cryptocurrency you want to buy.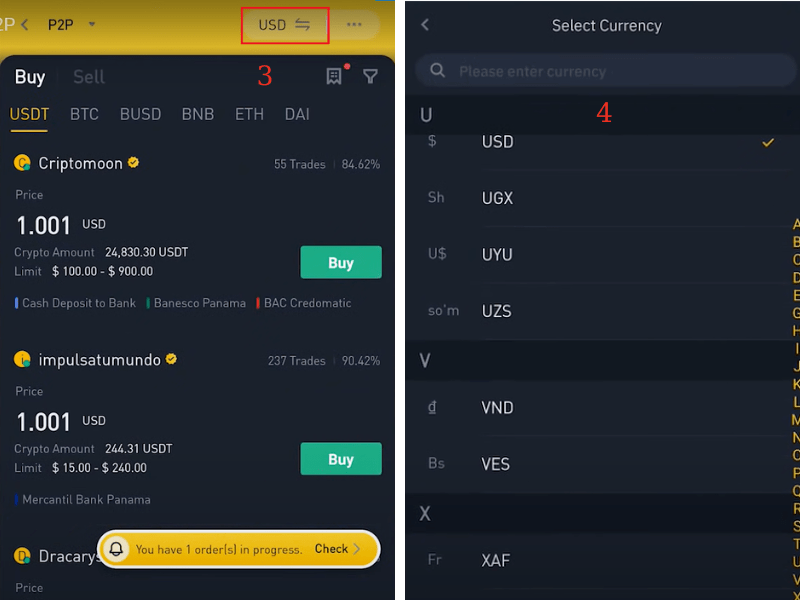 Step 3:Click on ellipsis icon and click [Payment Methods] in the drop down menu to select a payment method.

Or you can click on filter icon to see more information, then select payment method and country/region.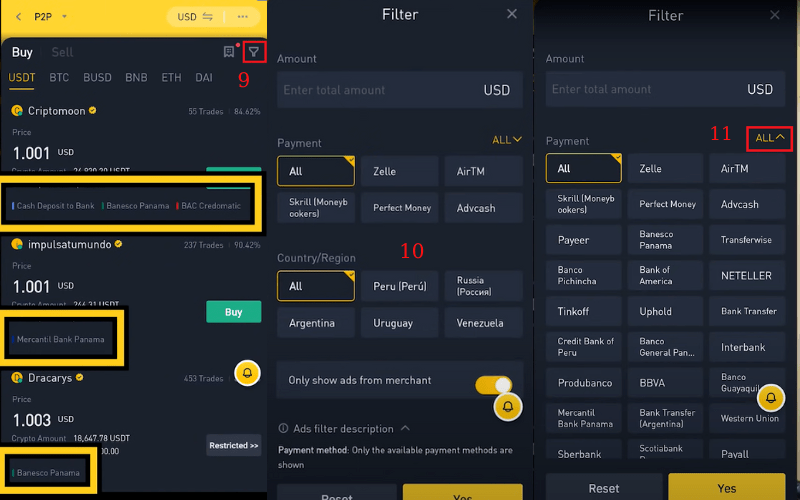 Step 4: You can see different merchants with different rates available to buy cryptocurrency. In this example, we buy USDT with USD. Click [Buy] next to the cryptocurrency you want to buy. Select [By crypto], enter the amount of cryptocurrency and tap [Buy USDT].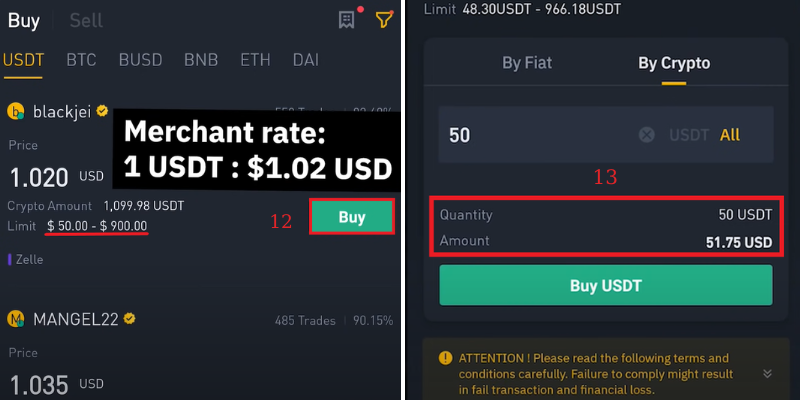 Step 5: You will have 15 minutes to transfer the fund to the seller via payment information provided by the seller. Press [To payment page]. After transferring the funds, click [Transferred, notify seller].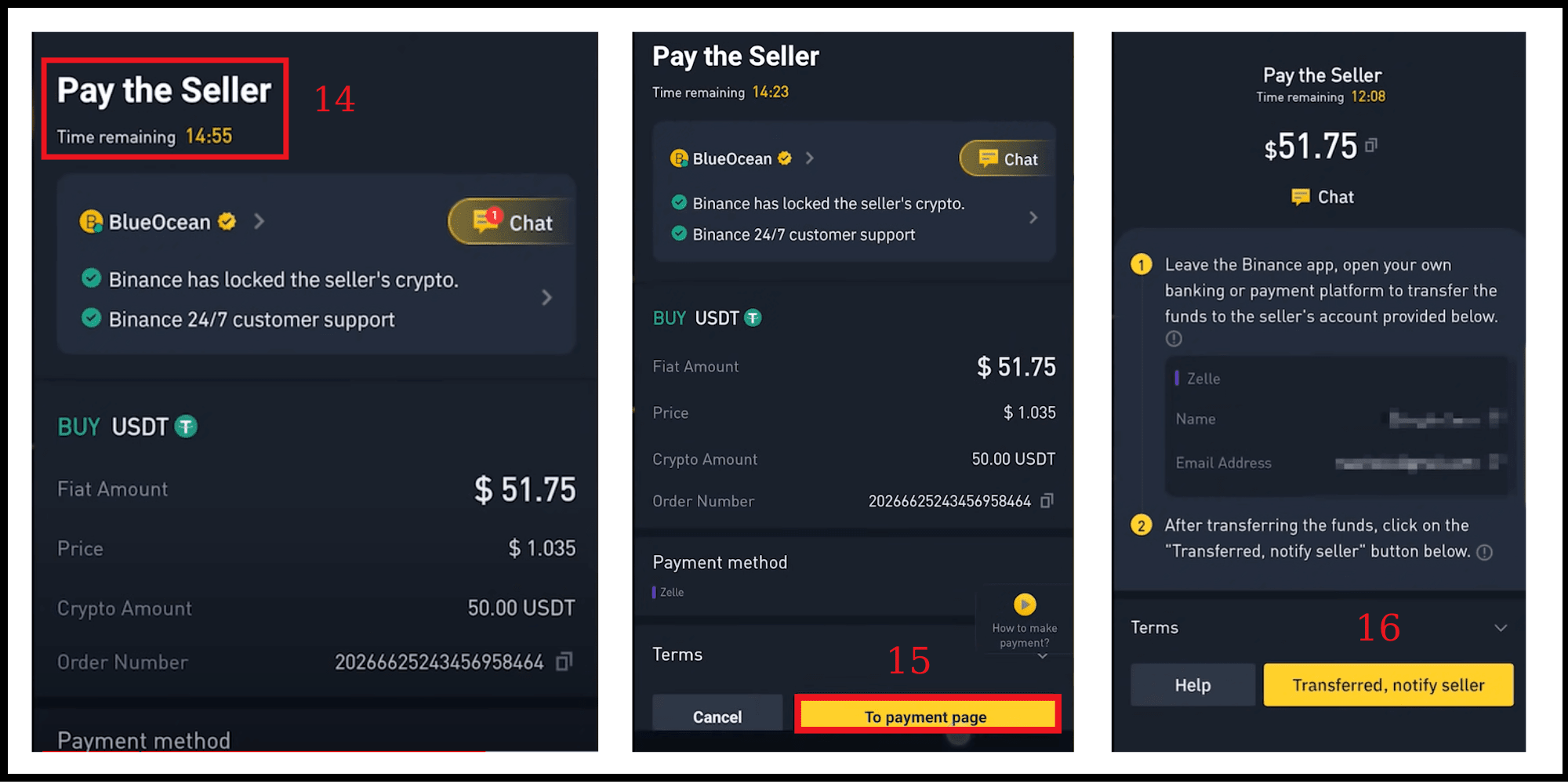 Step 6: After you make the payment, click on chat icon to open chat window to discuss with the merchant and provide screenshot receipt. Then merchant will confirm your receipt and release the funds to you. The system will automatically transfer the crypto to your account.
You can also view the assets you have just bought by clicking [Check wallet].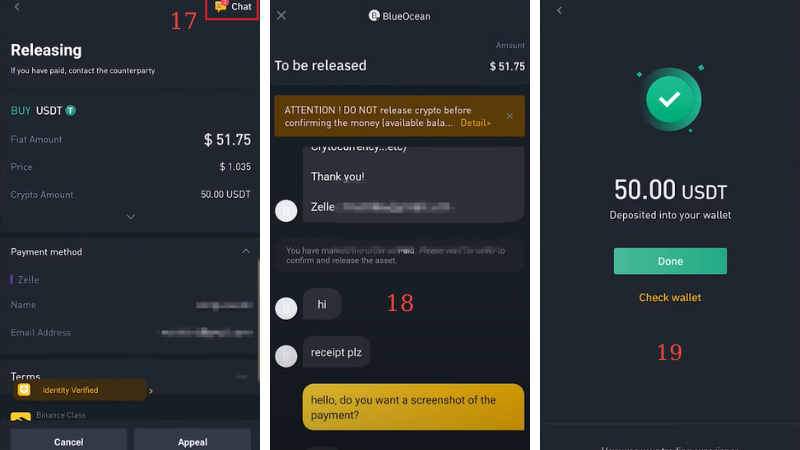 Note: The funds is deposited into your Binance P2P wallet. To start trading, you need to transfer money from the P2P wallet to the Fiat and Spot wallet.
Step 7: Back to Binance homepage. Click [Wallet] >> [Overview]. Press [Transfer] then select wallet, cryptocurrency. Enter the amount of cryptocurrency you want to transfer.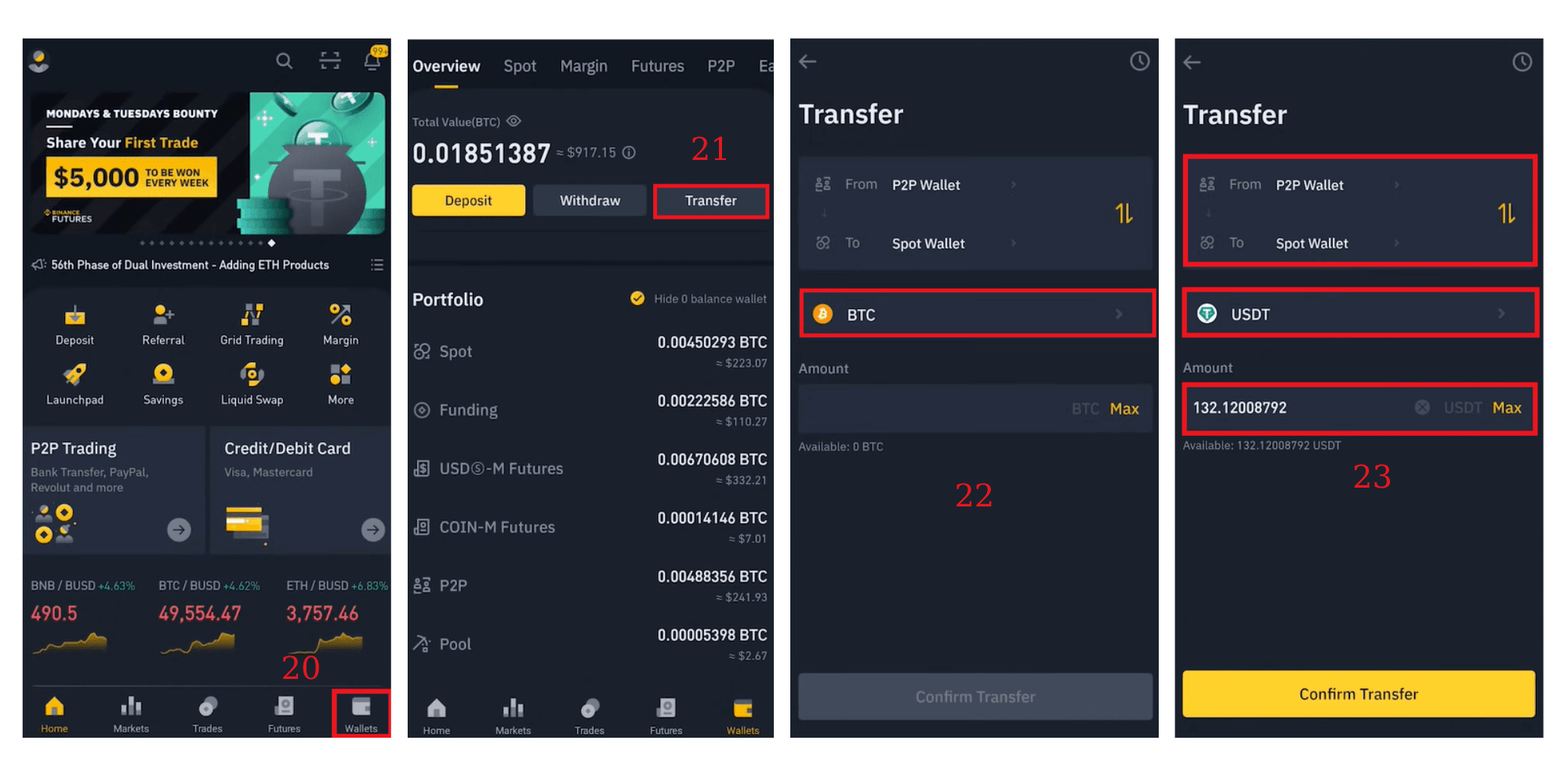 Note: If you haven't received your cryptocurrency assets within 15 minutes, select [Moved, next] you can click on [Complaints] and the customer support staff will help you complete your transaction.
How to sell cryptocurrencies on Binance P2P
Step 1: Log in to your Binance account. On the homepage, click [P2P Trading]. If it isn't available on the screen, click [More] and select [P2P] in the [Trade] section.
Step 2: Click [Sell] section. Search for the cryptocurrency you want to sell, select the buyer who is offering the best exchange rate, and tap [Sell]. Enter the amount of fiat on [By fiat] tap, select a payment method, and click [Sell USDT] to place an order.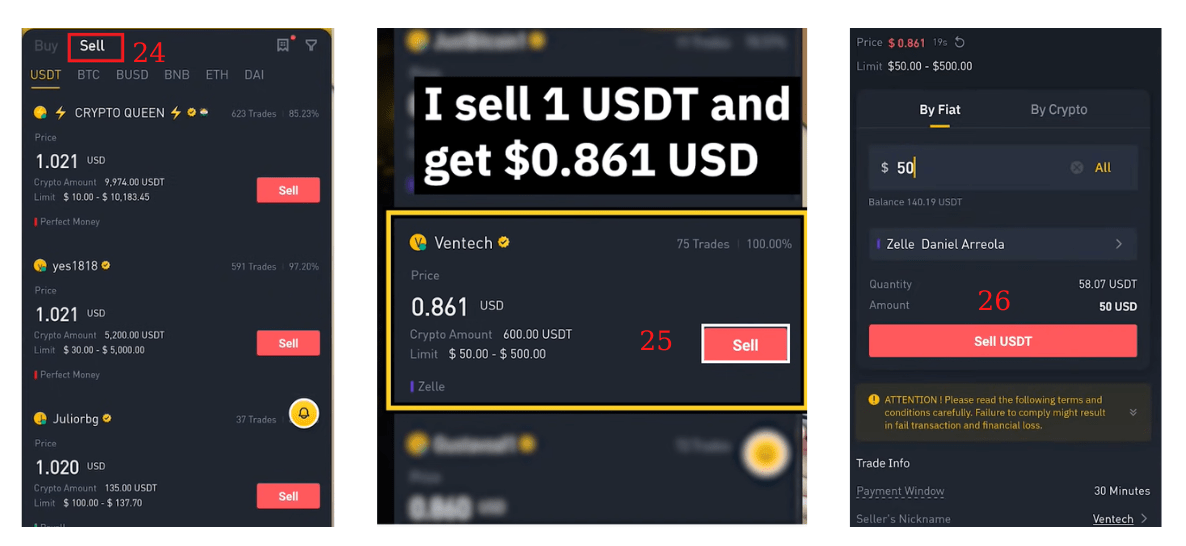 Step 3: The transaction will now display "Pending Buyer's Payment". Open chat window by clicking chat icon, discuss with the buyer and require screenshot receipt. Wait to receive bank payment.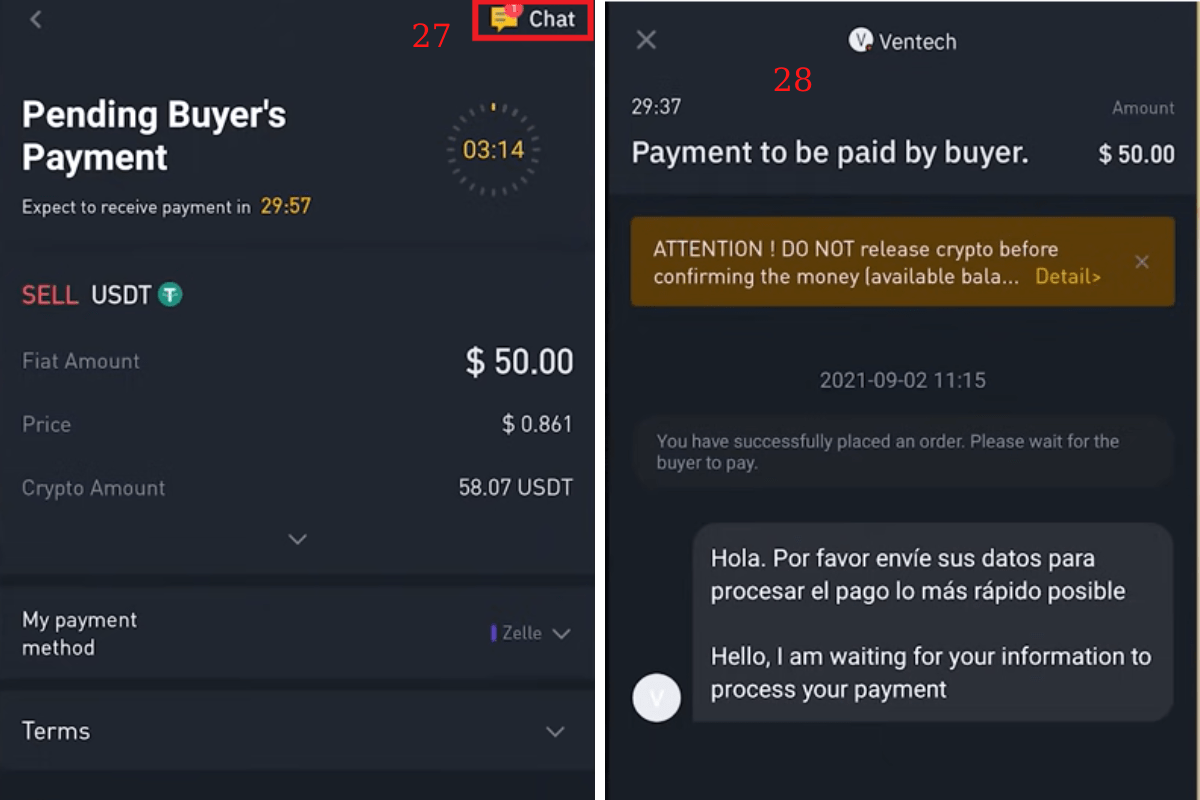 Step 5: After the buyer makes payment, you log in to the receiving bank or wallet account to confirm that you have received payment from the buyer.
Click [Confirm receipt] -> [Confirm] to confirm the payment received and release the crypto to the buyer's account. Again, If you have not received any money, please DO NOT release crypto to avoid any financial losses.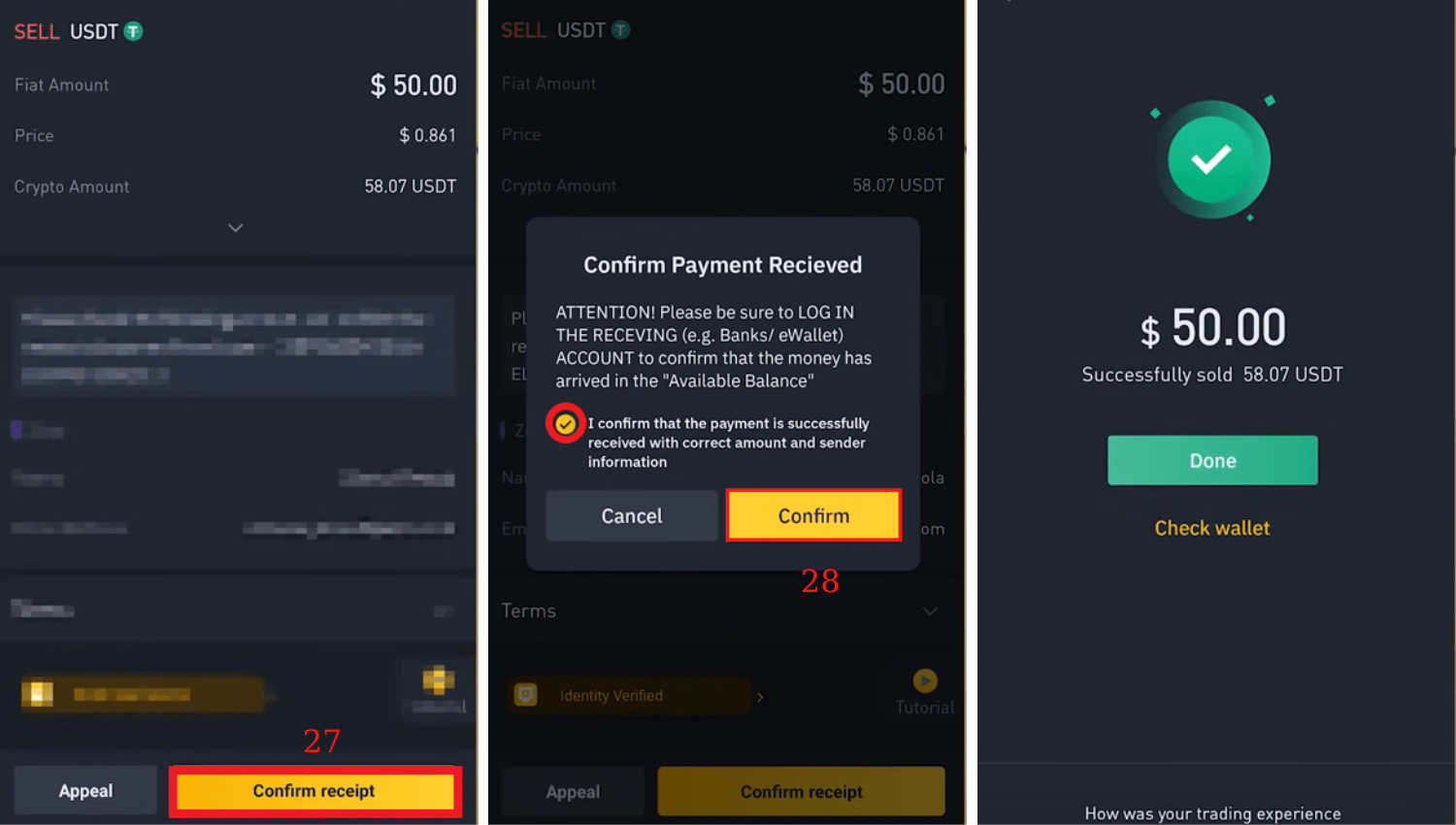 Note:
If you have not received

the buyer's payment

, please DO NOT release crypto to avoid any financial losses.
If you have any issues in the transaction process, you can contact the buyer using the chat window on the top right of the page or you can click "Appeal" and our customer service team will assist you in processing the order.
Advantages of Binance P2P
Zero fees: When it comes to Binance P2P, traders don't have to incur any fees when buying and selling cryptocurrencies from others. They are able to get what you pay for without zero fees. You don't have to worry about fees on Binance P2P while other P2P platforms will collect fees from your transactions.
Multiple payment methods:

Binance P2P provides more than 300 different payment methods, buyers and sellers can choose your desired method for your transactions at will.

High liquidity:

As the official P2P platform of the world's largest exchange by trading volume, Binance P2P can guarantee large volumes for both buy and sell transactions. The platform has processed transactions worth more than $7 billion, which shows a high level of liquidity.

High completion rate:

Binance guarantees to keep a high standard for its P2P market through strict rules for sellers. To maintain access to the platform, they must make transactions quickly and with a high level of satisfaction.

Margin services: Binance provides a margin service to protect buyers and sellers. When traders secure margin transactions, funds are held by Binance and released only when the terms of the agreement are met by both parties. Binance P2P transactions must be completed within a certain period of time. If either party is unable to meet the terms of the agreement, the cryptocurrency or fiat will be returned to your wallet.
Fast transaction speeds:

P2P merchants can set their trading timer as quickly as 15 minutes depending on the payment method. It is very quick and easy to complete P2P transactions with selected merchants within 15 minutes or less.
Compare Binance P2P and Remitano P2P
Remitano is also a popular P2P platform. This exchange is in the United States, Vietnam, China and South Asian countries.
Both Remitano and Binance P2P have their own advantages as well as disadvantages. It's really hard to assess which one is better, safer, and more reputable. Below is some criteria to evaluate and compare between the two platforms.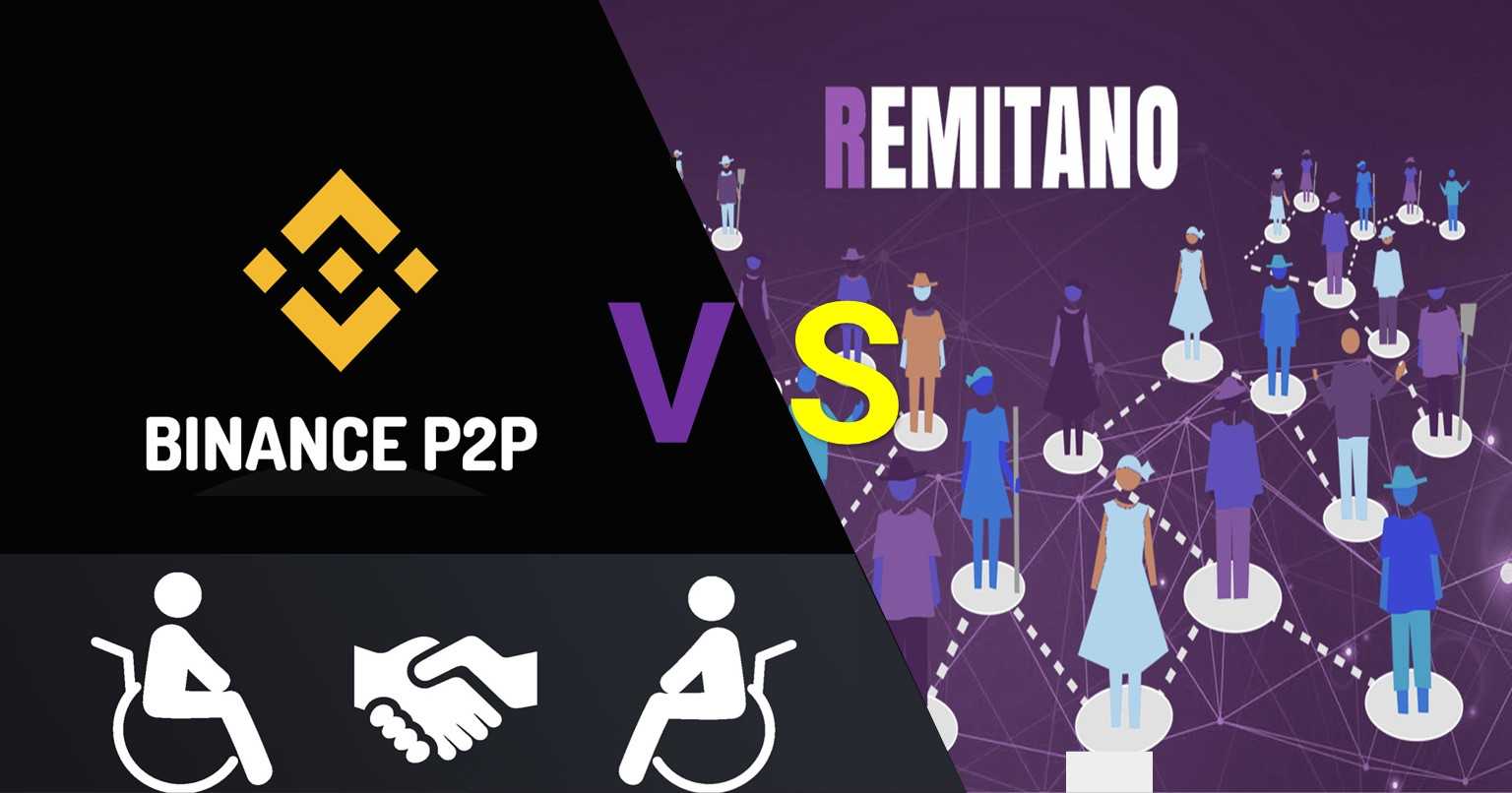 Criteria

Binance P2P

Remitano

Credibility

These are two prestigious P2P exchanges with more than 5 years of operation in the international market.

Transaction fees

– Free for buyers and sellers who do not create advertisements, only charge for active merchants registered with the exchange.

– You can withdraw cryptocurrency with zero fees.

– You have to buy 1% higher than the display price.

For example, you make an order to buy cryptocurrency worth 101 million, but in fact, you only receive 100 million.

– When you withdraw from a wallet, Remitano will collect 1% fee from your transactions.

Convenience

– If you want to buy cryptocurrencies such as Bitcoin, ETH, USDT to trade on Binance, you should buy on Binance P2P for convenience and no risk of transferring coins to wrong address between exchanges.

– Binance supports more than 500 different cryptocurrencies.

– Remitano only supports about 20 common coins.
Instructions for trading coins – trade coins on Binance
For more information, visit What is spot trading? How to trade coins on Binance?
Conclusion
Binance P2P is a reputable peer-to-peer electronic exchange that helps you buy BTC, ETH, BNB, USDT,… with fiat currency such as USD, EUR, CNY, JPY,… Using a suite of products on Binance Earn's ecosystem makes the user experience better, more convenient with zero fees.
Hopefully the article will help you get a better grasp of what Binance P2P is and how to buy and sell coins on Binance P2P.