Arabic
Bengali
Chinese (Simplified)
Dutch
English
French
German
Hindi
Indonesian
Italian
Japanese
Korean
Malay
Persian
Portuguese
Russian
Sindhi
Spanish
Thai
Turkish
Urdu
Vietnamese
What is BNB?
BNB (commonly known as Binance coin) is a cryptocurrency issued by Binance exchange in July 2017. BNB was launched with the goal of promoting full trading activities and ecosystems on the Binance platform. BNB is used to pay transaction fees, exchange fees and other transaction platform fees.
On April 24, 2019, Binance officially completed Binance Chain Mainnet and supported BNB running on Binance's platform.
In September 2020, Binance has launched to use Binance Smart Chain (a parallel blockchain technology with Binance Chain running on Ethereum) and focused on developing BSC (BEP-20) instead of Binance Chain (BEP-2).
Until February 2022, Binance and CZ have made an announcement that they will launch the BNB Chain to develop MetaFi. BNB is used as a currency unit to pay gas fee, with the new name "Build and Build" instead of Binance Coin as before.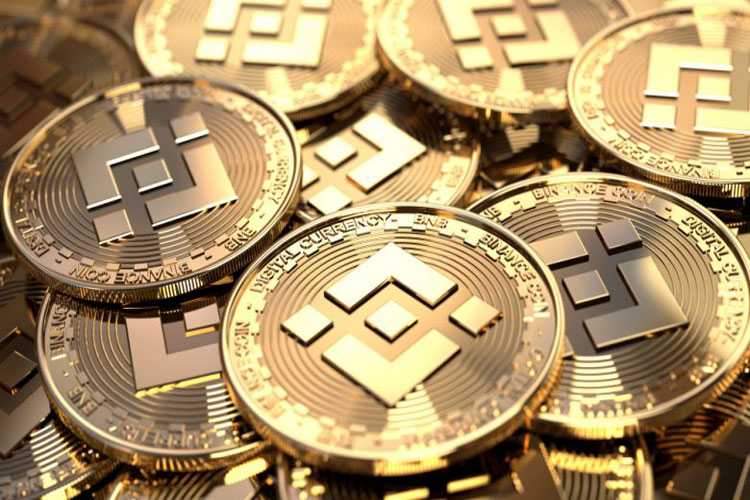 What is BNB used for?
As mentioned above, BNB appears on the Binance ecosystem and other blockchains like Ethereum. Users can use BNB to:
Pay transaction fees on Binance exchange

, Binance Chain and Binance Smart Chain;

Use in

initial offering programs

held on

Binance Launchpad

;

Buy and sell goods and services in both forms: online and in-store purchases (e.g., using Binance card or Binance Pay);

Book hotels and flights in

Travala.com;

Community utility

tokens on the Binance Smart Chain ecosystem (e.g. Ggame and DApps);

Donate to the

Binance charity

fund

;
Provide liquidity on Binance Liquid Swap and receive interest.
According to Binance, millions of BNBs have been used to pay for travel expenses, goods purchases, loans, rewards, and create smart contracts.
Benefits of BNB
Every time you trade on Binance, you definitely have to pay a certain fee. However, when you own the BNB, paying those fees becomes simpler and more economical. Specifically, the offer each year will be partially cut until your 5th year of operations on Binance as follows:
Year 1: 50%

off

Year 2: 25%

off

Year 3: 12.5%

off

Year 4: 6.75%

off

Year 5

: End of the discount program
It can be seen that if you enter the second year, you will get a 25% discount on transaction fees on Binance when you use BNB to trade. Binance's transaction fee defaults to 0.1% (lower than most other major exchanges) and when you use BNB, it will only be 0.075%. Due to this incentive, BNB has always received the adoption of many investors.
Detailed information about BNB coin
Key Metrics BNB
Ticker: BNB.
Blockchain: Binance Chain & Binance Smart Chain.
Consensus: Tendermint.
Algorithm: Delegated Byzantine Fault Tolerance (dBFT).
Token Type: Utility.
Block Time: 1 second.
Initial Supply: 200,000,000 BNB.
Total Supply: 163,232,785 BNB.
BNB Allocation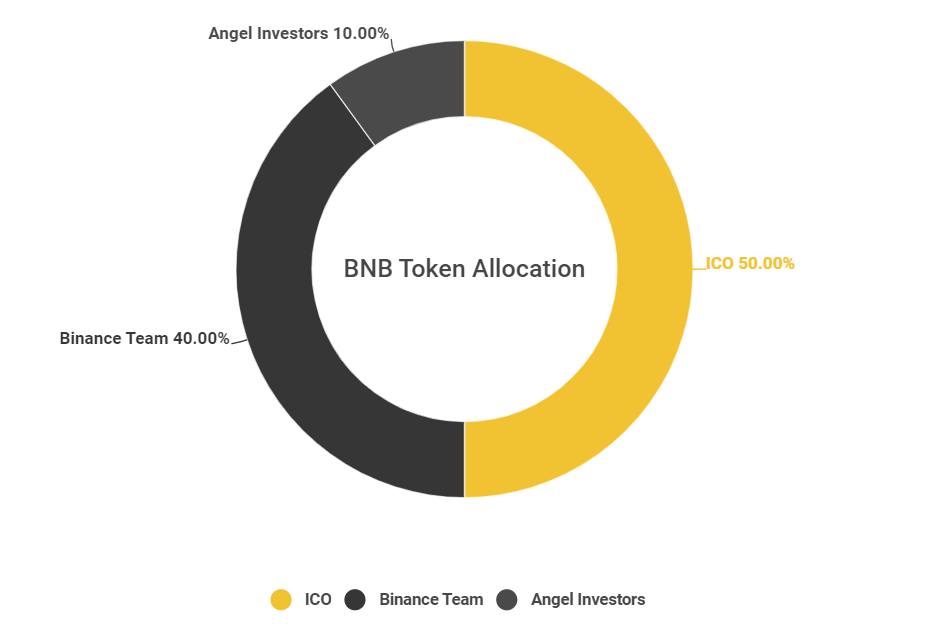 Initially, the total supply of BNB coins was BNB 200,000,000 and distributed as follows:
ICO: 50% – 100,000,000 BNB.
Binance Team: 40% – 80,000,000 BNB.
Angel Investors: 10% – 20,000,000 BNB.
However, Binance has coins burning mechanism and will continue to burn in the future. Burning coins out of circulation will help BNB become more scarce that creates purchasing power and help stronger growth.
BNB burning mechanism
Binance developers want to create a deflationary effect and increase the price of the BNB. The lower the supply, the more demand, making it even rarer and more difficult to compete for BNB. This will result in increasing the selling price.
As of mid-December, the Binance ecosystem has two parallel BNB burning mechanisms, namely:
BNB Quarterly Burn
This is the BNB burning mechanism derived from Binance's whitepaper. Initially, the exchange will use 20% of its quarterly profits to acquire BNB from the market and burn them down. However, BNB burn is owned by Binance's team based on trading volume, rather than acquiring BNB from the market anymore.
Despite this, both pledged to burn the BNB so that the total supply of the currency decreased by 50% to only 100 million BNB. The last quarterly BNB burning was in mid-October, incinerating BNB 1.3 million with a value of $639 million.
Bep-95 mechanism
This is the real-time BNB burning mechanism from the Binance Smart Chain (BSC) transaction fees that is introduced in November 2021, with a sintering limit of 10% of the gas fee of a BSC block. BEP-95 will continue to burn tokens even after it has passed the BNB 100 million threshold of BNB quarterly burn.
According to statistics, Binance Smart Chain is burning up to 860 BNB every day thanks to BEP-95.
New mechanism – BNB Auto-Burn – will replace for quarterly burns with immediate effect. Binance's reason for the adoption of the new burning mechanism is to add transparency and predictability to the BNB community. In addition, from now on, BNB Auto-Burn will no longer depend on the revenue/volume of transactions on Binance.
The new quarterly BNB burning formula will be:
B = (N x 1000) / (P + K)
B: the number of BNBs burned
N: the number of BSC blocks formed during quarter, average estimate of 2,592,000 blocks/quarter
P: the average BNB price
K: the constant price anchor, originally set at 1000, but may vary according to the will of the BSC community
The potential of BNB
BNB has a steadily growing value over time, which leads to the price stability of the coin. Investors will feel more secure when market fluctuates.
Besides, BNB is considered the "trump card" of the entire Binance ecosystem. Therefore, the development of Binance Coin and Binance will be proportional to each other. As the leading exchanges all around the world, Binance has been growing bigger and stronger. This further clarifies the potential of Binance coin.
What exchanges can BNB be traded on?
Users can conduct BNB transactions on exchanges such as Binance, Gate.io, LBank, Bithumb, KuCoin, BitMart, CoinEx, Poloniex, WOO network, Coinsbit, FTX, Tokpie,…
What types of BNB wallets are safe?
There are quite a few wallets that support the safe storage of Binance coins such as Coin98 online wallet, Online Trust wallet, Coinbase online wallet, Ledger Nano S/X hot wallet,… Trust Wallet is an official decentralized cryptocurrency wallet of Binance that supports a variety of cryptocurrencies. It is only available on smartphone applications, if you want to use this wallet, you must download on the phone.