Arabic
Bengali
Chinese (Simplified)
Dutch
English
French
German
Hindi
Indonesian
Italian
Japanese
Korean
Malay
Persian
Portuguese
Russian
Sindhi
Spanish
Thai
Turkish
Urdu
Vietnamese
On March 2, 2022, Binance made the official announcement of the launch of STEPN – Green Metaverse Token (GMT) on Binance Launchpad. This is the 28th project to debut on Binance's Launchpad.
Introducing stepn project
STEPN is a fitness and fitness app with Move to Earn. Users with NFT Sneakers can move outdoors to earn NFT tokens and rewards.STEPN has a built-in wallet, swap, trading market, and Rent Now Pay Later system to make STEPN a bridge between cryptocurrency users and non-cryptocurrency users. The summary is easier to understand: STEPN is an application to game outdoor sports running. Through STEPN, users can receive token bonuses on the walk, and this token can be exchanged for other coins such as BTC, BNB right on the app.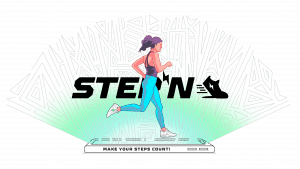 STEPN has 2 parallel tokens: 1 in-game token – Green Satoshi Token (GST) and 1 admin token – Green Metaverse Token (GMT). GMT is STEPN's original governance token and has the following use cases:
Administration: Corresponding to voting shares to participate in administration, the longer the lockdown period, the higher the voting rights.
Profit distribution: GMT holders can vote to decide the distribution of the app's profits.
Protocol revenue accumulation: GMT coins will be burned every time a user uses in-app features, such as an upgraded Sneaker NFT (sneaker) and a new NFT Sneaker casting.
Stepn's current features include: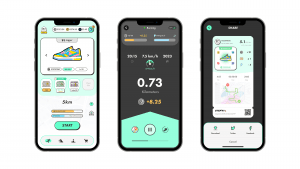 Mobile apps: STEPN is now available on the iOS App Store and Google Play store (Limited in some countries). Sneaker NFT: Each NFT has different styles, quality, attributes and gem sockets. Users spend (burning) tokens to upgrade and customize their NFT Sneakers. Move and make money: Users equipped with NFT sneakers can move outdoors and earn tokens. There are many layers of anti-fraud mechanisms to prevent user exploitation. Rental system: Users can rent a pair of sneakers for free, move and make money, then split the money earned with the shoe owner. In-app NFT market: Users can trade their NFT in the market. Swap in the app: Users can swap their tokens for other cryptocurrencies. Decentralized wallet in the app: Users can deposit cryptocurrencies into their wallets to top up their spending accounts.
STEPN has raised ~$5 million from investors, of which 16.30% of the total GMT supply has been sold for around $0.005/GMT. As of March 1, 2022, GMT's total supply is 6,000,000,000 and the supply circulating upon listing will be 10% of the total supply.
Detailed information about the GMT Token Sale:
Token Name: STEPN – Green Metaverse Token (GMT)

Launchpad's Hard Cap: $4,200,000

Hard Cap per user: $15,000 (1,500,000 GMT)

Token supply: 6,000,000,000 GMT

Total tokens allocated to Binance Launchpad: 420,000,000 GMT (7% token supply)

Token opening price: 1 GMT = 0.01 USD (BNB price will be notified before the opening date)

Token Opening Mechanism: Registration

Supported currency: BNB only
Link to join Binance here.
Registration period:
Preparation period from 07:00 on 02/03/2022 (Vietnam time) to 07:00 on 09/03/2022 (Vietnam time): During this period, the system will calculate the user's BNB balance by

taking a photo of the hourly balance

per day for a period of 8 days. The average daily BNB balance for these 7 days will determine the maximum amount of BNB that you can commit to afterwards.

Registration period from 13:00 on 09/03/2022 (Vietnam time) to 16:00 on 09/03/2022 (Vietnam time): Open registration for all eligible users in a period of 3 hours. Users must also sign a Token Purchase Agreement before completing their BNB number commitment. Please note that once committed, your BNB will be locked down and you will not be able to redeem or access any other functions such as transferring, withdrawing, or trading until the token allocation process is complete.

Calculation time from 16:00 on 09/03/2022 (Vietnam time) to 17:00 on 09/03/2022 (Vietnam time): Registration ends and token allocation calculation begins.

Token allocation at 17:00 on 09/03/2022 (Vietnam time): The token allocation to you will be calculated and the corresponding BNB will be deducted from your locked BNB number. Once deducted, GMT and BNB tokens will both be transferred to your Spot wallet.
Link of stepn project:
Risk warning: Cryptocurrency trading is an activity that is subject to very high market risks. Always trade carefully! We will not be liable for any losses from your trading activities.