Arabic
Bengali
Chinese (Simplified)
Dutch
English
French
German
Hindi
Indonesian
Italian
Japanese
Korean
Malay
Persian
Portuguese
Russian
Sindhi
Spanish
Thai
Turkish
Urdu
Vietnamese
What is Filecoin (FIL)?
Filecoin is a decentralized storage network, designed to store important user information, anyone can buy storage space on the network. Instead of just trusting a company with important data, it can be broken down and stored on different computers around the world. Filecoin was first introduced in 2014 when Juan Benet released a white paper: Filecoin: A Cryptocurrency Operated File Storage Network . The proposal for a blockchain network is similar to Bitcoin, but nodes in the network can be used to store data, which is guaranteed by proof-of-retrievability. Filecoin was developed by Protocol Labs. Filecoin is sometimes referred to as the incentive layer on the IPFS protocol. This means that users are encouraged to rent filecoin's storage space and pay with FIL tokens. So, can you use Filecoin to send Christmas photos to Mars or Venus? It's not possible yet. IPFS is a peer-to-peer data storage and retrieval protocol on a more decentralized basis. Unlike HTTP or HTTPS, it doesn't rely on centralized servers to store data. Filecoin raised more than $250 million in an ICO in 2017, which was a record at the time. Filecoin's main network was then launched in October 2020.
How does Filecoin work?
The Filecoin infrastructure is a peer-to-peer, distributed network whose main purpose is to provide a new way for organizations and individuals to store data around the world. When people have free storage available, they can become storage miners, who are responsible for essentially storing data on the Filecoin network. Customers pay FIL tokens to store and retrieve data. The retriever is another class of participants. They facilitate the process of retrieving data between customers and memory mining tools and also receive a small amount of FIL for their services. Filecoin uses end-to-end encryption, and storage service providers don't have access to decryption keys. As a distributed system, files are kept secure across multiple storage locations. So, what makes Filecoin potentially better than its competitors? It provides peer-to-peer cloud storage solutions for businesses and consumers. Because the same item (storage) offered by different sellers is likely at different prices, ultimately consumers can benefit. While sometimes you may not have enough memory for all your data, sometimes you will be redundant and you can sell it. That's what Filecoin wants to address.
Why is Filecoin important?
Over the past few decades, the way we store and access our data has changed several times. At the enterprise level, data storage has changed from on-premises storage to storage in giant server rooms, to remote data storage and cloud storage worldwide. Currently, most businesses use a combination of all these methods. Similarly, the storage of consumer data has also changed and is increasingly dependent on cloud storage. This has led to strong competitors in the cloud storage market such as AWS, HPE or Dell. Corporate customers often choose a supplier and stay loyal to that provider for years, which can hinder competition. Filecoin allows customers wishing to purchase storage space that can quickly convert service providers, regardless of who that provider is. This could create a more competitive cloud storage market.
Detailed information about FIL coin
Token name: Filecoin.

Code: FIL.

Blockchain: Filecoin.

Token standard: Updating…

Contract: Updating…

Token type: Utilities, Administration.

Total supply: 1,970,978,207 FIL.

Circulating supply: 139,485,002 FIL.
FIL token allocation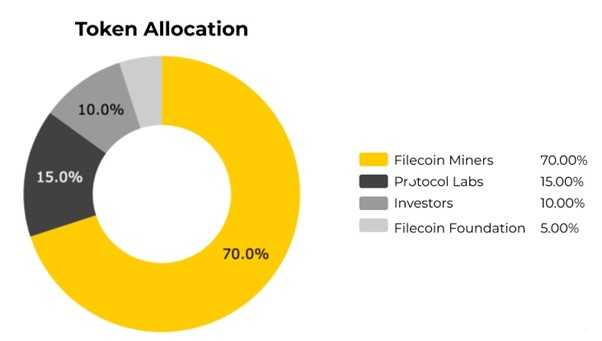 70% for Filecoin mining tool

15% for Protocol Lab

10% for investors

5% for FilecoinFoundation
Token sale
Filecoin launched the ICO on September 7, 2017, with a total raised of $257 million from the sale of 200 million FIL tokens. Investors contributed $205 million to the ICO.
Token issuance time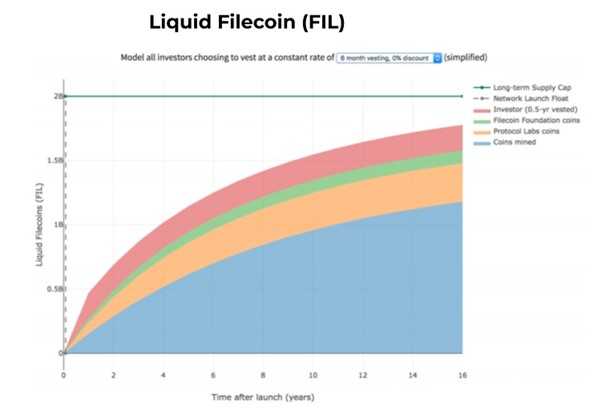 Investor: Minimum 1 year (advisor from pre-sale), minimum 6 months (public sale).

Protocol Labs: 6 years, vesting.

Platform: 6 years, vesting.

Miners: Release half in 6 years.
Advantages
Cost of use: Filecoin creates a large market for data storage that is operated for free. This will significantly reduce the cost of use compared to current hosting services.

Scale: Filecoin's protocol brings together millions of computers around the world to create a huge storage network. In theory, the data storage network that Filecoin provides has no limits on scale.

Economic benefits: Instead of building new computers, storage computer systems. Filecoin uses the available resources of all users.

Level of security: Existing data storage platforms like Dropbox and iCloud have been hacked. Security for all digital data is always a top priority in this industry. A decentralized network like Filecoin is much harder to hack than centralized networks.
Disadvantages
Speed: Instead of just accessing one server, the system needs to access multiple servers at once to pair documents together when required. Processing speed will be affected by having to depend on the servers and internet speed.

DApp: Transactions are processed in the cryptocurrency Filecoin, and this can cause barriers to use. Users need to own FIL coins if they want to use Filecoin's services.
The potential of Filecoin
Cloud storage providers like Amazon and Google make a lot of money. This shows that the demand of this industry in the market is huge. This is an opportunity for decentralized data storage platforms like Filecoin. If the customer uses decentralized services instead of the current focus. They can save a lot of money and use the service with a better level of security. However, for a decentralized application to be widely accepted is difficult and time-consuming. Projects like Filecoin now have a long way to go to overcome weaknesses and prove their value. However, Filecoin will have to face common competitors such as Siacoin (SC), Storj (STORJ), Bluzelle (BLZ) ,… Or rivals in traditional data storage services such as AMW, Google Drive, Dropbox, Onedrive,… Therefore, Filecoin needs to prove its superiority over the aforementioned competitors. With a favorable start, we hope Filecoin will make a big breakthrough to be applied in practice.