Arabic
Bengali
Chinese (Simplified)
Dutch
English
French
German
Hindi
Indonesian
Italian
Japanese
Korean
Malay
Persian
Portuguese
Russian
Sindhi
Spanish
Thai
Turkish
Urdu
Vietnamese
Introduction
Binance is considered as a global cryptocurrency exchange, providing a platform to trade more than 500 cryptocurrencies. For those who is new to the cryptocurrency market, Binance is the first choice because of its popularity, magnitude, and large trading volume. If you are a new investor interested in cryptocurrencies then owning an account on Binance is definitely necessary. 
In this article, Wikibinance will guide you how to Binance sign up with PC and Laptop. Binance regularly updates its registration policy to ensure compliance with the law. Therefore, WikiBinance will always update the latest Binance registration guide here.
How to Binance sign up with PC and Laptop
Step 1: Access wikibinance.com/sign-up-Binance 
Step 2: Choose one of two ways to register:
With phone or email account

With an Apple account (new).
Continue pressing [Sign up with phone or email].
Step 3: Enter enter the detail information
Email 

Password

: The password must be at least 8 characters, with at least 1 digit and 1 capital letter.

Referral ID: Enter the code FY5L300H, Binance will offer you a 20% discount on transaction fees for life. If your referral ID section is empty, Binance will charge a full transaction fee by default. Currently, the transaction fee of the exchange is 0.1% of the total transaction value.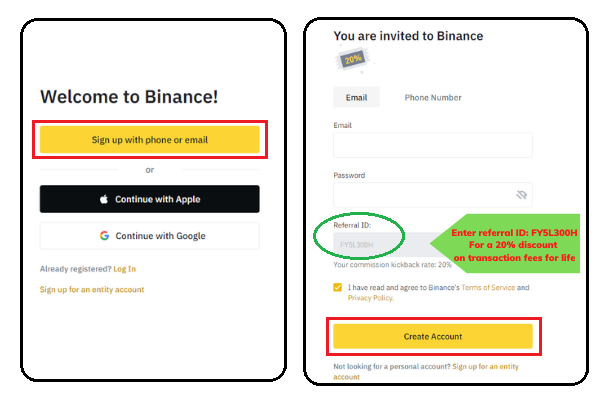 Step 4: Complete security verification
Step 5: After entering the information, you will receive an email containing the 6-digit verification code to activate the account. Enter this code within 30 minutes. If you can't find in your email, please check spam. If you haven't received an email with a verification code after 3-5 minutes, click [Resend Email].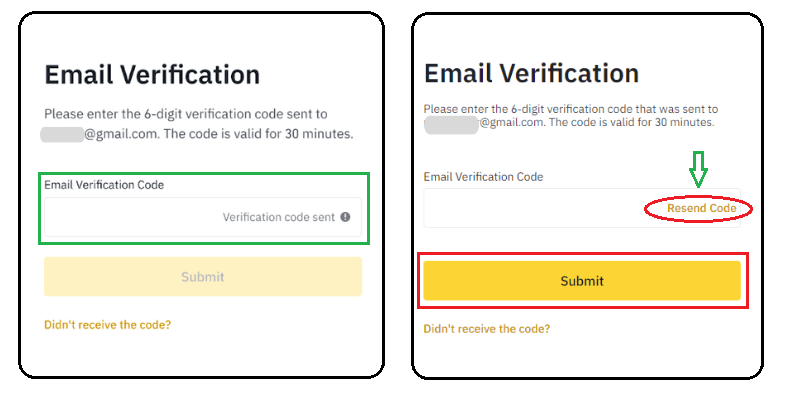 Step 6: Next, enter your phone number and click the "Next" button. Click the Get code button to receive the Binance verification code to your phone. Then, Binance system will send a message to your phone number containing the verification code.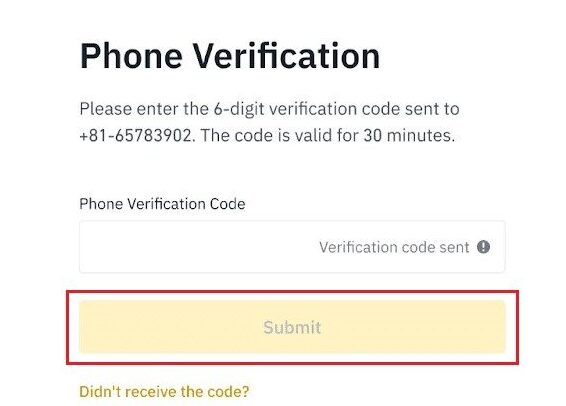 After that, fill in the verification code received from the message in the phone and click the "Submit" button.
Step 5: Successfully register
Congratulations, Binance registration is completed.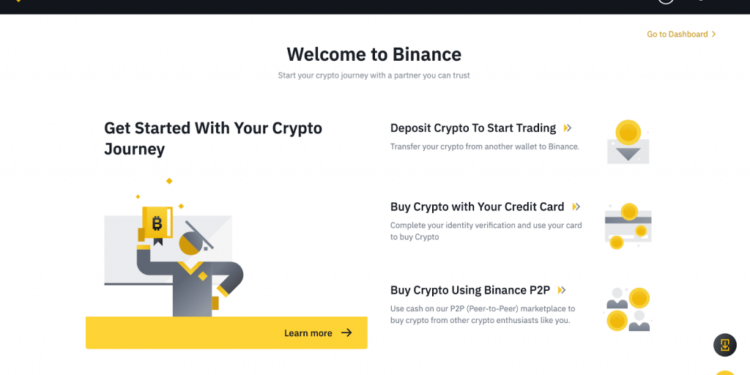 As we have mentioned at the beginning of the article, identity verification (Know Your Customer – KYC) has become a mandatory step when you Binance sign up since 2022. If you are still wondering, you can read more about KYC here.
KYC – Binance Identity Verification Guide on PC/laptop
Step 1: Click the "Verify Now" button to verify Binance identity (KYC).
You fill in the information on your ID card and click the Continue button.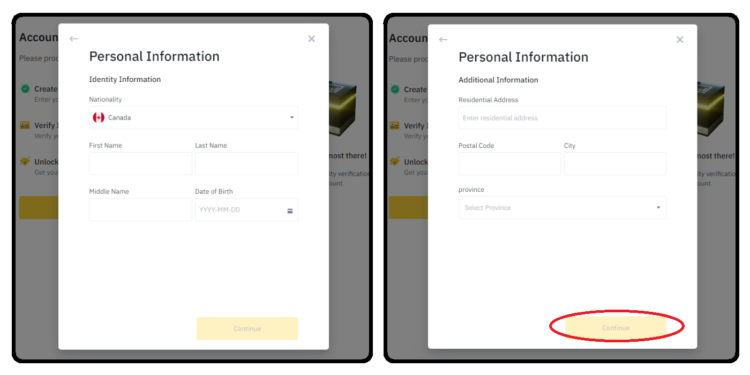 Step 2: This is when you will select one of the three prepared documents in the section. Head to take photos of KYC Binance. You have the option based on the documents you have including: ID, or Passport, or Driver's License.
To start taking a photo, click the "Continue" button.
Note: In this section you need a camera to verify Binance account. If you Binance sign up on a computer without a camera, you can use your phone, open the Binance app, sign in to an account you created earlier, and the app automatically moves you to Binance identity verification step.
First, you click the "camera" icon button, then, take a photo of the CCCD on the front, click the "camera" button below, take a CCCD photo on the back, and finally click the "Continue" button.
automatically moves you to identity verification. You press the camera icon button – take a picture of the id worn in front and back. Finally, press [Continue].

Step 3: Take a picture of your portrait. You tap the camera icon, then, take a picture of your portrait and press [Continue].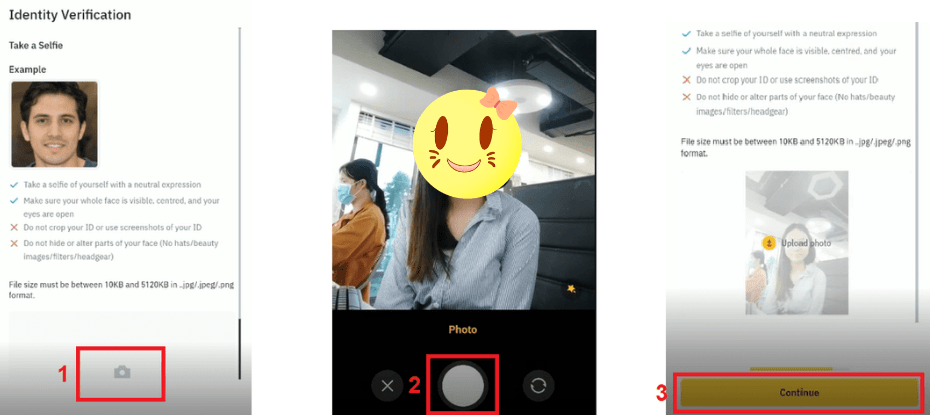 Step 4: Facial Recognition. 
Note: You should not wear a hat, do not wear glasses, avoid filters that automatically beautify photos, and where there is good lighting.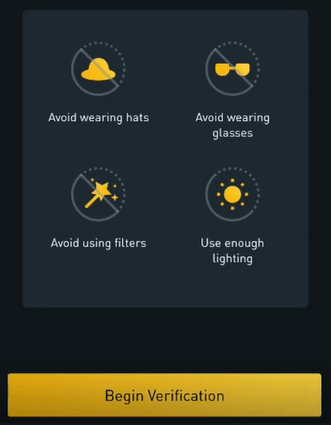 If all is check, click the "Begin Verification" button to start recognizing facial on Binance. Keep your head within the pre-oriented frame border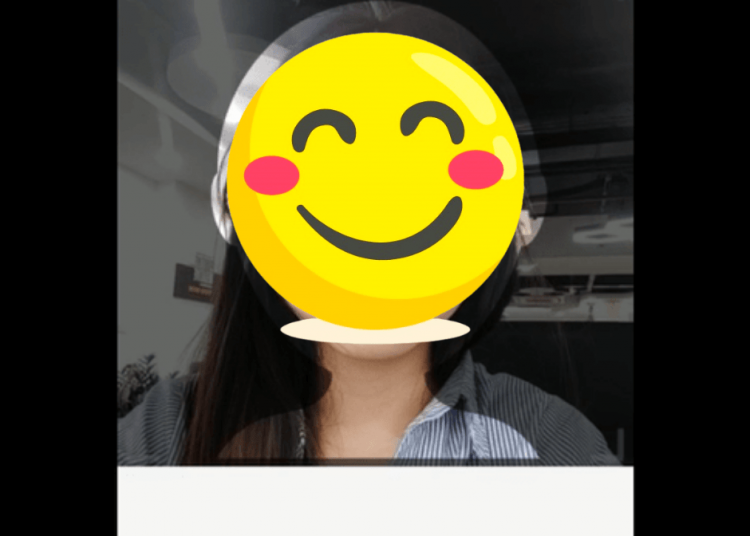 You've successfully signed up for a Binance account using your Webistie PC and laptop.
>>> Related: Binance Registration Guide update 2022