Arabic
Bengali
Chinese (Simplified)
Dutch
English
French
German
Hindi
Indonesian
Italian
Japanese
Korean
Malay
Persian
Portuguese
Russian
Sindhi
Spanish
Thai
Turkish
Urdu
Vietnamese
What is API Key?
API key stands for Application Programming Interface key, which is the application programming interface. This is an intermediary window that allows software, applications or systems to communicate and take advantage of each other's capabilities. This interface is often misunderstood as the interface for users to contact with the computer, but this is actually the interface between the software and the software.
API key grants permission to software and applications to recognize and operate together. The advantage of this key is that it connects conveniently at anytime, anywhere over the Internet. Communication through this key is two-way, so the information is very reliable. It provides a friendly experience and convenient operation for the user.
For example, API key connection of Facebook and Instagram allows these two apps to automatically post back and forth. Or cryptocurrency news sites that take Coinmarketcap's API to show market prices or take the exchange's Key to a third-party app to make transactions without direct access to that exchange.
On Binance, after creating an API key, investors have capability to connect to servers in several programming languages. Data can be obtained from this exchange and interact with other external applications. Specifically, investors are able to view current transaction and wallet data, make transactions or deposit and withdraw funds in third-party wallet programs..
How to create a API key on Binance
Step 1: Go to Binance, click on the user center icon

,

select [API Management].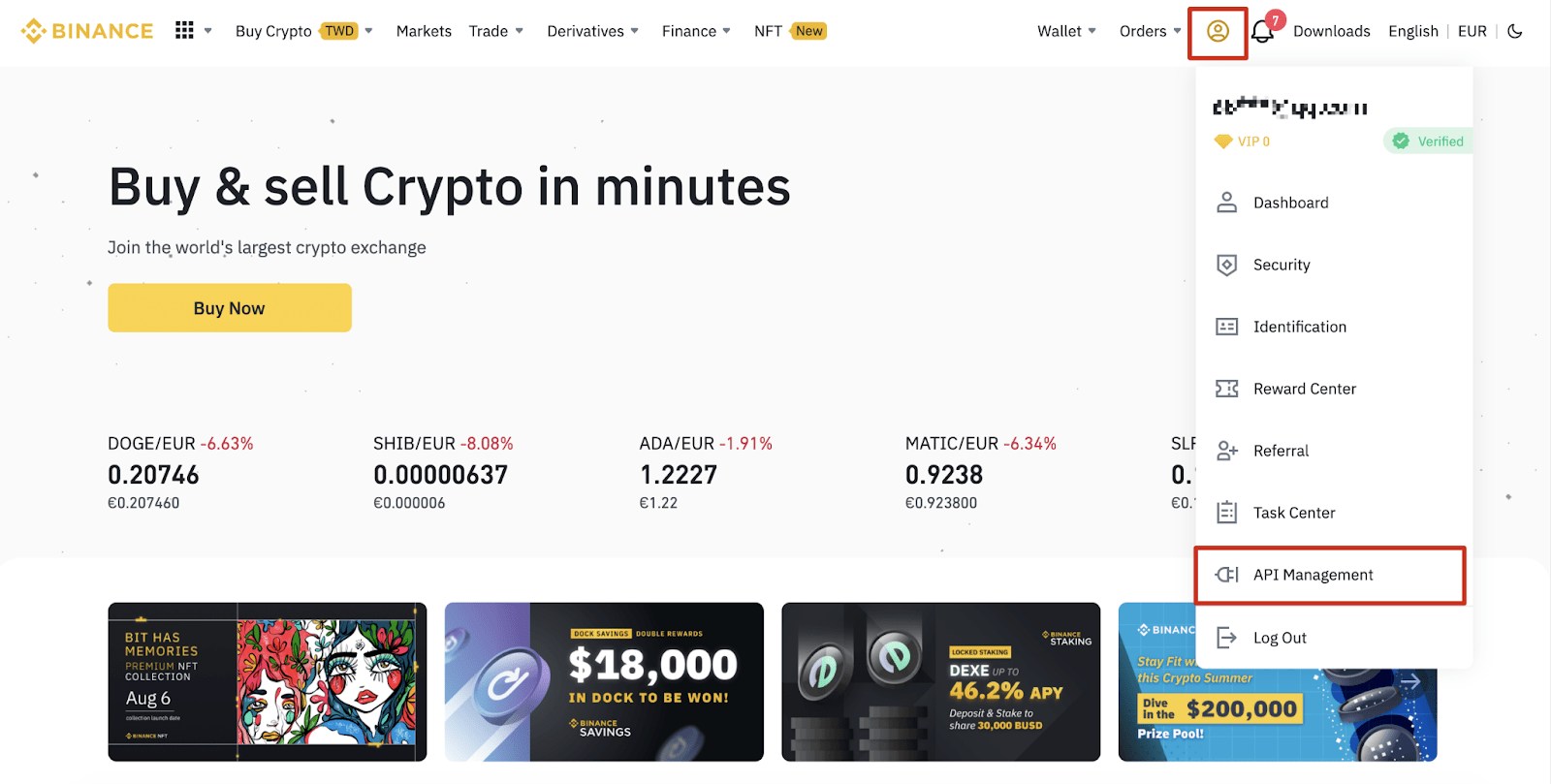 Step 2: Enter the API key label (name) in the [API label box key to proceed]. Then press [Create API].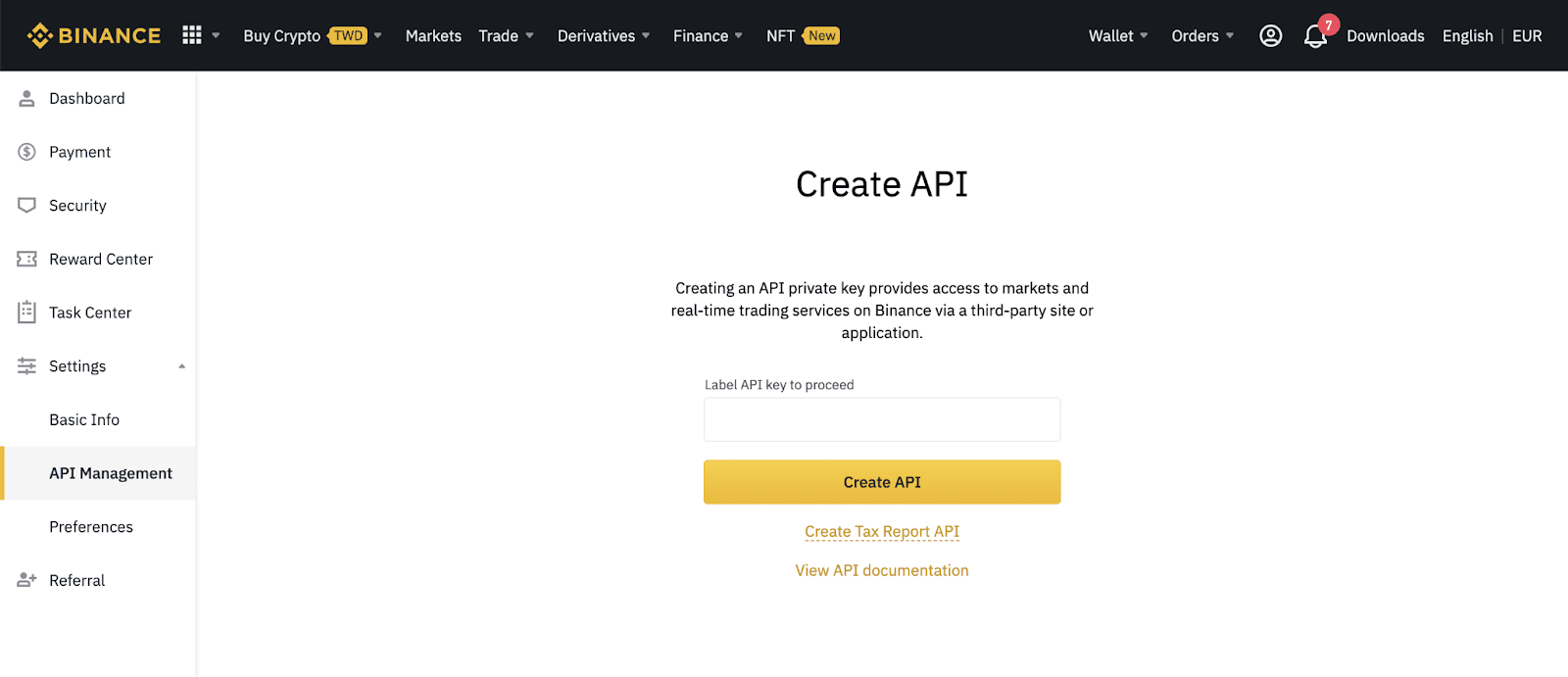 Note that, before creating a key, Binance requires enabling two-factor authentication (2FA) on the account. For full access to Binance API services, please complete identity verification.
Step 3: Complete the verification with registered two-layer authentication devices to secure your account. Click [Get code] to receive the 6 ditgit codes then enter them and click [Submit].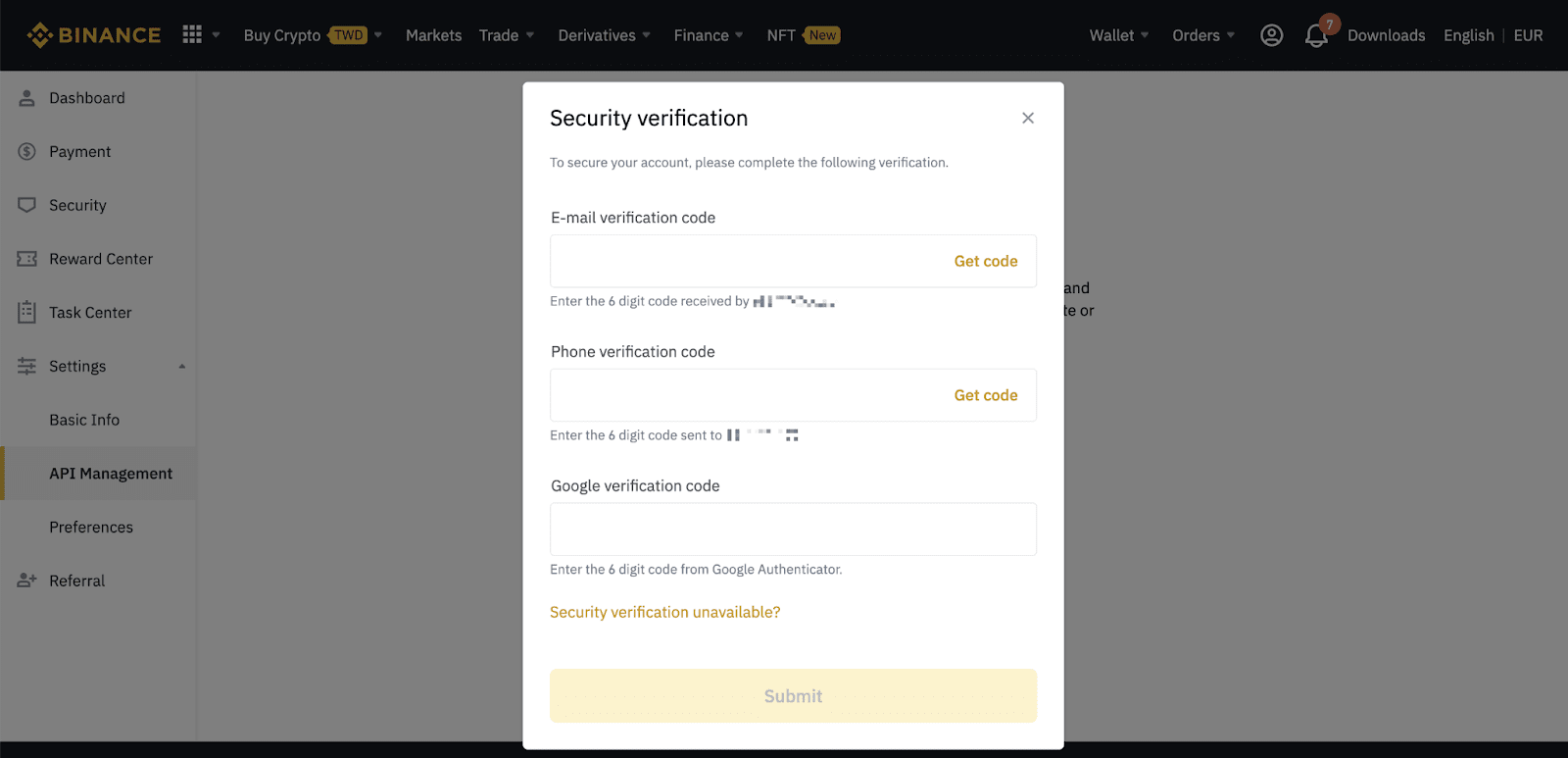 When should I delete the API key?
The cancellation of API key should be carried out when the user detects or feels an external intrusion through this key. At that time, even if the key is exposed, the account is still absolutely safe.
Note
Once the API key has been created, the user must absolutely keep it safe, do not share this key with anyone because it will not show up again, anyone with this key can access the user's account. If forgotten, the user is required to delete the old key and set up a new key.
Users also need to restrict IP access. For security reasons, users should only grant access to trusted IPs. You are recommended selecting [Restrict access to trusted IPs only]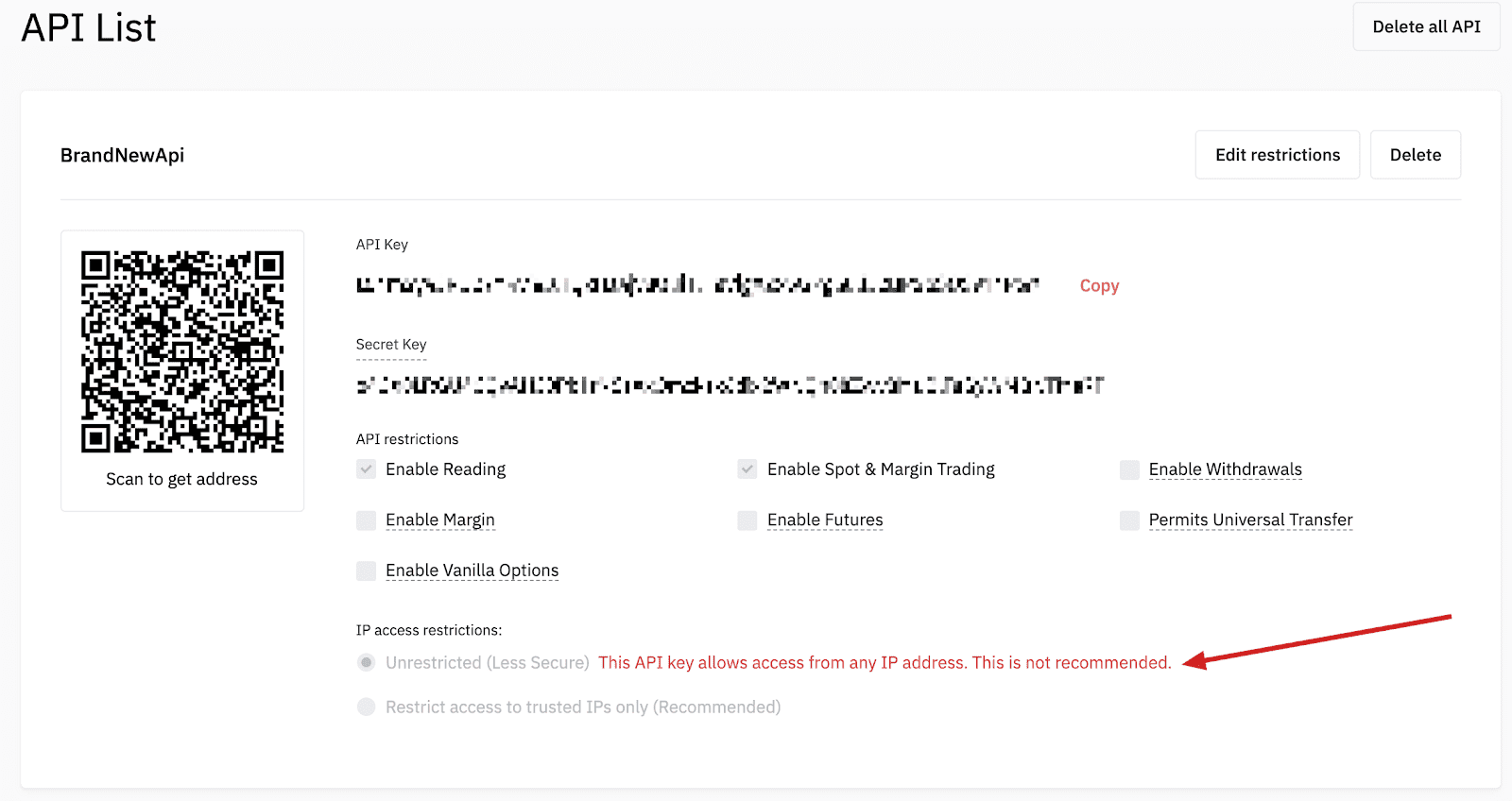 To ensure compliance with the principles of the exchange, Binance has updated the API services from 3:00 (UTC) on August 9, 2021.
After completing intermediate verification, users are able to create new Key API. Accounts that did not meet the above requirements will be disabled this trading functions via relevent API keys after 00:00 AM (UTC) on August 23, 2021.
Conclusion
As well as two-layer security, API Key is also a useful tool to enhance your account security. However, nothing is absolutely safe, even exchanges can be hacked, so API Key can also be hacked. No matter how many security tools are set up, the most important thing is that investors are careful not only in storing assets but also in trading activities.
>>> Related: How to register and verify Binance account update 2022