Arabic
Bengali
Chinese (Simplified)
Dutch
English
French
German
Hindi
Indonesian
Italian
Japanese
Korean
Malay
Persian
Portuguese
Russian
Sindhi
Spanish
Thai
Turkish
Urdu
Vietnamese
Binance Gift Card allows you to send and receive cryptocurrencies to both Binance users and non-Binance users. When recipients redeem Binance gift card, the cryptocurrency will be transferred from the funding wallet to other wallets. Gift card recipients can choose how they want to redeem their Binance Gift Card, and Redeem & Convert to Fiat is one of the new options added. Moreover, Binance gift card is also a great way for traders to start their investment journey on Binance.
What is Redeem & Convert to Fiat?
Redeem & Convert to Fiat is a feature that allows you or your gift card recipients to exchange cryptocurrency and convert it into their preferred fiat currency with a few simple steps on the Binance App. Fiat currencies available for conversion include UAH, PHP, VND, INR and IDR.
Benefits of redeeming and converting to Fiat
No charges: When you redeem Binance Gift Card, you can convert the cryptocurrency into a local fiat currency for a zero fee. If you are a sender, you may also enjoy a zero fee for creating and sending gift cards to friends.
Swift: Each step of the process can be done on the Binance App. Those who are new to cryptocurrency market can take steps on simple and quick way, so that they can track them easily. In addition, when converting to fiat currency, your order will be automatically created and matched based on the best cryptocurrency price available on the P2P market, that will help you save your time and effort.
Flexible: This feature gives your gift card recipients the flexibility to choose whether they want to receive cryptocurrency or cash. Furthermore, there is no expiration date on the Binance Gift Card, so the recipient of your gift card can choose to redeem and convert their gift card to fiat currency at anytime.
How to redeem Binance gift card
Step 1: Log in to your Binance account. Click on profile icon and select [Gift Card].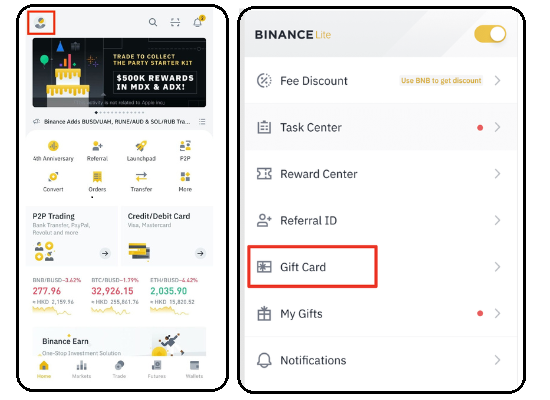 Step 2: Then select [Redeem] and press [Convert & Convert to Fiat] to start converting your Binance Gift Card to your preferred fiat currency.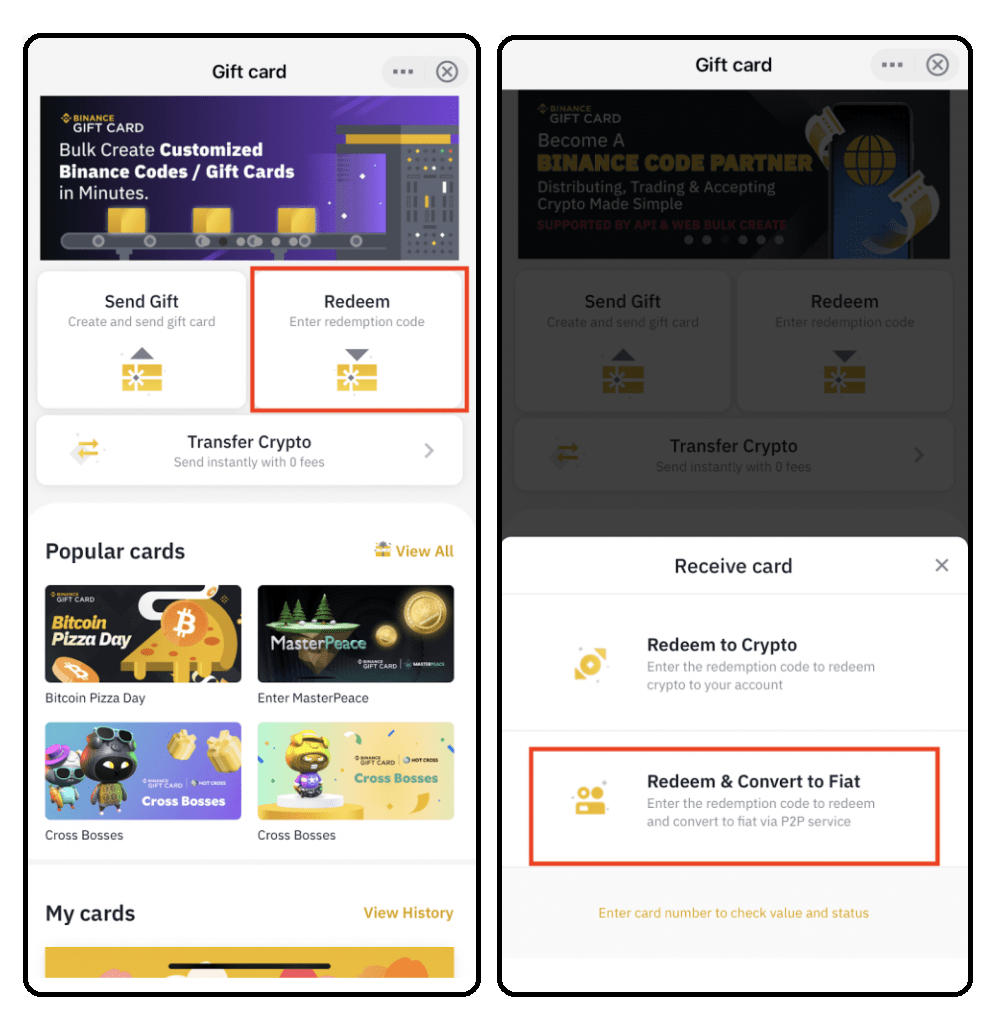 Step 3: Select the fiat currency that you want to convert the cryptocurrency into and enter the redemption code. Press [Next] to proceed with crypto to Fiat conversion on Binance P2P.
Note: As of May 2022, Binance only supports the conversion of 5 fiat currencies (UAH, VND, IDR, INR, PHP).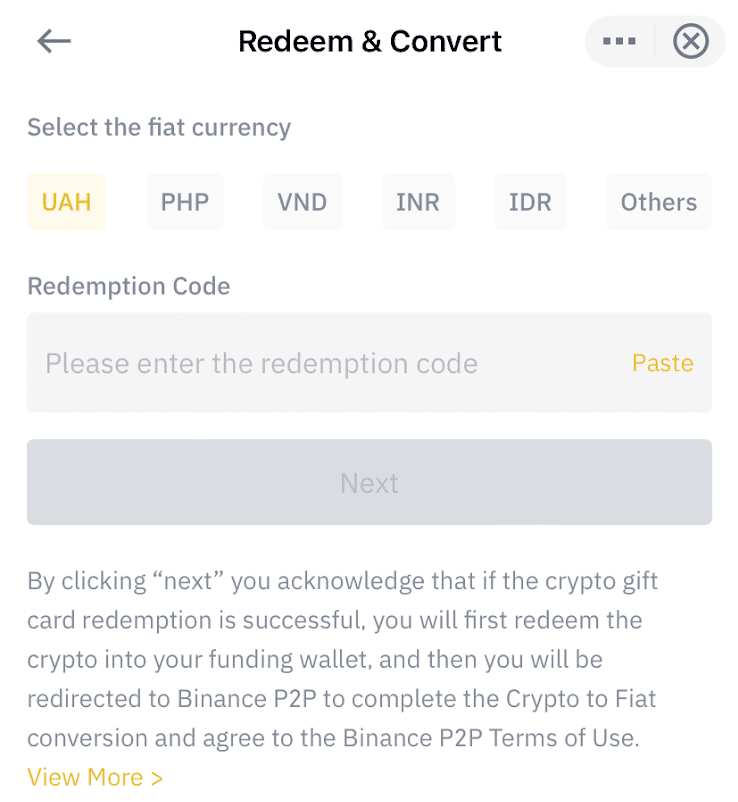 Step 4: If the system supports your cryptocurrency conversion, you will be redirected to Binance P2P. Carefully read the notes and instructions and tap [Confirm] to proceed [Sell] tab.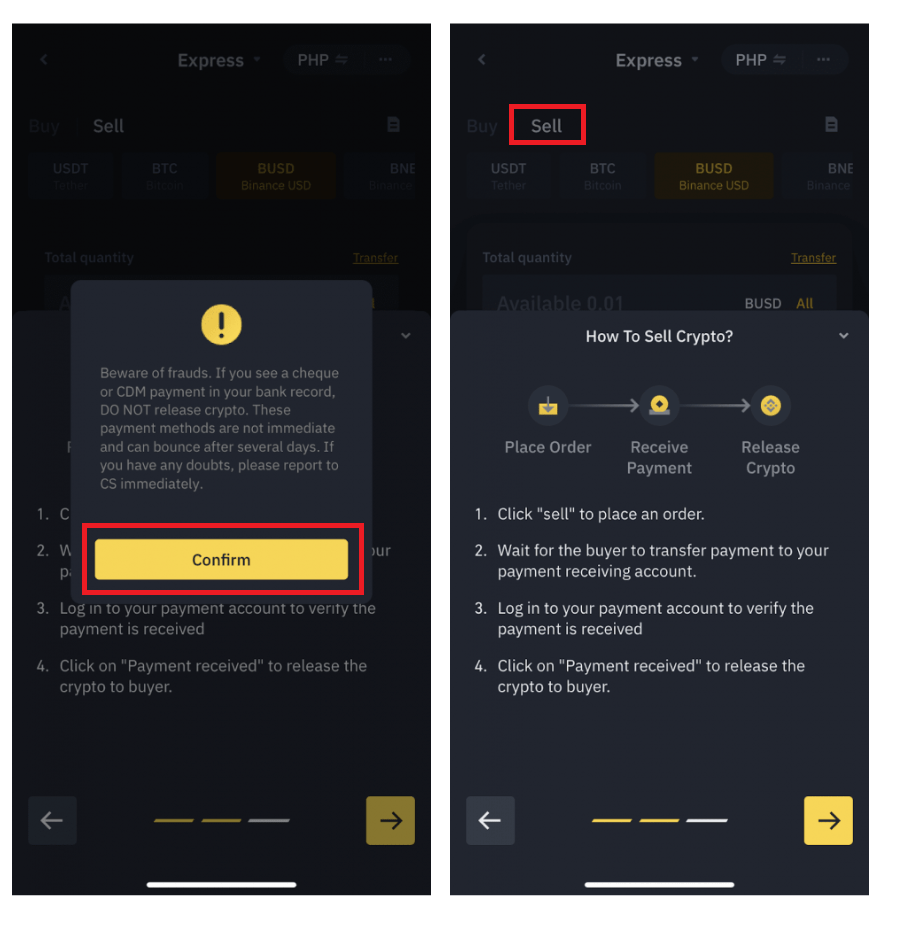 Step 5: Enter the cryptocurrency amount to convert and press [Sell with 0 Fee]. An order will automatically be created in accordance with your requirements. Your order will be matched based on the best cryptocurrency price available on the P2P market and converted into your chosen local currency.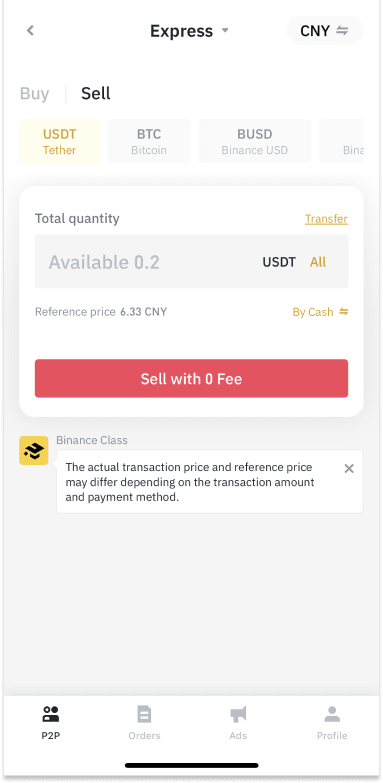 If the Redeem & Convert to Fiat function does not support redemption to your selected fiat in your Gift Card, the cryptocurrency amount will be credited to your Funding Wallet. You can check your balance by selecting [View my funding wallet].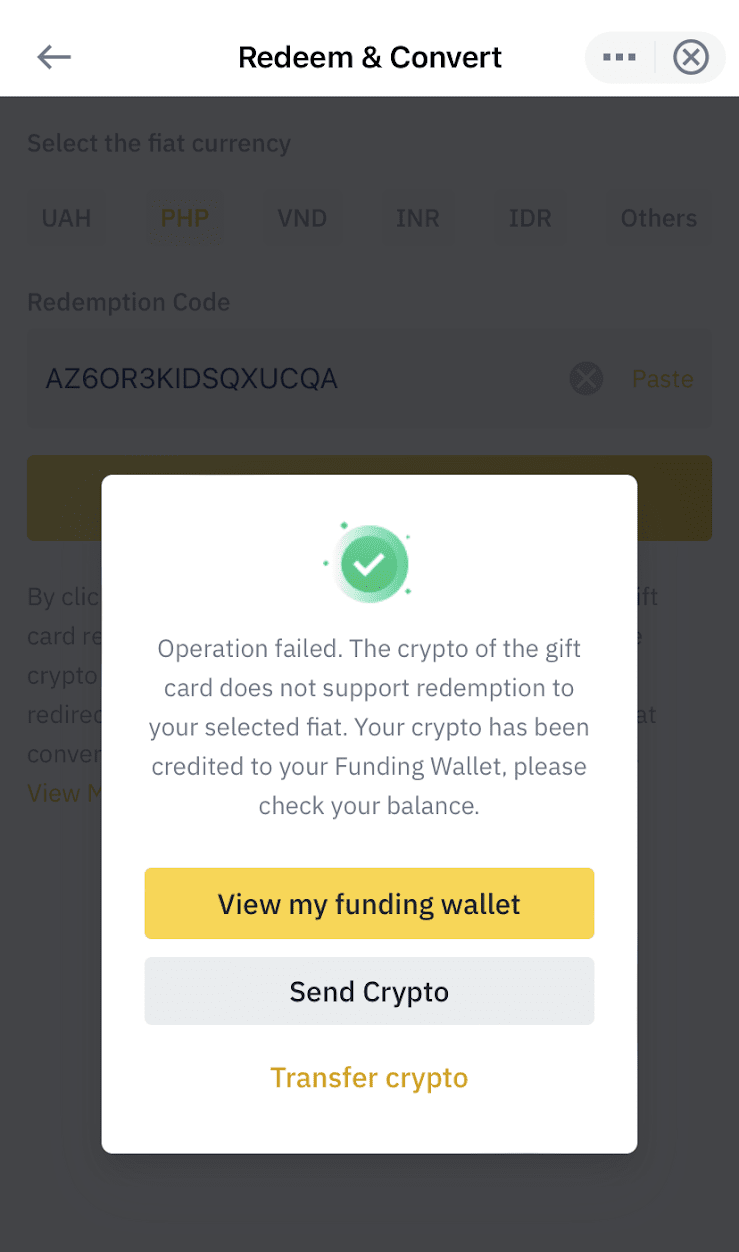 >>> Related: How to register and verify Binance acount update 2022