Arabic
Bengali
Chinese (Simplified)
Dutch
English
French
German
Hindi
Indonesian
Italian
Japanese
Korean
Malay
Persian
Portuguese
Russian
Sindhi
Spanish
Thai
Turkish
Urdu
Vietnamese
As of February, 2022, Binance Chain and Binance Smart Chain (BSC) have become BNB Chain that marks BSC's association with BNB tokens and the BNB ecosystem.
Are you new to Binance? Isn't it easy for you to approach and distinguish many concepts in this "new subject". In this article, Wiki Binance will help you to learn about the differences of Binance Chain, Binance Smart Chain and BNB chain in concise and understandable way.
What is Binance Chain?
Binance Chain is a blockchain technology that Binance launched in April 2019. Its focus is on facilitating fast, decentralized (or unsupervised) trading.
You've probably heard of Binance Chain, the home of the BNB. To optimize for ultra-fast transactions, Binance Chain had to make certain trade-offs, and one of them was that the blockchain did not have the ability to program as flexibly as other blockchains.
What is Binance Smart Chain?
Binance Smart Chain (BNB (BEP-20 format) launched in September 2020, is a parallel blockchain technology with Binance Chain. Binance Smart Chain provides alternative solutions with larger capacity, lower transaction fees and faster speed compared to Ethereum that caters to the decentralized financial market (DeFi). Better than Binance Chain, BSC is able achieves 3 second block times, transfers cross-chain crypto assets, uses Proof of Stake Authority consensus protocol, boasts smart contract functionality and compatibility with the Ethereum Virtual Machine (EVM) to ensure scalability.
BNB Chain
BNB is the native utility token of the Binance ecosystem, which can be used for both BSC and BC. BNB is a currency unit to pay transaction fees on the BC and Binance DEX, deposit and transfer.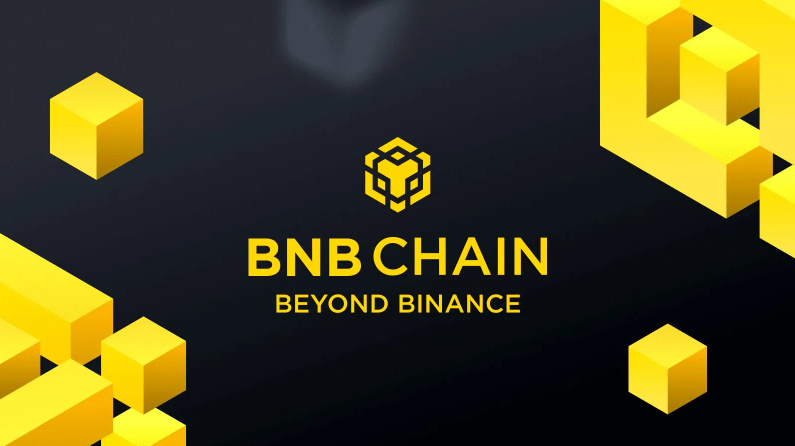 Beside that, BNB has the ability to run smart contracts on BSC. For those who want to engage in network security or earn more BNB rewards, BNB can be staked on a smart contract. And if the users want, they can delegate their stake to the BSC authenticator of their choice and earn a commensurate reward.
As the announcement of Binance, from February 16, 2022, Binance Chain and Binance Smart Chain (BSC) have become BNB Chain. Learning from other community-supported projects, BNB has been continuing its own development journey towards better innovation and decentralization, and BNB has gone beyond Binance.
The difference between Binance Smart Chain (BSC) and Binance Chain (BC)
Launched by Binance, both Binance Smart Chain (BEP20) and Binance Chain (BEP2) work in parallel, independently. They share the same native token Binance Coin (BNB). Many people often confuse about these two blockchains even though they have some differences:
– Binance Chain BNB (BEP-2): Launched by the leading cryptocurrency exchange Binance in April 2019, the central goal of this blockchain is rapid transactions in decentralized market without intermediary. Binance DEX is the largest dApp on Binance Chain and one of the most user-friendly decentralized exchanges.
– Binance Smart Chain (BEP-20): Known as a much more improved blockchain than Binance Chain, BSC operated independently. The difference of BSC is the ability to create smart contracts and be compatible with Ethereum Virtual Machine (EVM). BSC's design goal is to keep high throughput intact during the transaction process on Binance Chain, while integrating smart contracts into Binance Chain's ecosystem. Despite launching later than other blockchains, Binance Smart Chain attracts many developers as well as a huge number of users with outstanding advantages. Specifically, the key characteristics of BSC are:
High security – As an independently operated blockchain, Binance Smart Chain ensures the safety of users' funds during the transaction and asset transference without the risk of being hacked into.

High network performance – On BSC, the average block time has

 remained at a consistent three seconds.

Compatibility with the Ethereum Virtual Machine – BSC can support all existing Ethereum platform tools with significantly faster transaction times and cheaper fees.

Dual-chain architecture – Binance Smart Chain works in sync with Binance Chain, users can tranfer assets between 2 blockchains in the seamless way. That allows to develop the scale of dApps, chain interoperability and increase operational efficiency.

Smart Chain's on-chain governance capabilities through the PoS consensus mechanism – With the ownership of 21 different validators, BSC allows decentralized transactions to be more efficient on the platform and provides easy access to the ecosystem for users.

A myriad of use cases – The BSC network can cater to many programmers, especially developers who want to create dApps that integrate smart contract features to digital assets.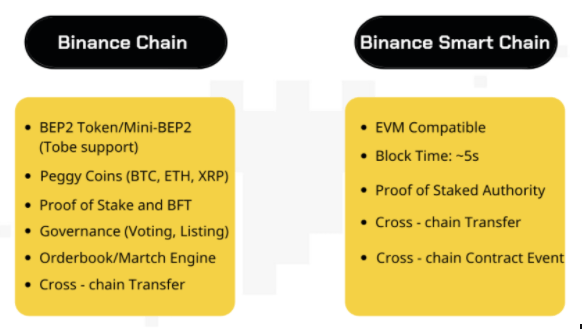 BNB Chain (Build-and-Build) – The evolution of Binance Smart Chain
According to Binance, from February 16, 2022, Binance Chain and Binance Smart Chain (BSC) have become BNB Chain that marks BSC's association with BNB tokens and the BNB ecosystem.
BNB, which stands for "Build and Build" (previously known as Binance Coin), is the blockchain gas token with "fueling" transactions on the BNB Chain. BNB Chain includes:
BNB Beacon Chain (previously Binance Chain) – BNB Chain administration (staking, voting)

BNB Smart Chain (BSC) (previously Binance Smart Chain) – EVM compatible, consensus layers and hubs for multiple chains.
Binance CEO CZ, the founder of Binance Smart Chain ecosystem, thinks that the BSC ecosystem and BNB tokens are too big for Binance. Beside that, he doesn't want users confuse Binance Smart Chain with Binance because BSC is not owned by Binance. It would go wrong in the spirit of a decentralized blockchain, BSC. In essence, BSC is still a decentralized blockchain with many different nodes (21 validators nodes) but he means the impact of an entity on an ecosystem.
>>> Related: What Is Binance Earn? 
From our perspective, changing the brand name will help reshape the thinking of BNB Chain as non-Binance. However, Binance's dominance over projects in the ecosystem is huge and indisputable. For example: programs and supports in finance, marketing, strategy, mentoring and so on.
In addition, from the perspective of those who observe the BSC ecosystem, we found that BSC in recent times has developed fast and the ecosystem's growth is entangled in the situation of:
Blockchain has a low transaction fee, good compatibility with EVM, code in Solidity language that is identical to Ethereum. Not much innovation is happening on BSC. ⇒ It is carry forwarded from Ethereum while other ecosystems such as Fantom, Avalanche and so on haven't had enough

platform or Solana is not compatible with EVM.

The supports from BSC's Incentives programs have also become a double-edged sword. BSC attracts too many "amateur developers" and users. It is the reason why

 trends such as NFT, Play-to-Earn games, Metaverse, meme coins deal with blow pumping tricks, scam projects, lack of quality. New investors in the market are driven by FOMO. Beside that, the rug pull of the recent project also makes investors disappointed.
Therefore, it is necessary to promote brand strategy and develop more projects so that BSC can reach it's potential.
Closing thoughts
BNB Chain is the inheritance of the outstanding advantages of Binance Chain and Binance Smart Chain. On the other hand, it adopts interesting changes to try and improve on performance and efficiency. With compatibility with Ethereum Virtual Machines and integration smart contracts, BNB Chain not only promotes cheeper and faster transactions but also provides a cross-chain solution that links multiple blockchains. It is breakthrough to develop the BSC ecosystem with potential projects in the future.