Arabic
Bengali
Chinese (Simplified)
Dutch
English
French
German
Hindi
Indonesian
Italian
Japanese
Korean
Malay
Persian
Portuguese
Russian
Sindhi
Spanish
Thai
Turkish
Urdu
Vietnamese
What is OCO order?
The OCO stands for "One Cancels the Other" which allows users to place two orders at once. It combines a Limit order with a Stop Limit order but only one of the two orders can be executed. In other words, if one is executed in whole or in part, then the other order will immediately be canceled. 
When trading on Binance exchanges, you can use OCO orders as a basic form to automate transactions. This feature gives you the option to place two limit orders at once that makes maximum profits and minimize losses.
Related: What is Spot on Binance
How to place OCO orders on Binance?
Step 1: You log in to your Binance account.
If you don't have Binance account, click here to read step-by-step guide to register.
Step 2: Go to the Basic Exchange interface and find the trading area as shown below. Click [Stop-limit order] to open the drop-down menu and select [OCO].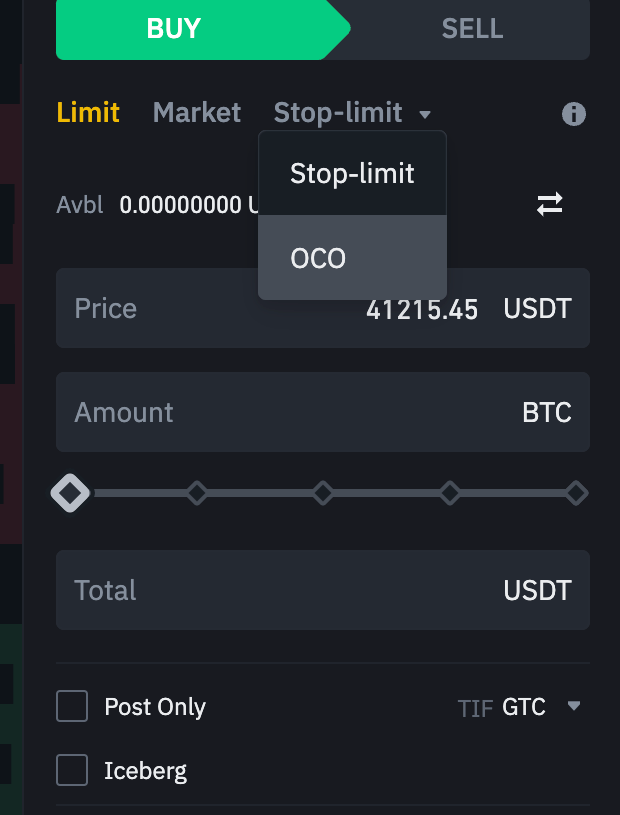 Step 3: On Binance, it is possible to place OCO orders as a pair of buy or sell orders. You can find more information about OCO orders by clicking on the "i" icon as shown below.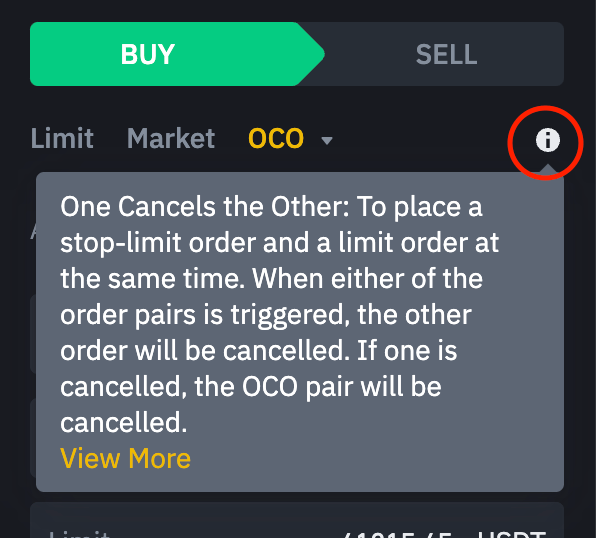 Step 4: After selecting [OCO], a new trading interface will appear. This interface allows you to simultaneously place a Limit order and a Stop Limit order.
Limit order:
Price: The price you want to set for the Limit order which will be displayed on the order book.
Stop Limit order:
Stop: The price at which your Stop Limit order will be activated (e.g., 0.0024950 BTC).

Limit: The actual executed price of the Limit order after the stop price is activated (e.g., 0.0024900 BTC).

Amount: The size of your order (e.g., 5 BNB).

Total: The total value of your order.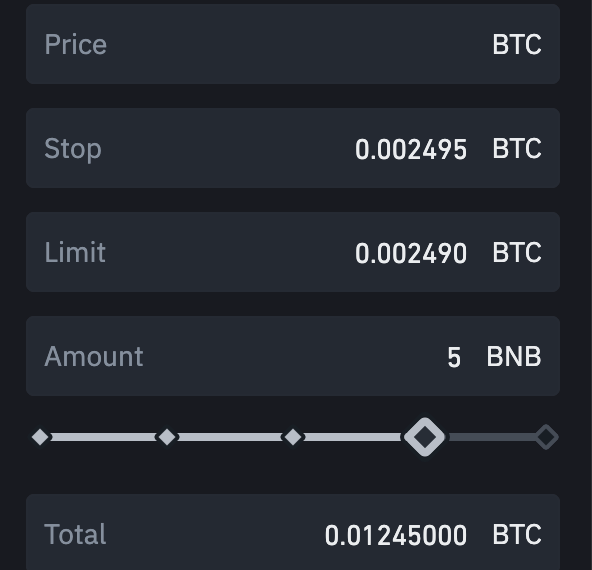 Step 5: After placing the OCO order successfully, there will be a message as shown below, and you can scroll down to see the details of both orders in the "Open Orders" section.

Specific examples
Let's say you just bought 5 BNBs for 0.0026837 BTC because you believe the price is close to the main support zone and will likely go up. In this case, you can use the OCO feature to place a a profit-taking order at the price of 0.0030 BTC along with the Stop-limit order at the price of 0.0024900 BTC.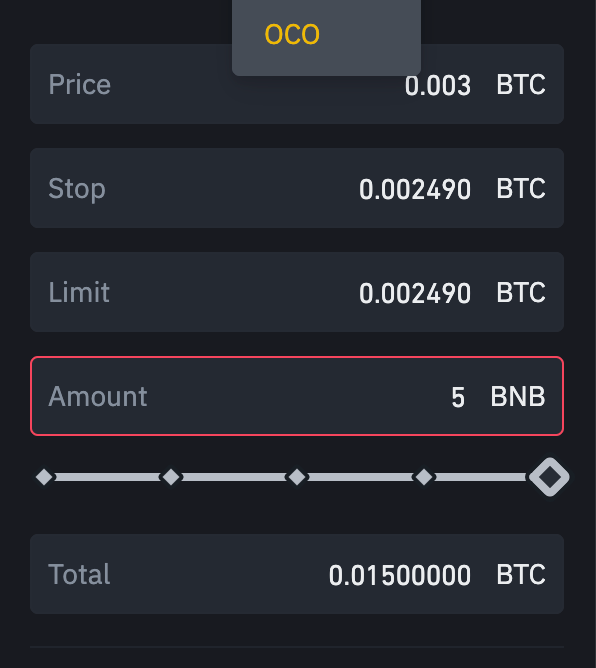 If your prediction is correct and the price rises to or above 0.0030 BTC, your sell order will be executed and the Stop Limit order will be automatically canceled.
Conversely, if your prediction is wrong and the price drops below 0.0024950 BTC, your Stop Limit order will be activated. This minimizes your losses, in case the price drops further.
Note: In this example, Stop Price is 0.0024950 (activation price) and Limit Price is 0.0024900 (the trading price is executed on order). This means that your Stop Limit order will be activated at the time of reaching the price of 0.0024950. But the transaction price will be 0.0024900. In other words, if BNB/BTC falls to 0.0024950 or lower, a Limit sell order at the price of 0.0024900 will be placed.
In short, OCO is a simple but powerful tool that allows you and other Binance users to trade in a more secure and flexible way. This particular order can be useful for maximizing profits, limiting risk. However, it is necessary to really understand the Limit order and the Stop Limit order before using the OCO order.