Arabic
Bengali
Chinese (Simplified)
Dutch
English
French
German
Hindi
Indonesian
Italian
Japanese
Korean
Malay
Persian
Portuguese
Russian
Sindhi
Spanish
Thai
Turkish
Urdu
Vietnamese
If you want to deposit crypto to buy BTC/ETH/BNB on Binanace, this WikiBinance article is an easy step-by-step guide to make it simple.
The purpose of depositing crypto to Binance is to serve the transaction, sale, exchange of cryptocurrencies on this exchange. This is the basic steps to start cryptocurrency trading.  
In fact, there are two main forms to deposit crypto on Binance:
Deposit Fiat (fiat currency such as: VND, USD,….) to Binance to buy and own cryptocurrencies (Bitcoin, BNB, ETH,…).

Deposit your cryptocurrency to a Binance wallet by tranferr

ing from another wallet or platform to a Binance wallet for greater convenience when trading and using the exchange's utility features.
Deposit Fiat to Binance wallet
Step 1: Create your Binance account
You can register Binance account on website or on the Binance app. Fill your email address, mobile phone number and choose a strong password.
>>> Related: Guide to register Binance account 
Step 2: C
omplete your
Identity Verification
process.
You need provide some relevant information for Binance to verify your identity, unlock the trading limit and increase the security of your account.
Step 3: Deposit Fiat into Binance Wallet
There are 3 main ways for you to choose to do it:
Option 1: Deposit Fiat via your international payment account (visa, mastercard,…)
Step 1: Log in to Binance. Click [Buy Crypto] then select [Credit/debit card].

Step 2: Choose the right Fiat and Cryptocurrency then click [Continue]

Choose the right Fiat and Cryptocurrency
Step 3: Select [Add a new card]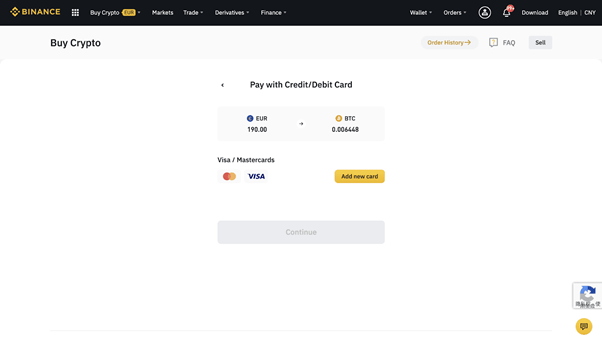 Step 4: Fill in the details of the credit card.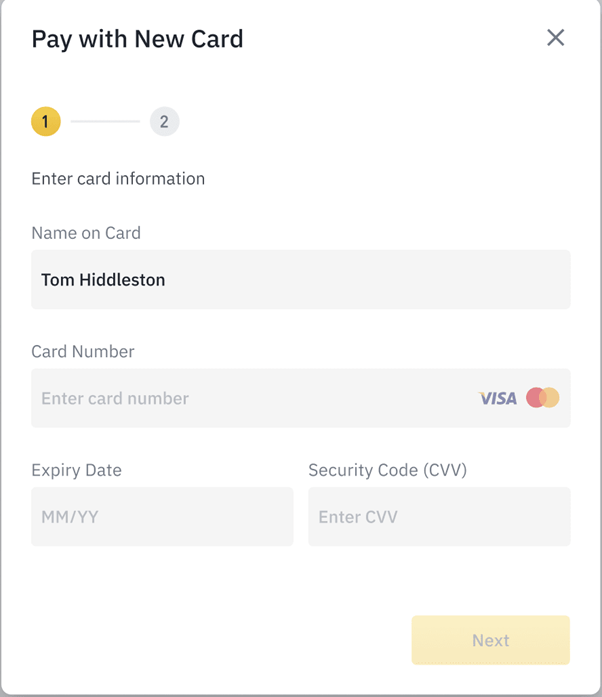 Step 5: Fill in the payment address and click [Add Card].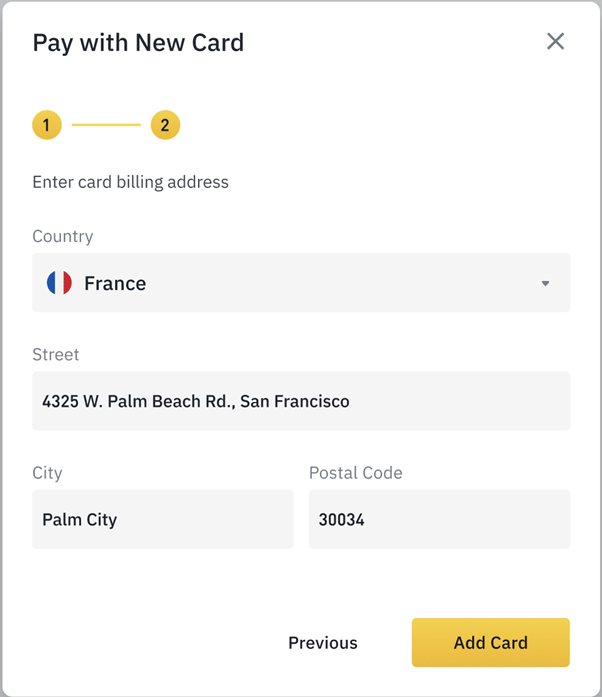 Step 6: Check the trading information and confirm order.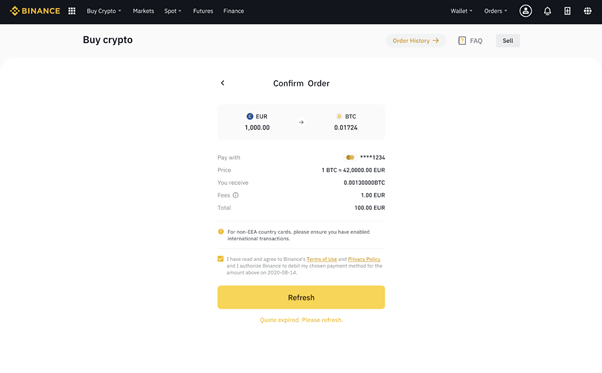 Step 7: Verify by receiving and filling in the OTP code.
Option 2: Deposit crypto via P2P
Step 1: Log in to your Binance account.
Step 2: Select Trade and click P2P.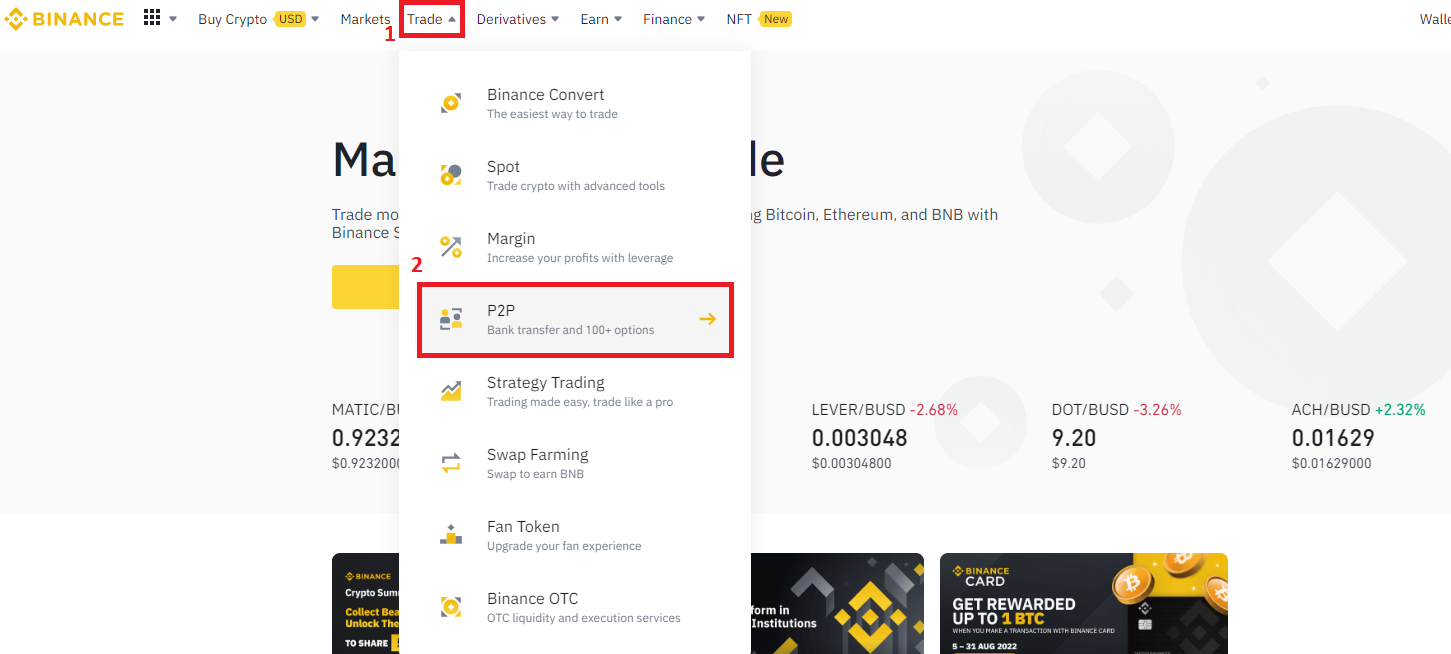 Step 3: Choose purchase method, the crypto you want to own and invest. Use filter to have the right price and payment method. Binance P2P supports buying and selling for six cryptocurrencies including Bitcoin (BTC), EOS, Ethereum (ETH), Binance Coin (BNB), Binance USD (BUSD) and (USDT).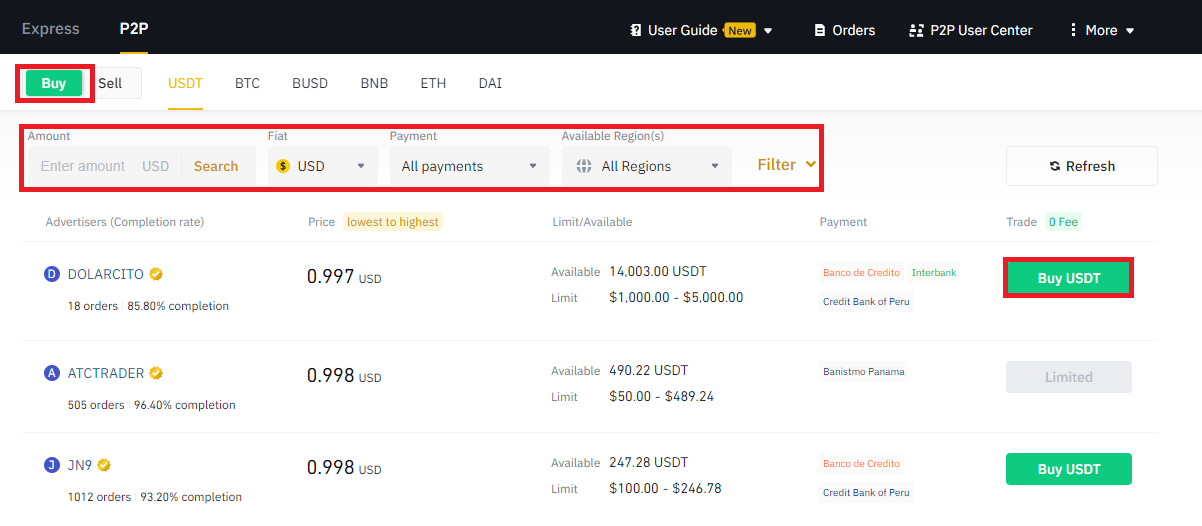 Step 4: Enter the amount you want to trade in the corresponding box.

Step 5: Check the payment method and information to complete the transaction payment. This step should be noted, it is recommended to take a screenshot to send the seller and quickly speed up the transaction. Please transfer to the seller's account using your own account, and complete the payment within the specified time. After you made the transfer, click [Transferred, Next]
Note: This method is a third-party payment such as a bank, e-wallet,… through the information provided by the seller, so you should be honest. If not paid, please do not press [Confirm], this is not allowed.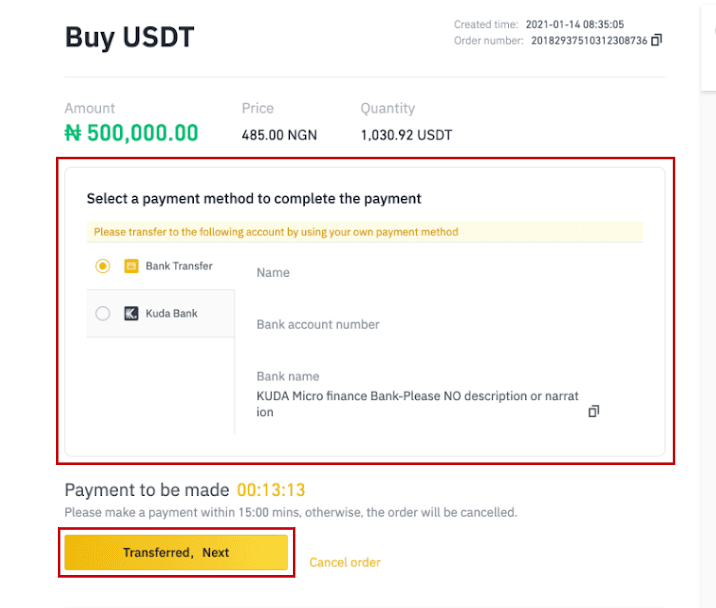 Step 6: After the seller confirms, the transaction is completed. You can click [Transfer to Spot] to transfer the digital assets to your Spot Wallet.

You can also click [Check my account] to view the digital asset you just bought.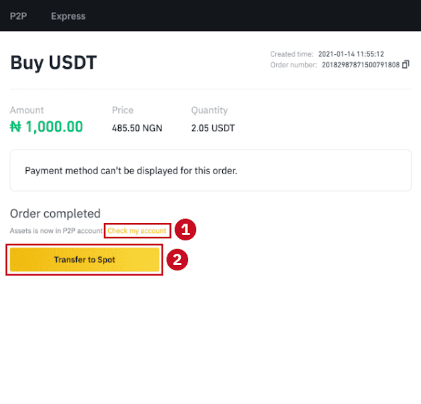 If you do not receive the cryptocurrency 15 minutes after clicking [Transferred, next], you can click [Appeal] and Customer Service will assist you in processing the order.

Option 3: Buy and sell via the OTC trading portal
This method is suitable for huge transactions with the best price for buyers. Binance OTC Trading currently supports 25 coins and tokens that is expected to expand in the further future.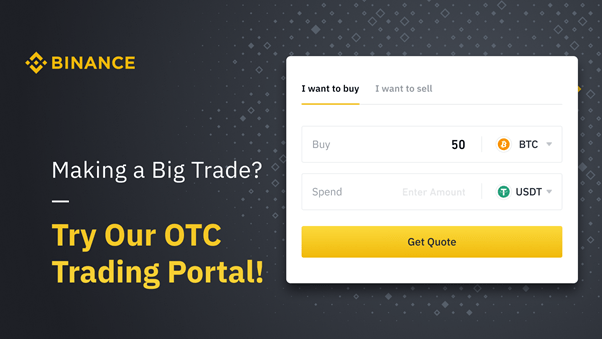 How to deposit crypto from another platform to Binance wallet
Step 1: Log in to Binance and click [Wallet] and then [Overview].

Step 3: Now a new window is opened, there are two options. Select [Crypto Deposit].
Step 4: Select the type of cryptocurrency you want to deposit.

Step 5: Next, select network to deposit.
Firstly, it is necessary to determine which platform (wallet address) you withdraw. Ensure the network you choose to deposit matches the withdrawal network, or assets may be lost.
For example, if you withdraw from a Metamask wallet which belongs to BSC (BEP20) )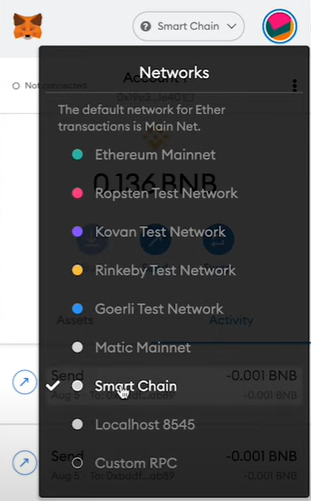 In the transaction information on Binance wallet, you choose the BSC Binance Smart Chain (BEP20) network.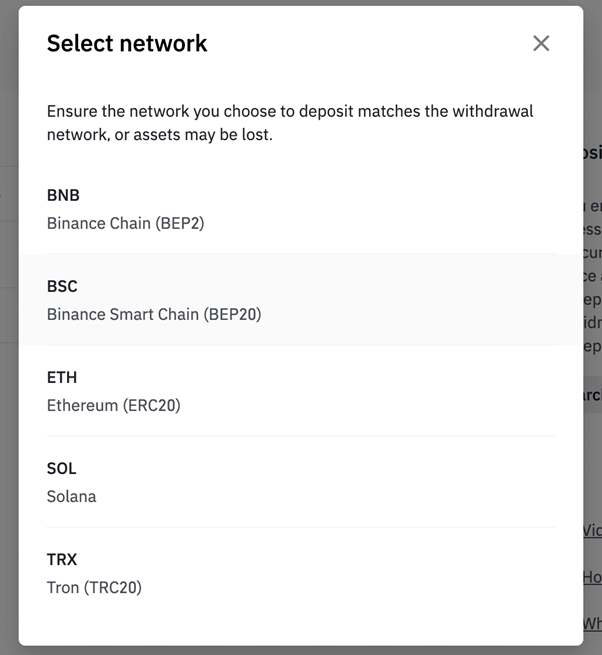 There are also a few main networks:
BEP2 represents Binance Chain.

Bep20 represents Binance Smart Chain (BSC).

ERC20 represents the Ethereum network.

The TRC20 represents the TRON network.

BTC represents the Bitcoin network.

BTC (SegWit) represents Native Segwit (bech32) and the address begins with "bc1". Users are allowed to withdraw or send their Bitcoins to the SegWit address (bech32)
Step 6: Click on Copy button to copy the top-up address of Binance wallet.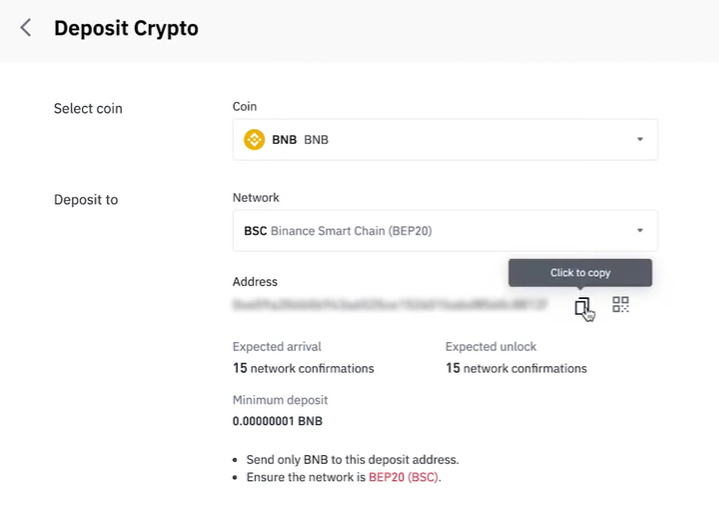 Step 7: Head over to your MetaMask  
Select cryptocurrency you want to withdraw
Click [Send]
Paste the copied wallet address into the address box on the platform.
Enter the amount you want to transfer to Binance wallet, e

dit the Gas fee if desired.
Step 8: Confirm to transfer crypto from MetaMask to Binance wallet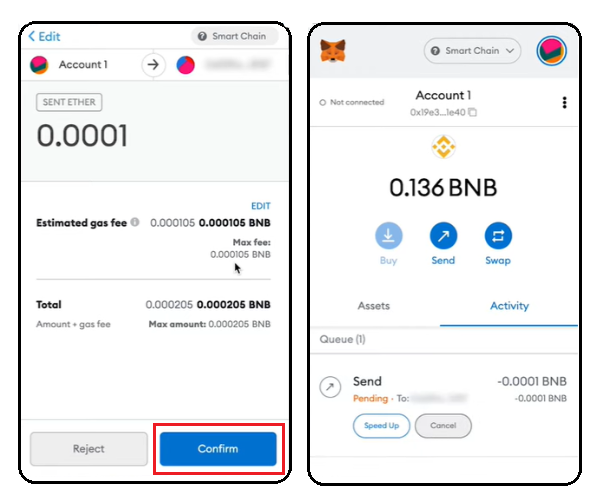 Click [Wallet] then select [Transaction History] on Binance homepage to check the trading results and balances.
If no abnormalities are detected, the process of depositing cryptocurrencies on Binance is completed.