Arabic
Bengali
Chinese (Simplified)
Dutch
English
French
German
Hindi
Indonesian
Italian
Japanese
Korean
Malay
Persian
Portuguese
Russian
Sindhi
Spanish
Thai
Turkish
Urdu
Vietnamese
The reasons why you delete Binance account
To re-register a Binance account
During the registration process, you haven't entered a referral code yet which can help you get up to 20% discount on permanent transaction fees. Re-creating an account saves you more money in the future.
Read the Binance and KYC registration guide for a 20% discount on permanent transaction fees here. For the first time, you have registered an account and verified the identity in the wrong way. For better security against unexpected circumstances, you want to recreate your account thoroughly.
Delete personal information permanently
You don't want to save your information anywhere.
If you still want to trade cryptocurrencies not through any intermediaries, try to learn about what DEX is and why decentralized exchanges (DEX) are important in the crypto economy.
Things you must know before deleting Binance account
Removing your Binance account is permanent and irreversible. After that, you won't be able to restore or find any more information about your account. So think carefully before deleting your Binance account and note some of the following issues:
All coins in your  account will be permanently deleted along with the account on Binance. So, you need to sell or transfer the entire coin to another coin storage account or wallet before start deleting.

If the Binance account has been deleted, you can't reactive.

You need have 0.001 BTC or less in your account in order that your account deletion request is accepted
How to delete Binance account
Step 1: Log in to Binance account and click the profile icon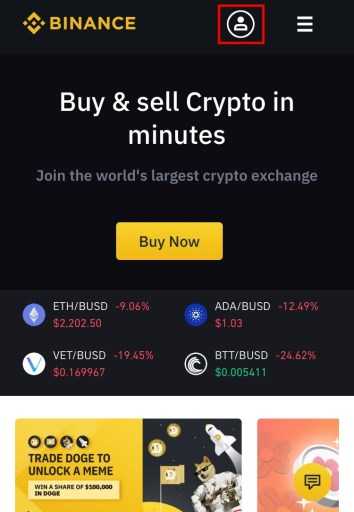 Step 2: Click "Security"
After you click on the profile icon on the top navigation bar, a menu opens.

On the menu you will see your email address and other tabs such as "Security", "Identification", "API Management",…

Navigate down and click "Security" to go to your security settings. 

How to prepare for account deletion
Step 3: Click "Disable account"
On security page, you will see a checklist to increase the security of your account.

Under "Account Activity" and click "Disable account" to continue disabling or permanently deleting your account on Binance.

Confirm to delete Binance account
Step 4: Select "Delete this account"
You will have two options: disable or delete your account. If you detect any suspicious activity in your account, you can temporarily disable and reactivate after 2 hours.

Click "Delete this account" to permanently delete your account.

Read the information clearly and then delete binance account permanently
Step 5: Enter your email address or mobile number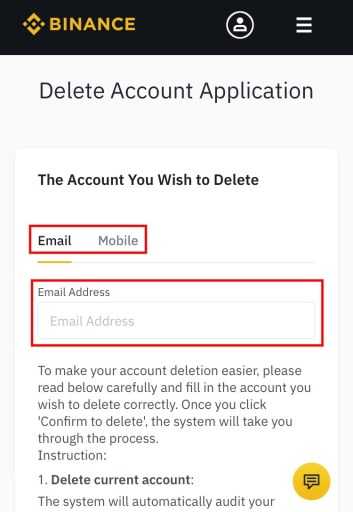 Step 6: Read the reminders carefully and click "Confirm to delete"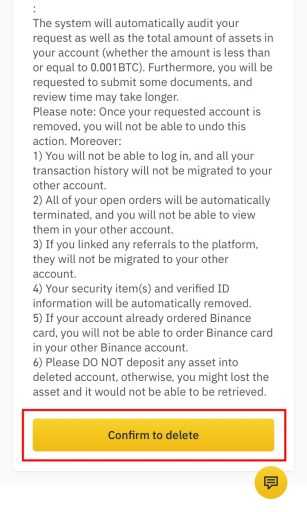 Click "Confirm to delete"  to request Binance to delete Binance account.

Binance will check your requirements and total asset

In some cases, you are requested to submit further documentation.

Please make sure that you don't deposit any assets in the deleted account as you may lose them and can't get them back.
Here's step-by-step Binance guidance to delete Binance account. Although this process is simple, you need to consider and read the instructions carefully so as not to lose assets in the account!
 If you're new to Binance, it's easy to register Binance account in just a few simple steps. Click here to the Binance registration homepage.