Arabic
Bengali
Chinese (Simplified)
Dutch
English
French
German
Hindi
Indonesian
Italian
Japanese
Korean
Malay
Persian
Portuguese
Russian
Sindhi
Spanish
Thai
Turkish
Urdu
Vietnamese
In this article, WikiBinance will detail step-by-step guide to install Binance Authenticator, Face ID and fingerprint on Binance.
To develop the cryptocurrency ecosystem, it is necessary to enhance the safety of users' accounts. That's the reason why security is always a top priority on Binance. Binance provides all the necessary security tools which allow users to protect their account, including Binance Authenticator, Face ID and fingerprint. 
How to install Binance Authenticator
Step 1: Log in to your Binance account and click on the [Profile] icon. Press [Security] ⇒ Download Binance Authenticator to the machine. How to install Binance Authenticator

Step 2: If you haven't activated any verification method, press [Enable].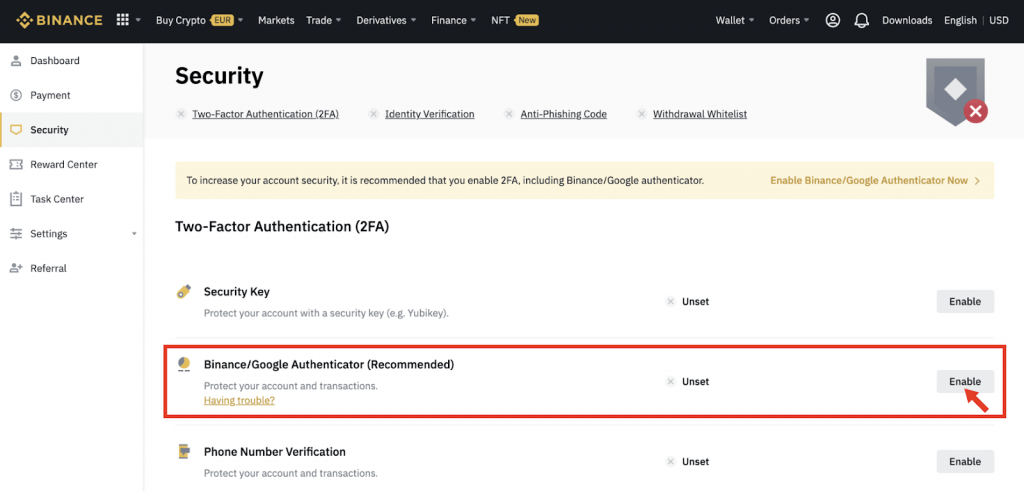 Step 3: The Enable Binance/Google Authenticator window will appear. Select [Binance Authenticator] and download this app.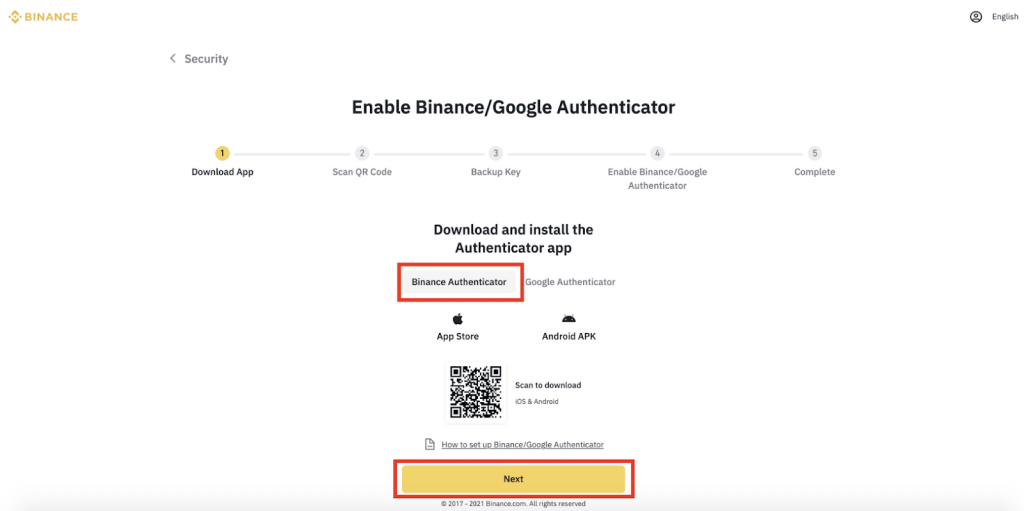 Step 4: You'll then see the QR code and the 16-digit code on the screen. Open Binance Authenticator app on your phone and scan the QR code, or manually enter the 16-digit code.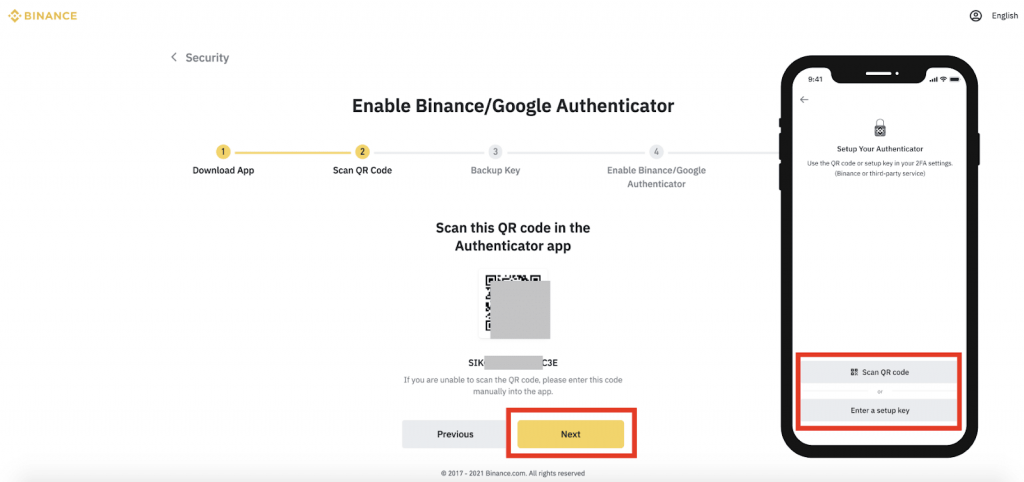 Step 5: You'll see a 6-digitcode.
Step 6: Save this backup key in secure location and press [Next].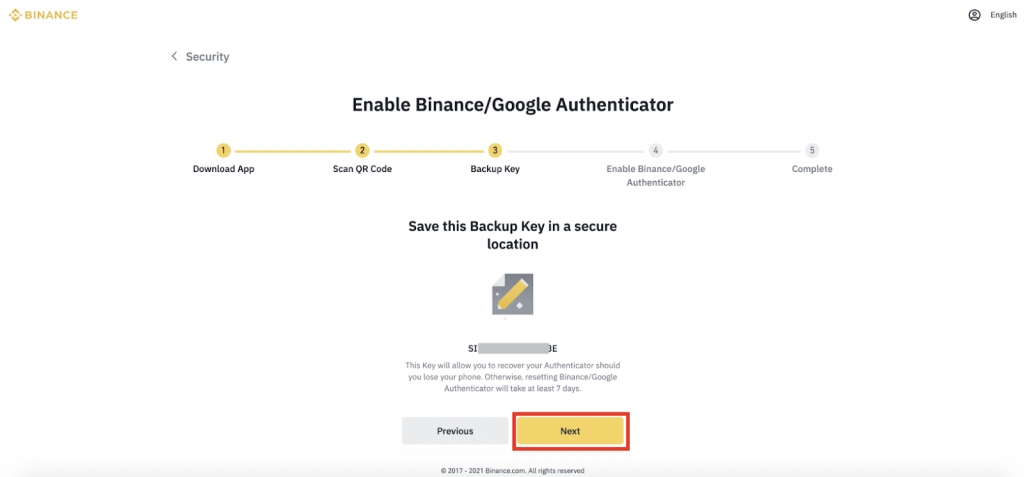 Step 7: To enable Binance Authenticator on your account, verify with your 2FA devices.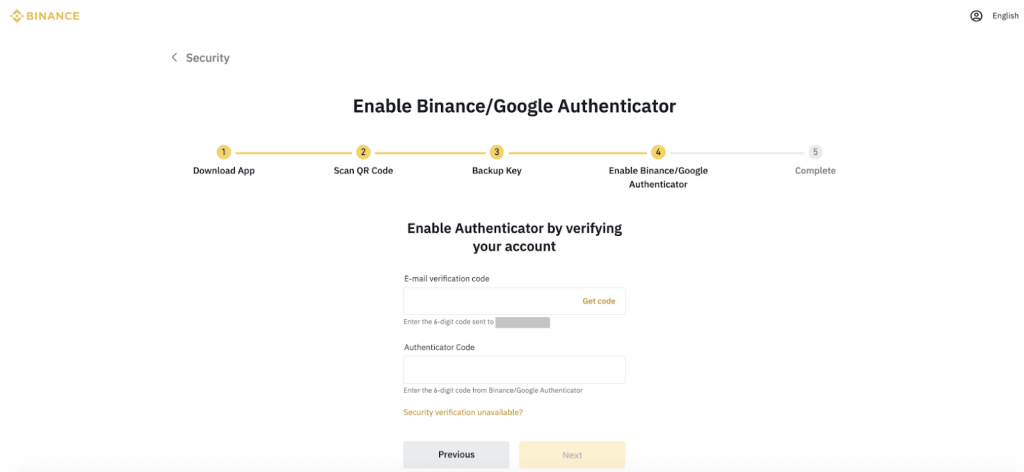 Step 8: You have successfully enabled Binance Authenticator.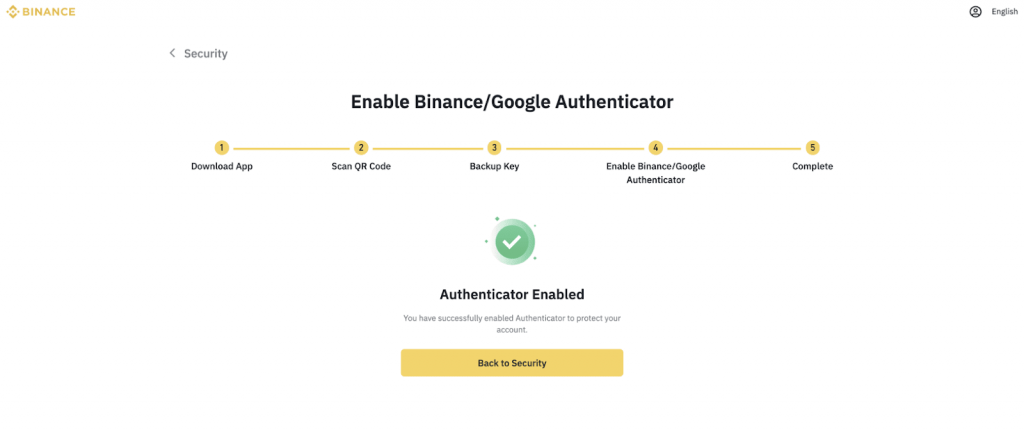 Why should you verify with Face ID and fingerprint on Binance?
Convenient
One of the biggest advantages when using Face ID and fingerprint verification is the convenience. This is especially important in the cryptocurrency market which rapidly changes.
With traditional authentication methods via SMS or email, users must check their messages and enter the code. This is even more complicated if the user loses their email account or phone number. They will have to contact customer service to restore accessibility. Using Face ID and fingerprint improves the user experience by replacing these processes with just a look or a touch of the screen.
Security
FaceID and fingerprint offer a unique layer of security. Unlike codes and passwords, your face and fingerprint on your body are hard to steal or scam.
For example, a scammer gaining access to a user's email account can easily obtain a 2FA verification code. However, they won't be able to pass the face or fingerprint verification when trying to log in. Moreover, both Apple and Android strictly adopt security processes that use FaceID and fingerprint.
Your own account and data
All face and fingerprint data will be stored on your device. This data will not be transferred or shared on any network or cloud. In other words, Binance won't be able to see your face or fingerprints. The only message Binance will receive is whether or not users will pass face and fingerprint verification.
Protecting the larger ecosystem
Spoofing information about FaceID and fingerprints is a much more complex, difficult process than stealing passwords or codes. For users, this minimizes the risk when their holdings are safely protected.
In addition, FaceID and fingerprint also inform organizations, such as Binance, whether users who log in are true to their identity. Face scan can also make a difference which prevents evil individuals from breaking into accounts and creating irreversible losses. By using these tools, users are protecting their holdings and the entire ecosystem from hackers and scammers.
How to install FaceID and fingerprint on Binance
Method 1
Step 1: Log in to your Binance account on your mobile device.
Step 2: You'll be prompted to activate Biometric Authentication. Press [Enable Now].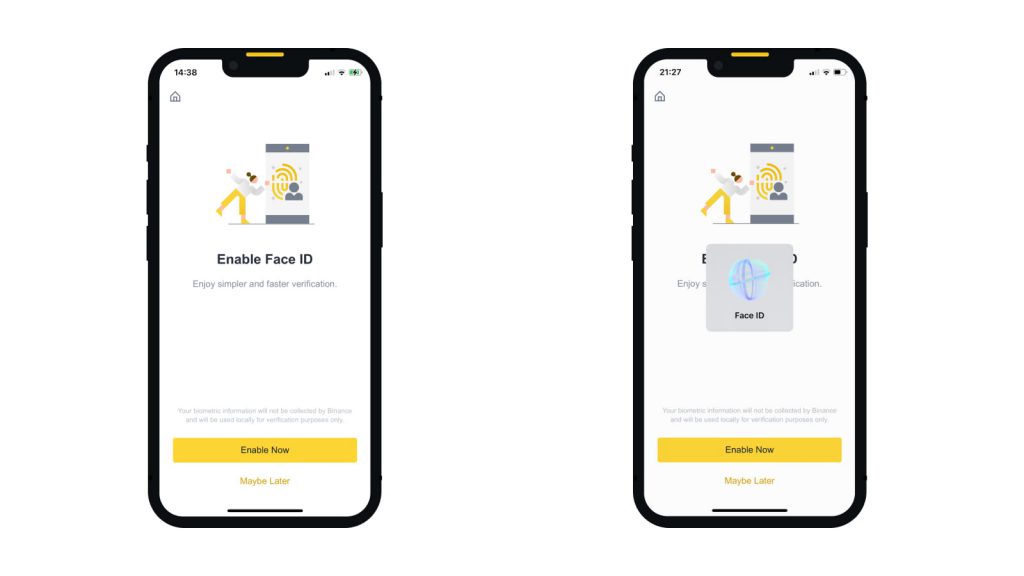 Step 3: You have successfully enabled. Every time you log in, you've been able to verify your Face ID.
Method 2
Step 1: Click on [Profile] button in the top left corner.
Step 2: Press [Security] ⇒ [Biometric Authentication] ⇒ [Add Biometric Authentication].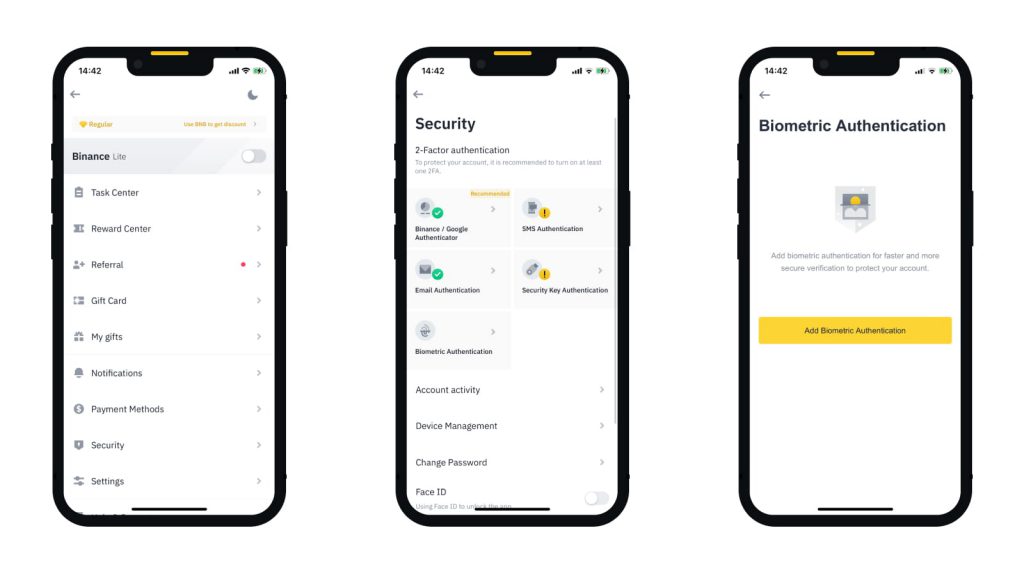 >>> Related: How to register and verify Binance acount update 2022