Arabic
Bengali
Chinese (Simplified)
Dutch
English
French
German
Hindi
Indonesian
Italian
Japanese
Korean
Malay
Persian
Portuguese
Russian
Sindhi
Spanish
Thai
Turkish
Urdu
Vietnamese
Changpeng Zhao personally announced binance has a brand ambassador who is an extremely popular person in the TikTok community around the world. It was Khaby Lame, an Italian of Senagal descent. As the blockchain ecosystem behind the world's largest cryptocurrency exchange, Binance will partner with Khaby to increase awareness and adoption of the Web3.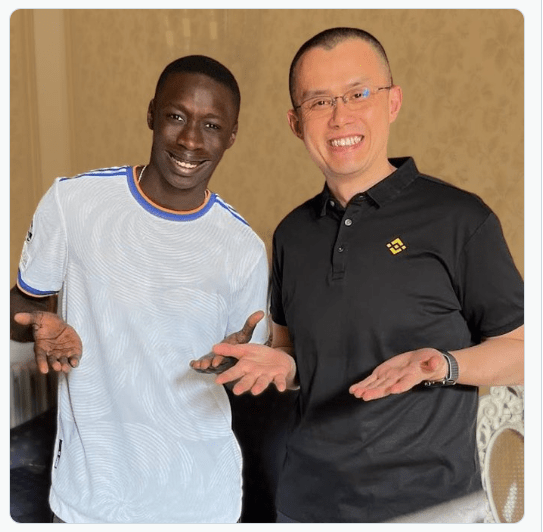 Khaby Lame has become a celebrity with "life hack" videos, often reworking other people's videos in front of extremely complex tricks, replacing it with simpler and more logical things without saying a word accompanied by the act of rolling his eyes and make fun of those unnecessary "life hack" videos.
As CZ also explains, Khaby will use his signature style to help simplify the confusing concepts of crypto, address some of the misconceptions surrounding Web3, and will collaborate on exclusive NFT collections with Binance, further enhancing the experience for his fans. Khaby Lame is currently the most followed creator on TikTok, with more than 142 million followers on the platform and 78 million followers on Instagram. This can also increase Binance's registration account
This is Binance's latest celebrity handshake. Previously, Cristiano Ronaldo released NFT with Binance and had many cooperation agreements in the field of sports, sponsoring the Argentine football team with the participation of superstar Lionel Messi, the Brazilian Football Federation, two S.S. clubs. Lazio (Italy) and FC Porto (Portugal).
See also: Changpeng Zhao corrects Binance did not buy "Dip" $2 billion in Bitcoin.