Arabic
Bengali
Chinese (Simplified)
Dutch
English
French
German
Hindi
Indonesian
Italian
Japanese
Korean
Malay
Persian
Portuguese
Russian
Sindhi
Spanish
Thai
Turkish
Urdu
Vietnamese
On June 6, Binance made the official announcement of the launch of a free trading program for Spot BTC trading pairs. This is one of the activities aimed at celebrating Binance's fifth birthday, with the announcement taking effect starting at 21:00 on July 8, 2022 . There will be 13 Spot trading pairs that will be traded for free as follows: BTC/AUD, BTC/BIDR, BTC/BRL, BTC/BUSD, BTC/EUR, BTC/GBP, BTC/RUB, BTC/TRY, BTC/TUSD, BTC/UAH, BTC/USDC, BTC/USDP and BTC/USDT.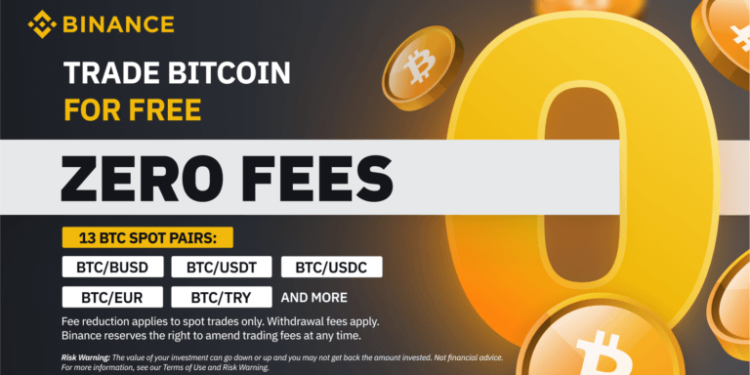 Binance announced the launch of free Bitcoin tradingThe specific content of the announcement mentions that all users will not need to pay maker and taker fees for all 13 Spot BTC trading pairs mentioned above. For VIP users the transaction fee will not be affected by the calculation of trading volume for 30 days. For eligible liquidity providers, calculating the market volume of this program will not affect spot liquidity provider's own program. The 13 Spot BTC trading pairs mentioned above will no longer be entitled to BNB discounts, refunds or enjoy any other form of incentives or adjustments. Binance had specific attention right in its announcement:
All transactions that are considered junk transactions or have illegal registrations in full amounts or transactions that show signs of market manipulation will be disqualified by Binance from participating.
Binance will measure all transaction volumes or program-related metrics at its own discretion and have absolute rights.
Whether to continue charging maker and taker fees after this program will depend on subsequent updates.