Arabic
Bengali
Chinese (Simplified)
Dutch
English
French
German
Hindi
Indonesian
Italian
Japanese
Korean
Malay
Persian
Portuguese
Russian
Sindhi
Spanish
Thai
Turkish
Urdu
Vietnamese
Binance Pool, the mining platform that is part of the Binance ecosystem, recently announced a $500 million miner lending project to support miners through the crypto winter.
$500 million loan project from Binance Pool
On October 14, crypto giant Binance launched $500 million in funds for a miner lending project, with the goal of supporting the bitcoin mining industry during the current economic downturn. .
The announcement was made on the official page of Binance, stating that Binance Pool will support cryptocurrency miners and digital infrastructure providers.
Binance Pool believes that these funds will help maintain a healthy ecosystem:
"As one of the world's leading crypto mining pools, Binance Pool has a responsibility to help maintain a healthy digital asset ecosystem. In the current market conditions, Binance Pool is launching a $500 million lending project to support crypto miners and digital infrastructure providers."
A majority of the project's funding will support cryptocurrency (BTC) miners and digital asset infrastructure companies around the world. The project will provide both public and private companies with secure debt financing services. Borrowers will be able to take advantage of the funds over a period of 18 to 24 months, with interest rates ranging from 5 to 10%.
For cloud service providers, Binance is researching and developing related products, with the desire to attract new partners and build a healthy ecosystem together. As cloud mining hash power will be purchased directly from BTC mining and digital infrastructure providers.
>>> Related: [Kickback Rate 20%] Binance Sign Up For Beginners Update 2022
Many companies are involved in the bitcoin mining industry
Bitcoin mining is gaining popularity among well-known companies and even state-owned institutions.
Skype co-founder, Jaan Tallinn, has been associated with Metaplanet to invest in crypto tech company Fabric Systems. The purpose of this investment is to build and develop energy-efficient bitcoin mining hardware.
Luxo – cryptocurrency software and services company is now also allowing traders to bet on future mining revenue. The commodity being traded is called hashprice and it is derived from hashrate revenue. Grayscale has also launched a new mining-related investment opportunity.
In the meantime, Argentina's state-owned energy company YPF licenses an international cryptocurrency mining company. This is a pilot project with sustainability goals in mind.
The hashrate and mining difficulty spike
Crypto winter has adversely affected the bitcoin mining industry, which has had its worst year in a long time. Recent weeks have seen a 13.5% increase in mining difficulty, which is an all-time high for this year. There has been an increase in the network difficulty from 19.8T a year ago to 35.61T today.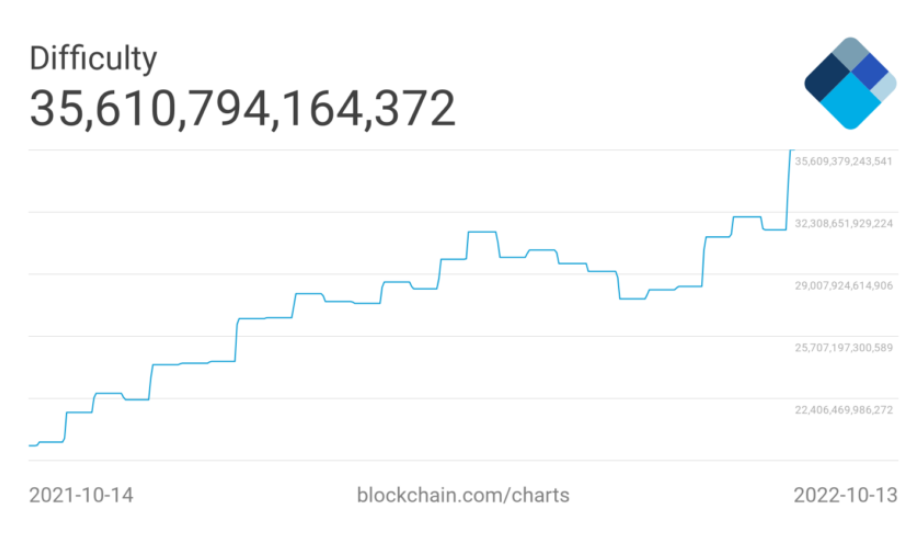 Higher difficulty means more miners will participate. This shows optimism for the network and leads to better network security.
However, the bitcoin reserves of miners have fallen to their lowest level since February 2010.