Arabic
Bengali
Chinese (Simplified)
Dutch
English
French
German
Hindi
Indonesian
Italian
Japanese
Korean
Malay
Persian
Portuguese
Russian
Sindhi
Spanish
Thai
Turkish
Urdu
Vietnamese
Binance's official website posted the announcement of the live event on July 8, 2022 to celebrate binance's 5th anniversary. When participating in the event, guests will hear about the Past, Present and Future when talking about the cryptocurrency market in general and Binance in particular.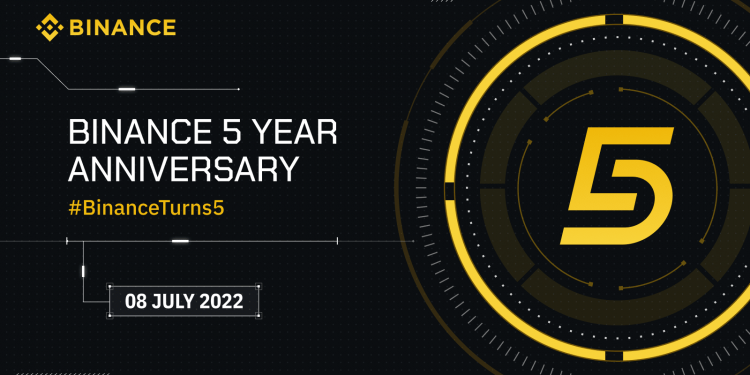 If you want to participate in Binance's 5th anniversary event, you can learn more information over time through our social media channels using #BinanceTurns5. The event was held at a secret location in Europe on July 8, 2022 for a day of celebration when Binance turned 5 years old. In recent years, Binance has secured its position in the cryptocurrency ecosystem with positive momentum of change and innovation. To fully explore this, Binance chose the theme past, present, and future for its 5th anniversary event. Expect the discussions and speeches of the board in a day that will bring you to the Binance story so far. Just like last year, Binance will also take the time to reward its most loyal users and supporters through the 5YA Awards.
Tickets will be released in June.
Attendees of Binance's 5th Anniversary Celebration will be able to receive their chosen tickets next month. Details of the process will soon be released along with Binance's 5th Anniversary page.
Watch the Conference on Binance Live
If you can't attend directly, you don't need to miss out. With Binance Live, you can live stream Binance's 5th Anniversary anytime, anywhere. You can also subscribe to Binance's YouTube channel for highlights from the event. For online guests, Binance will have a variety of activities to participate in so you don't feel left out. These will include transactional, deposit and collection tasks that can be easily done at home. Whether you use Binance Earn, Futures, Exchange, or other services, you'll have to do a 5th Anniversary mission. As always, Binance only selects the most knowledgeable, influential, and experienced speakers and guests for discussions and talks. Due to the limited number of tickets, make sure to book immediately after Binance releases the official ticket to confirm your participation.
> Read more: The full Binance registration guide for 2022