Arabic
Bengali
Chinese (Simplified)
Dutch
English
French
German
Hindi
Indonesian
Italian
Japanese
Korean
Malay
Persian
Portuguese
Russian
Sindhi
Spanish
Thai
Turkish
Urdu
Vietnamese
Ethereum Proof-of-Work (ETHW) is trading inside a short-term bearish pattern and below two important horizontal resistance levels.
After the Ethereum (ETH) Merge went live, some miners decided to remain and support the proof-of-work (PoW) consensus. This created a new fork and the launch of the ETHW mainnet. ETHW is a Layer 1 blockchain that preserves the pre-merge PoW consensus. So far, there are more than 20 active mining pools focusing on ETHW.
The transition has not been completely smooth so far, since there was an issue with the proposed Chain ID, which was seemingly already used by a Bitcoin cash testnet. This in turn led to a replay attack, in which the same transaction was recorded twice.
On 19 September, Binance completed the distribution of Ethereum proof-of-work tokens to eligible ETH holders following the Merge. Now, deposits and withdrawals for ETHW are also open. This in turn led to a surge in price which is still ongoing.
Current ETHW price increases
ETHW has been increasing since reaching a low of $3.88 on Monday. However, the upward movement has so far been contained inside an ascending wedge, which is considered to be a bearish pattern. More recently, the price was rejected by the resistance line of the wedge (red icon) on Tuesday.
If a breakdown from the wedge occurs, the closest support area would be between $5.25 and $5.65, created by the 0.5-0.618 Fib retracement support levels.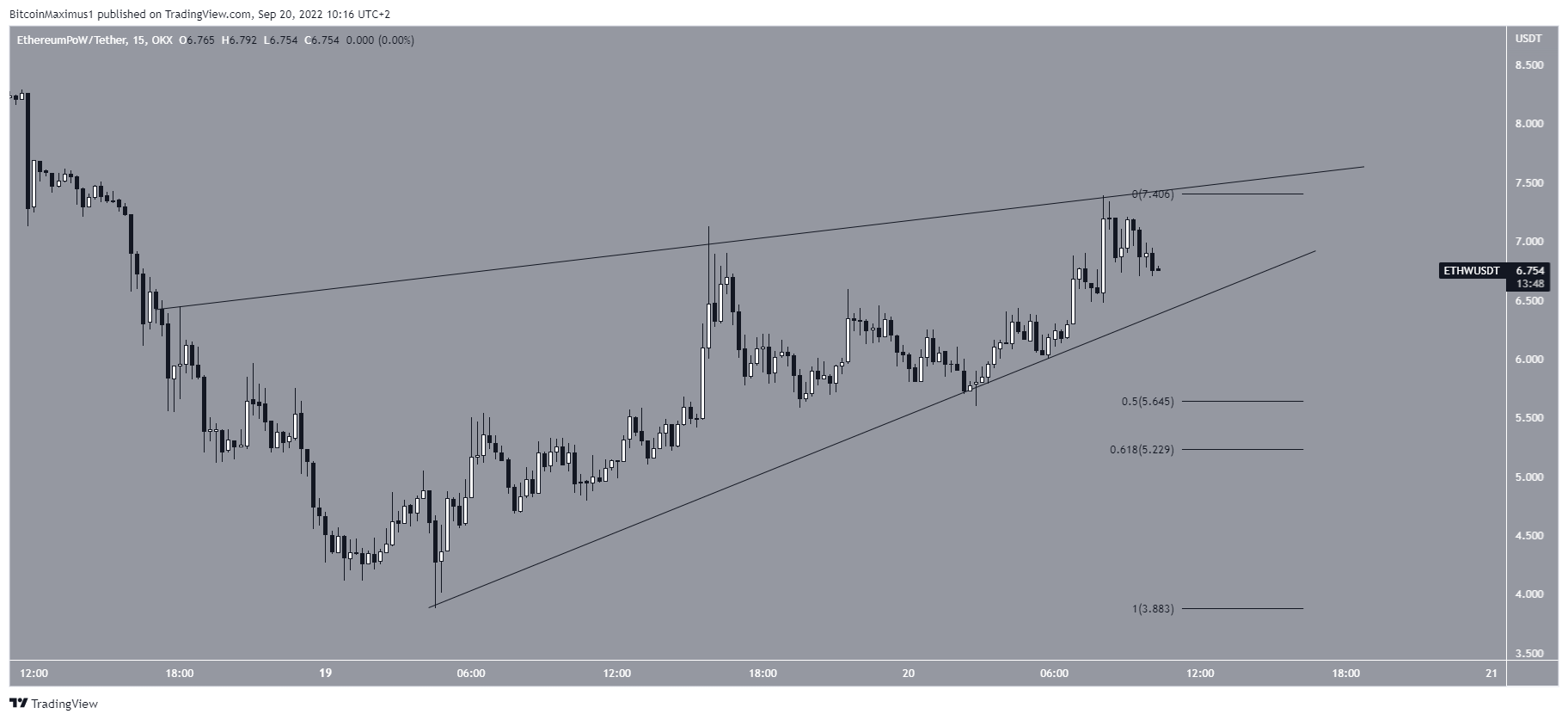 Future ETHW movement
A looker at the slightly longer-term movement shows that it is trading close to an all-time low, and there is no horizontal support below the current price.
Moreover, there are two crucial resistance levels at $8.30 and $10.40. When combined with the bearish short-term pattern, these make it unlikely that it will manage to initiate a rally in the near future.