Arabic
Bengali
Chinese (Simplified)
Dutch
English
French
German
Hindi
Indonesian
Italian
Japanese
Korean
Malay
Persian
Portuguese
Russian
Sindhi
Spanish
Thai
Turkish
Urdu
Vietnamese
CZ announced a potential exploit on Uniswap V3
Binance CEO Changpeng Zhao (CZ) made an announcement on Twitter to raise the alarm bells of a potential exploit on Uniswap V3 on the ETH blockchain.
According to this post, more than 4295 ETH has been drained from Uniswap's protocol in the attack and the hacker laundered the funds through Tornado Cash.
Our threat intel detected a potential exploit on Uniswap V3 on the ETH blockchain. The hacker has stolen 4295 ETH so far, and they are being laundered through Tornado Cash. Can someone notify @Uniswap? We can help. Thankshttps://t.co/OV3g7ayf77

— CZ 🔶 BNB (@cz_binance) July 11, 2022
CZ's initial alarming comment has a negative impact on the cryptocurrency market. It resulted in the significant decrease in $UNI price, which dropped to a 24-hour low of $5.34, plunged 21%. It is 87.8% down from its all-time-high.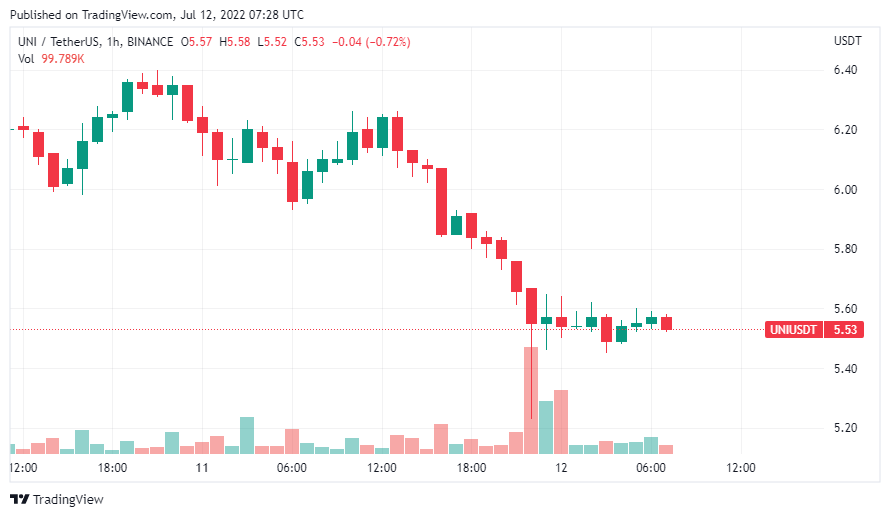 CZ apologized for the "false alarm"
Hayden Adams, Uniswap inventor, later informed that was not a problem with the protocol's code, but the attack was part of a phishing attack in which hackers tricked holders of LP NFTs.
This was a phishing attack that resulted in some LP NFTs being taken from individuals who approved malicious transactions

Totally separate from the protocol

A good reminder to protect yourself from phishing and not click on malicious links https://t.co/aj3Zh8UKqF

— hayden.eth 🦄 (@haydenzadams) July 11, 2022
Binance CEO CZ apologized for his wrong statement and explained that he reached out to both Uniswap and Ethereum founder. Because CZ did not receive an immediate response, he has to release incomplete information quickly to alert the community.
"We have to make decision with incomplete information, and try to strike the right balance. This was 12:45am (mid night). And I just came home from a gala dinner," Zhao said.
He added a detailed explanation that "Speed is of the essence when dealing with security issues, when (3 million users') funds are at stake."
Some individuals criticized CZ for his announcement without verifying it first and said that he should have been more careful when spreading panic in the crypto community. Others considered it is CZ's attempt to protect Uniswap and users and strike the right balance.
‍