Arabic
Bengali
Chinese (Simplified)
Dutch
English
French
German
Hindi
Indonesian
Italian
Japanese
Korean
Malay
Persian
Portuguese
Russian
Sindhi
Spanish
Thai
Turkish
Urdu
Vietnamese
Binance Pay and Bolt Global launch Bolt+. It is the platform that marks the collaboration of Binance Pay and Bolt Global, bringing a new Web3 live entertainment and social experience to users.
Binance Pay and Bolt Global launch Bolt+
Binance Pay, a secure, contactless, borderless cryptocurrency payment feature of Binance, has announced a partnership with Bolt Global, a technology company that builds platforms and services for the next generation of the internet. The partnership will allow Binance users from more than 150 countries to access Bolt+, the new Web3 live entertainment and social experience offered by Binance Pay.
"Binance Pay is proud to be partnering with Bolt Global to offer innovative virtual gifting, tipping, and premium live entertainment experiences on Bolt+. Streamers and creators can now earn easily in crypto with the benefits of the ease of use and security of the Binance ecosystem. Brands are also able to use Binance Pay to power fan experiences and meaningful initiatives on their Bolt+ channels. We look forward to powering more creative activations of Binance Pay by users, streamers, and brands across the Bolt Global ecosystem, and bringing awareness of Binance Pay to a wider audience." Jonathan Lim, Global Head of Binance Pay, shared.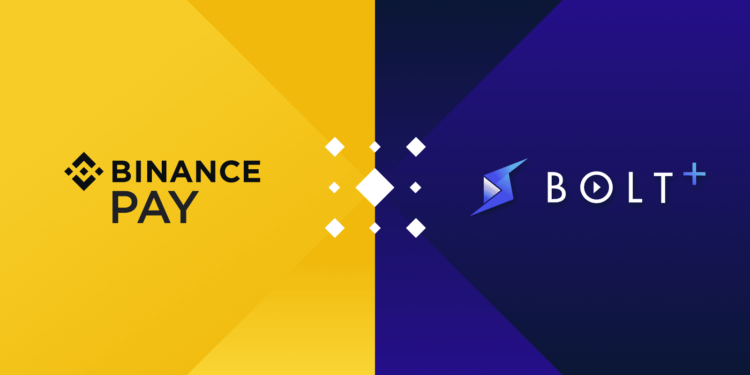 Bolt+ is available on the Web and iOS, Android and Smart TV applications. On Smart TVs, users can access Bolt+ through VIDAA, the fastest growing operating system used by more than 50 manufacturers, including Hisense, Loewe TV and Toshiba.
Features of Bolt+
Binance users can directly send their favorite Bolt+ streamers and content creators virtual gifts and tips paid for in cryptocurrency directly from the user's Binance wallet. Users can withdraw their earnings at any time through Binance Pay, and the funds will also be transferred directly to their Binance wallet.
Bolt+ allows creators and live streamers to keep up to 95% of their income from the platform. This is in contrast to existing Web2 services where some platforms can account for up to 55%. Content creators on Bolt+ can also earn extra income from tips, ads, sponsorships, and utility-based NFT channels.
Bolt+ also showcases global leaders in the entertainment sector, such as Monstercat – a global independent electronic music record label, OneFootball – the world's largest football media platform comprising 200 leagues in 12 different languages, Euronews – Europe's leading news channel, and France 24 – an international television channel based in Paris.
Christel Quek, co-founder and CTO of Bolt Global: "We are thrilled to partner with Binance Pay to bring Web3 adoption to more industries across entertainment, retail, and gaming globally. Furthermore, Binance's 90 million users is an incredibly strong demand partner for other brands in the Bolt+ ecosystem. Our distribution network by VIDAA across 50 Smart TV manufacturers, including Hisense and Toshiba, will also bring the world-class Binance ecosystem to more markets."
How to make Binance Pay transactions on Bolt+
To start trading Binance Pay on Bolt+, users need to take the following steps:
Choose the tip amount (supports BUSD, USDT, BNB, USDC) or buy a virtual gift with cryptocurrency. This will create a QR code on Bolt+.
Scan QR codes from the Binance app and authenticate transactions.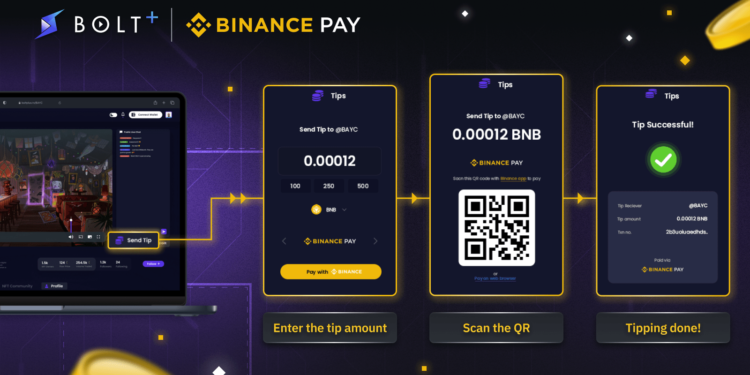 After completing the above two steps, the message will be publicly displayed in the live chat box. Streamers and content creators can choose to show virtual gifts they've received from fans on Bolt+ channels.
Related: Binance full set: The most complete Binance registration guide update 2022