Arabic
Bengali
Chinese (Simplified)
Dutch
English
French
German
Hindi
Indonesian
Italian
Japanese
Korean
Malay
Persian
Portuguese
Russian
Sindhi
Spanish
Thai
Turkish
Urdu
Vietnamese
According to CryptoCompare's latest monthly report last updated on April 30, 2022, Binance currently owns nearly a third of all trading amounts on spot cryptocurrency platforms with total trading volume reaching $1.6 trillion, up 10.5% (data as of March 2022). In addition, the report indicates that about 69.9% of the total volume is accumulated by the world's 15 largest cryptocurrency exchanges, including Binance, Coinbase, Bitfinex, OKX, Houbi, FTX, Kraken… Among them, Binance alone accounted for 30.2% of the total market volume, processing an estimated $490 billion in transactions, up 15% compared to February 2022. However, this figure is still lower than the record reached by this exchange in November 2021 (market share reached 33.7%). This represents Binance's attempt to dominate the spot market.
Spot Market share chart Followed by Binance is Coinbase and OKX, with spot market share accumulation of 5% and 4.7%, respectively. Coinbase processed spot transactions worth $81.9 billion, down 12 percent from the previous month's value, and OKX with $75.9 billion, down 26 percent. Binance's achievements are the result of six consecutive months of declining volumes, the derivatives market has seen increased activity and its volume spiked in March. Also in the CryptoCompare report, the volume of derivatives trading increased by 4.58% to $2.74 trillion, accounting for 62.8% of total centralized exchange volume, while spot volume accounted for the remaining 37.2%. Despite achieving impressive figures after 6 months of declines in activity, the March derivatives market volume is still significantly lower than the record reached in May 2021 previously with the volume of derivatives reaching a whopping $9.99 trillion in the bull market, Achieved a market share of 68%.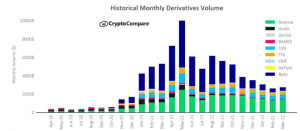 CoinCompare argues that the reason the derivatives market is recording greater trading volumes than spot is because investors are wary of the risks associated with spot trading. Most investors prefer to use derivative contracts because it allows them to diversify their exposure to different cryptocurrencies and protect them from extreme price movements. Binance became known as the largest derivatives exchange in March, leading the market with about 52% of total derivative volume. The exchange processed more than $1.4 trillion in derivatives transactions in March, up 8.3 percent from February volume. It was followed by OKX with a volume of $446 billion (up 12.5%), Bybit with $380 (down 8.8%) and FTX with $295 billion (up 2.07%). It can be said that, with this momentum, Binance soon toppled the records that the exchange had created earlier, gradually completely dominating the cryptocurrency market in the future and becoming a trading address trusted by a large number of investors. 
READ MORE: Binance upgrades Binance Liquid Swap system: https://wikibinance.com/tin-tuc/binance-nang-cap-he-thong-binance-liquid-swap.html